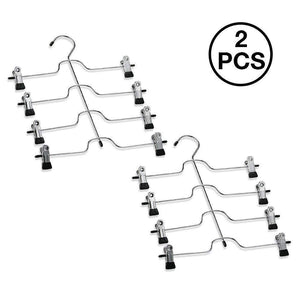 4 Tier Pants Hanger, 2 Pack Trouser Hanger Skirt Hangers with Non Slip Black Vinyl Clips, Heavy Duty Metal Hangers Ultra Thin Space Saving Clothes Hangers to Organize Closet Jeans Scarf Slacks
Regular price
$40.00
Sale price
$56.40
Brand: ReSkirt Organizer
Color: Silver
Features:
CLOSET SPACE SAVING - This multiple hanger is the perfect solution when short on space. It comes with 4-tier and 2 clips on each side that helps you store more clothing in your cabinet and 14.6" x 12.6" size that fit perfectly in your cabinet, take no room in the closet and display all the clothes so nice and neatly with our pants skirt hangers. Much easier than multiple hangers strung together!
NO MORE WRINKLE AND CREASES! - Our organizer hanger comes with very tight clips and the rubber coating on the clips keeps the garments from looking pinched when you take them down, especially designed to keep your clothes organized and ensures a firm grip on your clothes without wrinkling them and with no sharp corners that may tear your clothing. Plus the clips are easy to open and slide along the wire frame so you can adjust for different length or thickness of the clothing items.
STURDY CHROME METAL - Our multiple hangers are made of durable solid metal frame that is very firm to provide a long-lasting feature. These tiered skirt hangers are nearly indestructible, it's strong enough to even hold your boots! Plus the pant hangers tiered clips can also be adjusted from 4 inch up to 10.6 inch!
EXCELLENT SPACE SAVER PANT HANGERS - Stop wasting your time to fold your skirts and shorts with this multi hanger. With our multi shirt hanger you can stop wasting your time and space organizing your clothes. Replace those clothes piles containers and bins from your bedroom with our multiple clothes hanger!
HOW CAN SOMETHING SO SIMPLE CHANGE YOUR LIFE SO COMPLETELY?! - These hanger closet space saver are an essential closet item for anyone who wears lots of skirts or nice pants. If you have a collection of shorts or skirts, pants, dress, trousers, etc. this space saving pant hangers definitely is the must-have item that you are looking for. Grab our hangers 4 tier now!
Publisher: ReSkirt Organizer
Details: If you're looking for premium multi hangers, make sure you buy ONLY from TODAY'S DEALS STORE. Other sellers are selling our Copied Products

The Best Space and Time-Saving Cloth Organizing Solutions!

Have you been having a hard time looking for your skirts in a pile of clothes? Tired of having the neatly folded shorts cluttered in a matter of seconds? If your answer is yes, these tiered hangers are what you need!

Discover why you must use our space saver pant hangers
- 4 tiered hangers with smart design
- Anti-scratch and firm, swiveling, non-slip tip clips
- Durable metal frame design
- The clips can be adjusted from 4 inch up to 10.6 inch

Over-Crowded Closets Solution - Guaranteed!

Our space saving hangers for pants come with swiveling tip clip that provides a firm grip and protects your clothes from creasing. Unlike plastic, our multi pant hangers are made of premium quality metal for long lasting usage. Our multi pants hanger will help you make your bedroom cabinet always looking tidy. The trouser hangers with clips can also be adjusted from 4 inch up to 10.6 inch. The system truly eliminates your time folding your clothes to be put in the closet just to get creased. You can also use our closet space savers for dresses, trousers, pants, or any other types of clothes.

So what are you waiting for? Click ADD TO CART Button Now to Get This Hanger for Multiple Pants!

Specification:
Weight: 10.2 ounces
Packaging dimension: 13" x 14.6" x 1.2"
Color: Silver and Black
Material: Metal
Size: 12.6" x 14.6" x 0.2"
Set of: 2

(c) ReSkirt Organizer (TM) - All Rights Reserved
EAN: 6892478384584
Package Dimensions: 14.1 x 12.4 x 1.3 inches