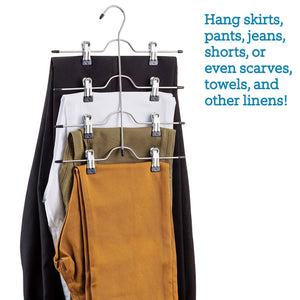 ZOBER Space Saving 4 Tier Trouser Skirt Hanger (Set of 3) Sturdy Luxurious Chrome with Non Slip Black Vinyl Clips, Multi Pants Hanger for Skirts, Pants, Slacks, Jeans, and More.
Regular price
$49.99
$0.00
Brand: ZOBER
Color: Chrome
Features:
Zober clip hangers pack of 3 are great for hanging skirts, slacks, pants, boots or any other garments or accessories. The multi skirt hangers are perfect for small closets, seasonal storage and essential for dorm rooms.
The skirt hanger feature clips with a rubber coating for securely holding garments in place without leaving damaging marks behind. The clips on the non slip skirt hangers are easy to use, allowing users to add and remove clothes quickly.
Our skirt hangers with clips are made of durable solid metal with a chrome finish that prevents rust and resists breakage. Rubber grips have been secured over any exposed edges on the tier skirt hangers to prevent any damages to clothes or injuries to skin.
These 4 tier hangers store up to 4 different garments. Our space saving skirt hangers use vertical space and save users from having four hangers in a spot where one of our hangers could be.
The convenient pant and skirt hangers hook easily onto standard sized closet rods.Metal skirt hangers dimensions: 12 ¾" wide 13 ⅜" from top of hook to bottom of hanger.
Publisher: ZOBER
Details:
Zober Multi Purpose Hanger Set 3
This pack of 3 of multipurpose hangers are perfect for hanging skirts, jeans, work pants, and slacks. These hangers are not only for garments; they also conveniently hold boots, belts, scarves and ties without worries of creasing! These are perfect for dorm rooms, small closets or seasonal storage.
Easy Grip Rubber Clips
Having clothes scattered on the closet floor ends here! Our hangers have rubber clips that securely grip garments without leaving damaging marks and prevent them from slipping onto the floor!
Sturdy Metal With Sleek Chrome Finish
These sturdy hangers are made of metal which is strong and resists breakage. Our hangers have a sleek, shiny chrome finish that prevents unsightly rust. Unlike plastic that can easily be broken, our hangers are resilient and durable; sure to last for years to come.
No Exposed Edges
Rubber tips have been fitted over all exposed edges for safe hanging. Users can rest assured that no sharp edges will cause injury to them or damage clothing.
Maximizes Closet Space
No more crowded closets! Our four-tier hangers utilize vertical space rather than horizontal; one of these tiered hangers replaces 4 standard hangers. Perfect for decluttering closet space; these hangers make clothing selection easy, time saving, and stress-free!
UPC: 810158030251
EAN: 810158030251
Package Dimensions: 15.2 x 13.5 x 3.1 inches