Are you shopping the Nordstrom sale? While its easy to become caught up in the sales, purchasing classic clothes and accessories is always a good idea.
I always think the sales are the ideal time to find something youve had your eye on for a while at a discount, or to choose timeless, yet quality items that you can wear now and for many seasons to come.
With the winter Nordstrom sale now starting, here are my picks that you can wear now.
1. Classic clothes to choose in the sales Organic cotton jacket
As you know, Im a big fan of natural materials rather than man-made fabrics, and this Eileen Fisher jacket is made up of a blend of organic cotton and cotton blend.
This Eileen Fisher jacket now has 40% off.
Eileen Fisher shawl collar jacket
2. Transitional booties
As most of you are heading from winter into spring, a pair of booties can be an ideal way to transition from cooler to warmer weather.
You could wear with your dresses and tights and cover with a moto jacket.
This Henley bootie style in soft brown suede has 60% off in the Nordstrom sale; now down to $56.82.
3. Kick flare jeans
While there is still a place for skinnies in your closet, flared, bootcut and wider jeans have definitely made a come back in recent seasons, and for the spring and summer season to come.
These Stella jeans are from one of my favorite brands, Kut from the Kloth and are a fantastic addition to your closet if you love classic clothes styles. With 40% off in the Nordstrom sale, they are now $53.40.
KUT from the Kloth Stella kick flare crop pants
4. Suede moto jacket
A moto jacket is one of the most versatile coats you can have in your closet. However, a traditional black moto can sometimes look a little out of place in the spring or summer months, depending on how you style it.
Instead, you could opt for suede in a soft color.
This Blank NYC moto is available in this soft coral, taupe or gray. With 50% offf, it is $93.98.
5. Comfy and stylish sandals
Looking for a pair of sandals comfortable enough for some sight-seeing, but stylish enough to see you through to evening?
You can choose from 6 different colors in this style from Kork-Ease. With cushioned soles, theyre a great option if you need arch support. They are now at $89.80 from $124.95.
I could decide if I preferred the neutral shade or bright orange see which is your favorite.
6. Woven coat
A timeless cross-over style with a stand-up collar, this coat from Cole Haan could appeal to you if you have a minimal style personality and you tend to choose classic clothes.
With 55% off, it is now $179.90.
Cole Haan Signature woven coat
7. Red crossbody
A crossbody bag will never date, but this one is particularly on-trend thanks to the curved styling.
You could opt for red or a soft gray. 40% off, down to $101.40
8. Classic blazer
Every closet surely needs at least one blazer. You might also like to take a look at these 28 wardrobe essentials to see what else forms a vital basic when you are choosing which classic clothes should have a place in your closet.
This J.Crew blazer comes in 3 neutrals, so will go with anything else in your wardrobe. With 30% off, it is now $138.60.
J.Crew 4-season stretch blazer
9. Modern mules
Mules are the perfect example of a shoe combining the timeless with the trendy. These mules by LOQ combine a number of trends in one, featuring a reptile texture as well as a cylindrical heel.
With 40% off, they are now $194.96.
10. Classic black pants
When it comes to the classics most of you have in your closet, a pair of black pants has to be right up there on your list.
Find the right pair of black pants, and the rest of your wardrobe becomes much more versatile, as these will go with any top at all.
These cleanly-tailored Eliza J pants will work for pretty much any occasion. With 40% off, they are now $76.80.
Eliza J high waist straight leg pants
11. Longline cardigan
A cardigan can work for so many seasons. You may wish to wear a cardigan as outerwear rather than a coat when the weather warms up.
This can also be an ideal style to add long lines to your outfit, making you look taller and slimmer (if you want to).
This Leith cardigan has 40% off and is now $41.40.
12. Asymmetrical black dress
Even if you already have a black dress in your closet, you may wish to consider adding this one. The asymmetrical detailing adds an unexpected twist.
Vince Camuto dress, 40% off, $83.40.
Also take a look at how to wear asymmetrical dresses and tops.
Vince Camuto asymmetrical dress
13. Turtleneck sweater in 6 different colors
A turtleneck sweater can not only be the ideal staple for winter and fall, but it can ensure you can wear your favorite dresses even when the weather is still cool.
You could, for example, layer this turtleneck from Halogen, which now has up to 33% off, under the next sale item on the list.
Halogen cashmere turtleneck sweater
14. Silk wrap dress
One dress style which is universally flattering, no matter what your body shape, is the wrap dress.
This patterned wrap dress may be a little pricier than some, but it is by the queen of the wrap dress herself, Diane von Furstenburg so still a great bargain as it has 40% off and will be something you can wear for many years to come.
15. High-low skirt
Whoever said blue and green must never be seen had clearly not seen this high-low skirt by Leith.
Now with 40% off, it is $38.98.
Leith high/low bias midi skirt
16. Black tote bag
Proving that you definitely can pick up timeless classics in the sale is this Nordstrom leather tote, which you should get plenty of use out of.
With 40% off, it is now $119.40.
Nordstrom leather accordion tote
17. Wool fedora
There were plenty of wool fedoras on the catwalks for spring and summer 2020. You could wear yours now with a summery dress, opaque tights or leggings and ankle booties.
With 40% off, this Brixton fedora is now $53.08.
18. Cats eye sunglasses
Everyone needs a great pair of sunglasses. Not only to add instant cool to any outfit, but to protect your eyes and the skin around them.
A cats eye pair are always a great option for women over 40 because they aesthetically point upwards rather than downwards, like an aviator style, for example.
These cats eye sunglasses by Kenzo have 33% off, making them $127.30.
19. Hoop earrings
Huge hoop earrings were a major trend for spring and summer on all the fashion week runways.
However, I have to say, I prefer a smaller, more comfortable hoop for everyday wear.
Take a look at these enamel plated hoops from Argento vivo, which have 6 colors to choose from and they are now at 40% off, making them $58.50.
Argento Vivo enamel plated hoop earrings
20. Stylish scarf
You definitely dont have to save your scarves for winter. A lightweight scarf can add style and interest to your summer outfits.
What do you think of this silk scarf with tiny hearts from Rebecca Minkoff? With 40% off, it is now $40.80.
Rebecca Minkoff hearts square silk scarf
Id love to know if you find a bargain in the sales. Let me know what your best ever sales bargain was.
Continue reading:
The Ultimate Checklist Of Wardrobe Essentials: Which 28 Essential Pieces Do You Need In Your Closet?
Like this article on classic clothes to choose from the Nordstrom sale? Share it on Pinterest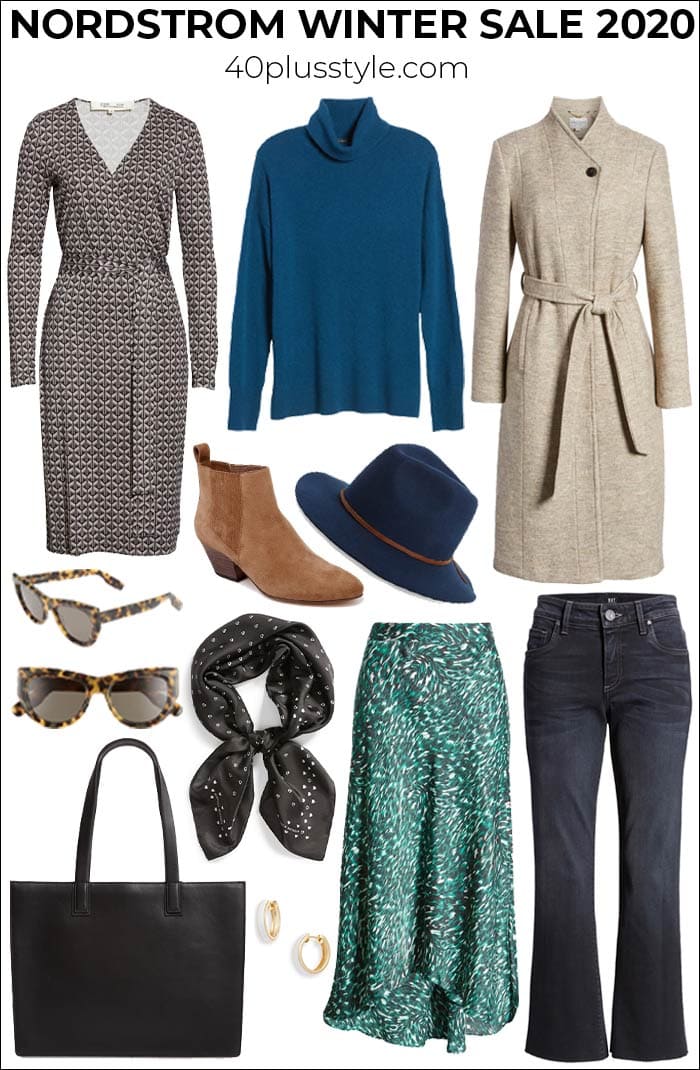 The post 20 classic clothes and accessories that will always be in style your best sale picks appeared first on 40+ Style.