• Accessories • FashionTrends • Gifts • Sports • WorkAttire
(Do I also need a Prada tote?) She's wearing a pair of the ballerina flats she designed with label Pretty Ballerinas! My final April installment of what you're shopping for! (Parts One and Two.) If you asked me a wedding guest outfit question, check Tuesday's post and also this entire new section of my shop! Q: Chic mom clothes to expand my jeans and white oxford daily look. A: Hi! Been there! The fastest way for me to get out of a rut is to add some fun new trendy accessories, like a spring headband, new sunglasses, statement earrings, great...
---
• FashionTrends • Patchwork • Patterns • StreetStyle • Trends
This is a trend you'll either love or hate — I'm in the former category as I have seen women rock the look with aplomb. This trend is taking off in no small part because it fits with the ethos of sustainability in fashion: why not upcycle old pieces to create something new? (Spanish brand Desigual has actually launched a patchwork denim collection using dead stock from past seasons!) Don't worry, it's not all rustic folklore looking stuff — there are pretty dresses from Olivia Rubin, Endless Rose ($110!), LSF (on sale in very limited sizes here), and SEA to...
---
• FashionTrends • Florals • Grandmillennial • Green • Trends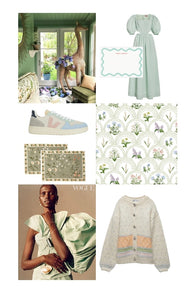 Sources, from top to bottom, left to right: Pictures I Saw and Loved // Papier Stationery // Staud Dress // Veja sneakers // Placemats // Riley Sheehy design // Vogue cover // Zara sweater Some chic finds in this vein… DYING OVER THIS DRESS PRETTIEST PLACEMATS AT A GREAT PRICEPOINT FUN BOW EARRINGS FOR $40 $25 H&M SCORE VEJA SNEAKS CHIC SCALLOP-TRIM STATIONERY THIS WHISPER JACKET IN THE OLIVE HEAVILY DISCOUNTED BROCK SKIRT ALIGNS IN THE HAZY JADE HUE DARLING SUITCASE SET (WOULD BE CUTE DECOR IN A LITTLE ONE'S ROOM TO STOW DRESS-UP OR STUFFED ANIMALS!) STUNNING LOEWE COAT...
---
• Fashion • FashionMustHaves • FashionTrends • Sweater • Sweaters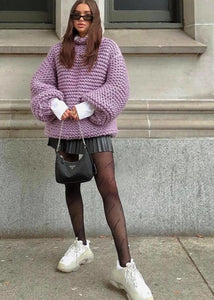 When it comes to cold-weather wardrobe, chunky sweaters are the coziest pieces. Many women completely avoid wearing chunky sweaters in fear of looking sloppy and bulky, but that doesn't have to be you! There are quite a few tricks to pull off chunky sweater outfits like a fashion icon and we're here to help you out! Flip through our gallery to find out how you can wear these pieces and look ultra-stylish this fall. Photo By @mumshandmade/Instagram Look stylish for a stroll around the city with a chunky sweater over a miniskirt. Choose a faux leather skirt to create a...
---
• Coronavirus • Earrings • FashionTrends • Jewelry • Summer • Turbothot
If you've been following me for awhile, you know I am in love with the jewelry Nicola Bathie makes. I have several pairs and just added these stunning blue cameo earrings to my collection. Happy Easter to me! They are insane! I could not decide on which pair I wanted for about a week — I literally would stare at multiple different tabs in my browser debating. I whittled it down to these blue ones and these green ones, but in the end, I wear a lot more white and blue than I do green, so blue it was. Love...