Here sits Hatshepsut. Here sits Sappho. Here sits Artemisia Gentileschi. Here sits Sacajawea. In 1979, the artist Judy Chicago unveiled The Dinner Party, now widely accepted as the first major work of feminist art. Made up of a triangular table featuring 39 place settings, each one for an important woman in history, the installation is both homage and history lesson. Although it was not well-received by critics when it was initially unveiled, it has since become an iconic work, and part of the permanent collection at the Brooklyn Museum of Art.
In 2016, the Italian designer Maria Grazia Chiuri made history herself when she was appointed the creative director at Christian Dior, becoming the first female designer to head the maison since its founding in 1946. Her debut collection opened with the model Ruth Bell, with her signature short cropped hair, in an all-white look that seemed inspired by a fencing uniform—cropped pants, sneakers, and a white quilted vest embroidered with a blood-red heart, well, over the heart. If it wasn't obvious then that this was a new vision for the house built by Christian Dior—he who's best known for introducing the constricting, nipped-waist New Look to women in 1947—then look 18 surely sealed the deal: a sheer, glittering ball-gown skirt worn over boy-cut underwear, and a white T-shirt emblazoned with the title of Chimamanda Ngozi Adichie's book We Should All Be Feminists. It was a T-shirt heard around the world.
Since then, Chiuri has made artist collaborations an essential part of the DNA of Dior. So perhaps it came as no surprise that the maison's most recent couture show was held inside a structure designed by Chicago, one of Chiuri's greatest influences. Guests walked into a womb-like space through a birth canal—based upon small fertility sculptures that the artist has been working on—emphasizing Chicago's interests in exploring "the feminine divine." Once inside, they found the interior decorated with giant flags hanging from the ceiling and bearing a series of questions relating to a central proposition: "What if women ruled the world?" The day after the show, GARAGE gathered Chiuri and Chicago to talk about art, fashion, and being angry. — Laia Garcia-Furtado
Judy Chicago and Maria Grazia Chiuri photographed in the Rodin Museum's garden on January 2020
Maria Grazia Chiuri: It's impossible to not know Judy Chicago if you love feminist art. She's such an iconic person. I learned about your work in a book, and it was a dream for me to meet you. My favorite museum in New York is the Brooklyn Museum. Every time I go to New York, I go to the Brooklyn Museum because I love the exhibitions, and also because I can come and see your work. Initially, I called you just to get to know you, but I also had so much hope that you would make a collaboration with me.
Judy Chicago: I didn't know that much about the world of couture—I could certainly never afford it. And I was really surprised last spring when a German magazine approached me about a profile they were doing on you, [and the] ten women who'd influenced you, and I was one of them. And I was like, "Really?" When they came to interview me [and] take a photograph [of me wearing Dior], I asked for [the Dior] T-shirt [that says] "We Should All Be Feminists." And I cannot believe the trouble I had. "No, no, we can't give you that." I think you probably had to step in and say, "Send one." And then they wanted me to send it back, and I wouldn't. I still have it. I wore it the other day.
A couple months later, my husband, Donald, and I, we got an invitation to come to the couture show in July. I'm really busy these days, and it was a kind of miracle that we just had this little window in time, and so we decided to go. It was overwhelming, completely overwhelming. I'd never seen a couture show before. By then I knew that the reason you wanted us to come was that you wanted to talk to me about a collaboration. So I'm sitting there, and this dazzle of sensory overload, and Vivaldi blasting, and lights, and embroidery, which I love, and paparazzi, and I'm thinking, "Really? Can art really have a place here?" I [don't mean as] background, not as decoration, not as commerce, but as an expression of meaning. So then you and I had a conversation, and I was really surprised that you immediately accepted the idea of the female divine.
It was really only yesterday, in a joint interview, that we were able to talk about the fact that this is something we've both been working on in our own ways for decades. You said how it's not just about clothes, which was so brilliant.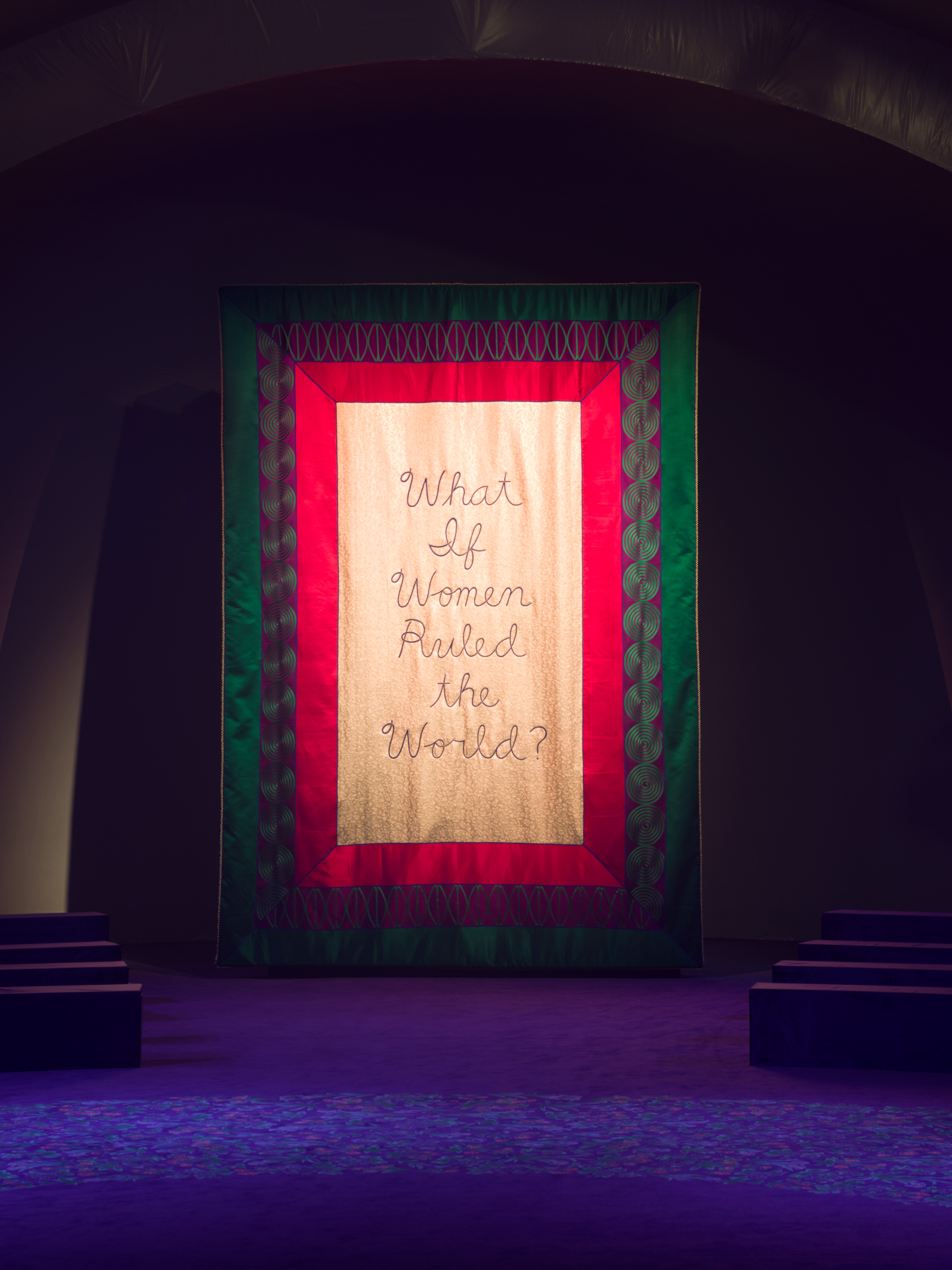 ©Judy Chicago/Artists Rights Society, New York. Courtesy of Dior. JUDY CHICAGO® is a registered trademark and all her works, including the banners in The Female Divine, are protected by US and international copyright laws. All rights reserved
MGC: When I arrived at Dior as a creative director, my vision was of collaboration with art in a different way. My family's art helped me understand more about myself, but also about my creativity. The idea was, I want other women that are artists in other categories, like in art—like you—or a dancer or a choreographer or a writer, to support me in this important legacy at Dior that I would like to last. To speak about women in a different way, to speak about femininity in a different way, for me, is very important.
The idea is also to share this important audience that Dior has with other artists, who may have a completely different [creative] language. For me the space of the show, it's like a gallery. It's something that you can use, [like the way that] you use a gallery.
In a different way, I would like to try to educate the couture and fashion audience to understand more about the relationship between clothes and body, that fashion is not so superficial, like people think, but it's an important institution like art.
JC: Doing interviews with you in the last couple days has been very educational for me. Okay? I've learned quite a lot. So, fashion has been about the female body. When feminist art started, it was all about the body. And when, later, feminist theorists accused me of "essentializing" women by talking only about the body, and making art about female agency, they wanted to make go away the fact that for centuries, women have been defined by their bodies. That is what women are: a body. "Men are spirit… Men are intellect… Men are reason…" And women are bodies. And so to transform fashion, as you're doing, is to address the very core of what it means to be a woman. Okay? That's what my work is all about, which you obviously understood.
MGC: Absolutely.
JC: So for us to come together is for us to be able to speak to women all over the world and say, "Take charge of your body, through your clothes, through your self and how you present yourself, and through the art you make."
Sittings Editor: Mark Guiducci
MGC: In fashion, it is not so easy to explain this concept. That's the real problem. And I think that artists like you can help [people] understand it. I think also that you have more authority than a fashion designer to speak about this argument. The system doesn't recognize the designer as an authority, because they have this idea that my point of view is very superficial, that fashion is creativity for creativity's sake, which is also a stereotypical idea. So I think your support at my job reflects upon fashion in a better light, not just on me but the whole fashion system. That what we do is important because we speak to women about their body.
JC: I understand what you're saying. I used to read fashion writing and say, "How can they justify those kinds of high heels, where you break your leg? How can they justify these clothes that are so uncomfortable?" That's why I was so struck when you were doing your rehearsals, that the models were saying, "My God, these clothes are so comfortable!" And I'm like, "Excuse me? Why should it be weird and unusual for clothes to be comfortable?"
MGC: Because in some way there is this stereotypical idea that fashion has to be uncomfortable, that the important thing is creativity. They don't think that clothes are so connected to the body. The body is the battleground.
JC: Absolutely. Absolutely.
MGC: It's women's bodies. We forget that.
JC: You're absolutely right—the female body is a battleground. I mean, the question is, and this is what feminist artists started to address right from the start: Who owns the female body? Who defines the female body? For centuries, it's been the male gaze, in art, that has defined what it is to be a woman—passive, languid, laying on a couch. Right? Naked. Exposed. And in fashion, [I wondered,] has the concept of the male gaze, which has been something very heavily debated in the art world, has that come to fashion? Obviously, what you've been doing is challenging the male gaze in fashion.
The other thing I've been saying and thinking about is how there has been no critical discourse on the relationship between art and fashion, even though there are all these artists working with fashion houses, in my estimation, in very commercial ways. [They're] not actually understanding fashion as a platform for new ideas, for new views of the female body, for new views of the world. And so I'm just beside myself that, working together, we're opening up these dialogues.
©Judy Chicago/Artists Rights Society, New York. Courtesy of Dior. JUDY CHICAGO® is a registered trademark and all her works, including the banners in The Female Divine, are protected by US and international copyright laws. All rights reserved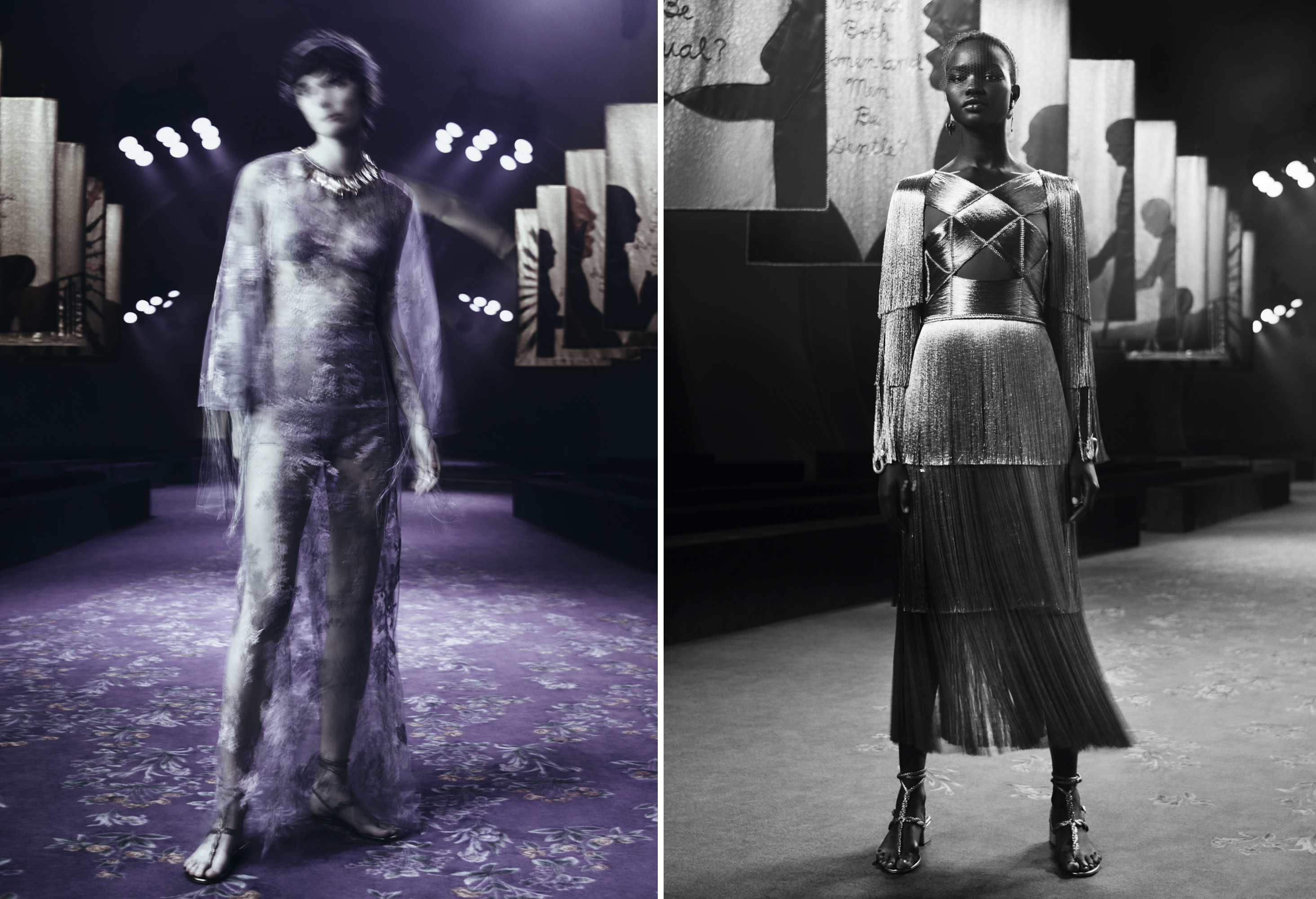 MGC: When I arrived at Dior, it was clear that it was not usual to have a woman in charge of the house, the most important house [for the] French, that in some ways represents a lot for the French culture, and also for the fashion world. Because Dior is not a simple fashion brand. Dior is an institution. It's something more than fashion.
So it's surprising that everybody said, "Oh, the first woman in Dior! That means a lot." Why are you surprised? I think that you can speak about if I have a talent or not, if I have a background to stay in this position, not about my being a man or woman. But [people being surprised] immediately gave me an idea about it all. So I said, "We have to speak about that."
The first thing I did was choose a woman photographer to shoot my campaign. And I tell you very frankly: When I asked that, initially they tried to say that there aren't [any] women photographers in the world. I said, "Sorry to say, [but] I found you a lot of names."
JC: But I think what's really important is to distinguish between women who have internalized the male gaze and women who have forged a female gaze—and also that there have been men who have supported women with a female gaze. Because if you think about our collaboration—which involved not just you and me; it also involved a huge male crew from [Bureau] Betak, who felt incredibly proud of having built a female goddess structure—I felt incredibly embraced. So I think to promote women who have internalized a male gaze is not a step forward. It's promoting an alternative gaze, and that is what you've pioneered and what I've worked for my whole life.
MGC: I think it's this different attitude that makes not a small difference. It's a big difference.
JC: Yes, being inclusive, that's what feminism is about, and that's something that people have really misunderstood. It's like, oh, women just want to topple the patriarchy so they can run the world like men have run the world, so they can plunder the planet like men have plundered the planet. So they can lord it over other people. No! That is not what we want. We want a world of equity and justice.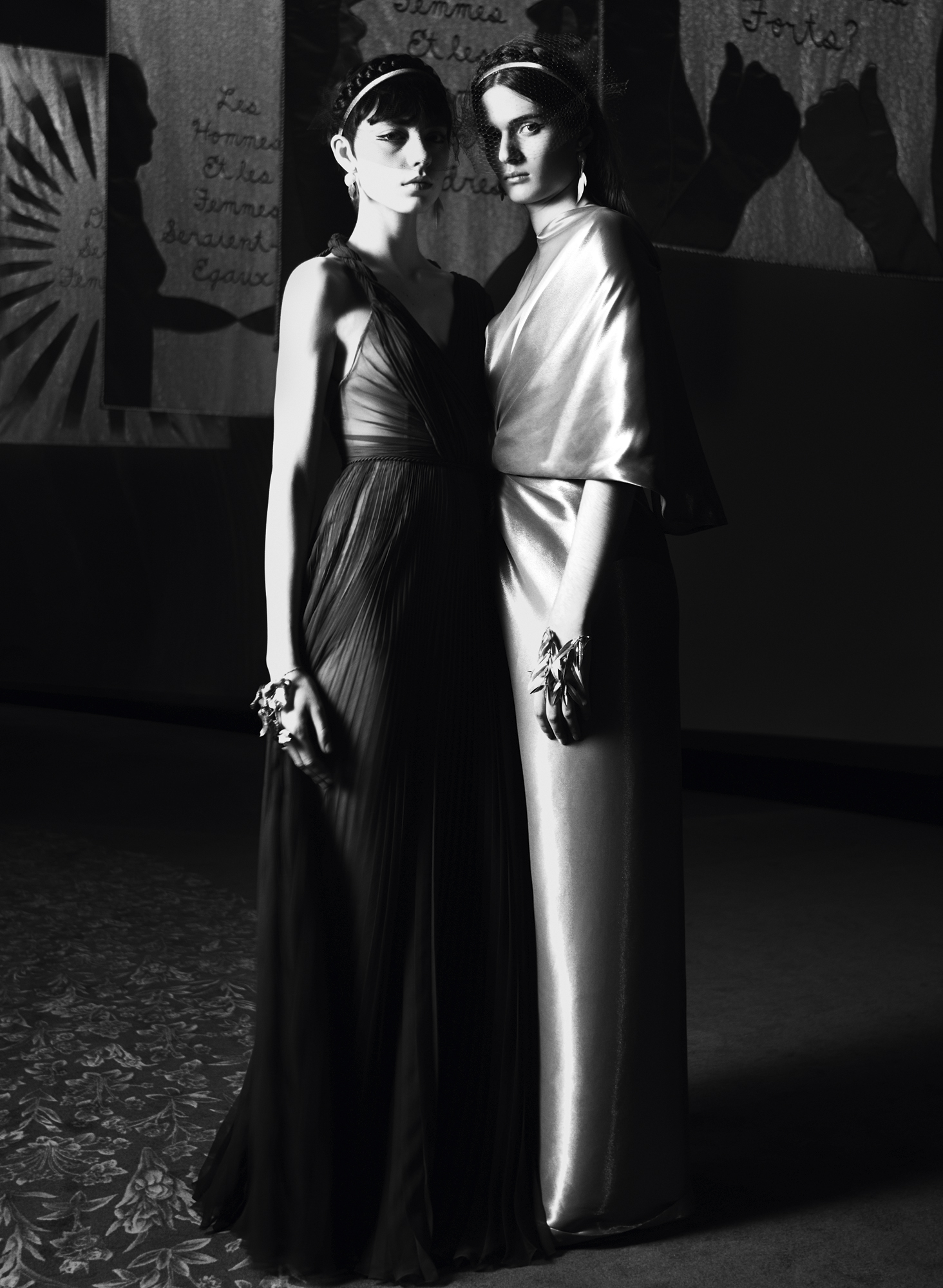 Hair Yoko Setoyama at Art & Commerce, Makeup Kim Garduno at Art & Commerce, Models Jamily Wernke Meurer, Akon Changkou, Jonna Blauret, Indira Scott, Miki Ehara, Margaux Ravera, Ninouk Akkerman Photographer's assistants Dan Doublass, Rosalie Nguyen, and Romain Hirtz, Digital Tech Federico Evagenlista, Fashion assistant Alex Assil, Production Kitten Production, Special Thanks Serie Yoon
MGC: Yes, but I remember at my first show, no one thought of it that way. Everybody thought I was angry. But I'm not angry. I'm worried for the next generation.
JC: You know, I am angry at what we've done to the world. And I'm worried for what we've done to the world.
MGC: But they believed that I was angry with The Man. I said, "No, I have a husband, I have two kids—one is a boy too. I am worried for the future."
JC: I agree. I'm worried for the future too. I'm worried about what we're doing to the planet. I'm worried about what we're doing to other creatures. I'm worried that we're going to destroy the world because the way men have run the world. I mean, it's like, men, burning their own country in Australia and 500 million animals. Men reversing environmental protections. Men destroying the Amazon. How did this happen to us? It's going to take a lot of men and women coming together to say, "Enough is enough!"