See all Best of Atlanta 2019 winners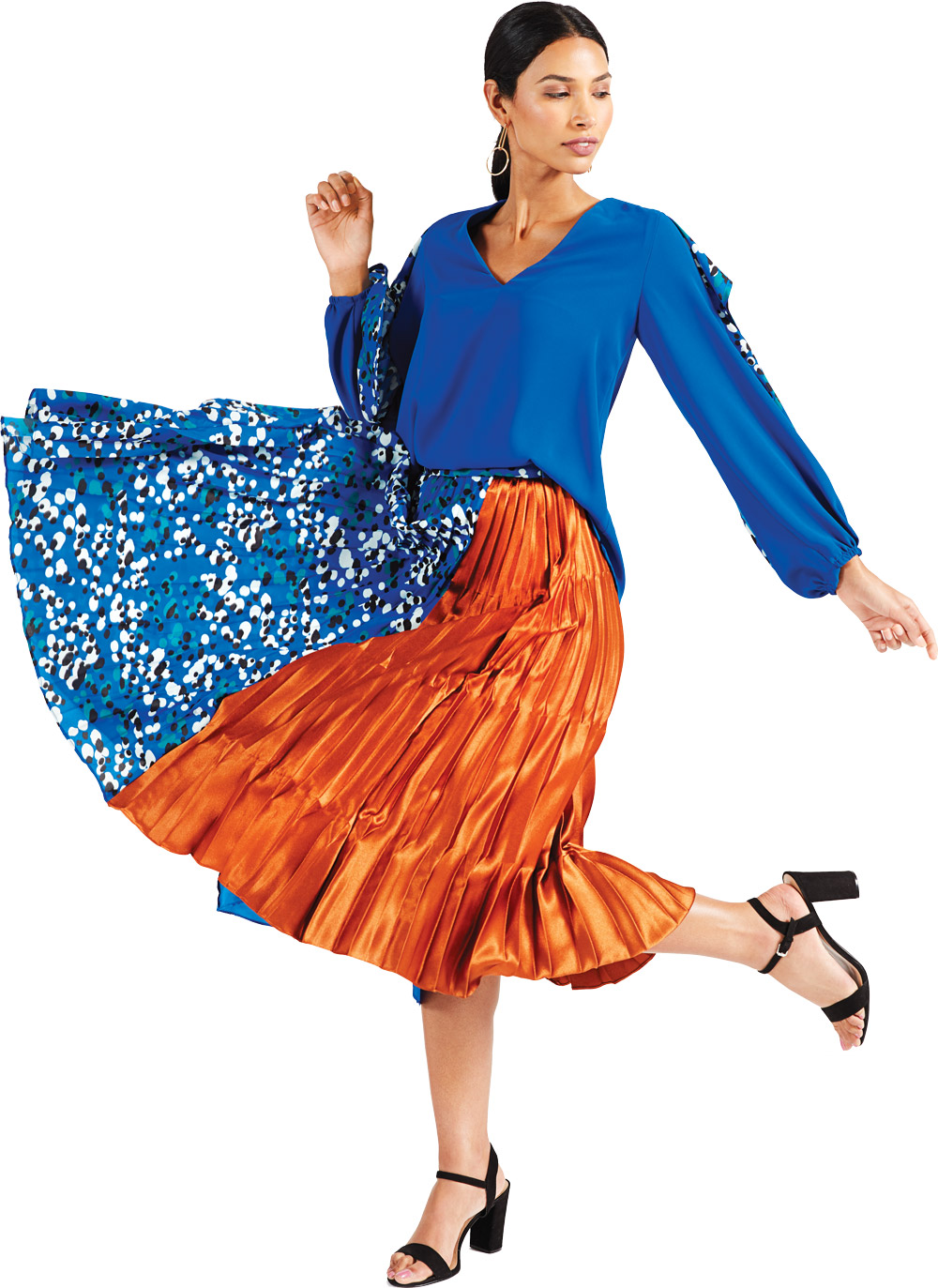 Fresh off an appearance at New York Fashion Week in February, Atlanta designer Caroline Ruder brought her inaugural Caroline Ann collectionfeaturing dresses and jumpsuits in bright jewel tones like cobalt and hot pinkto Tootsies. The SCAD alumnas collection was inspired by Ruders old family vacation photos from Hilton Head Island. Shop her fall/winter collection online: Geometric-print scarves start at $150, while blouses, dresses, and coats range from $450$2,000, including the holiday partyperfect Mackenzie dress, with elegant pleating and availability in metallic copper and pewter shades ($1,675).
A cheerful black-and-white awning and a pair of white iron benches flanking the entrance sets the mood at this cozy Cabbagetown spot. Inside, Flora/Fauna is a lush jungle with a wide array of healthy plants from basic philodendrons and fig trees to unusual specimens like spiky starfish snake plants or a whimsical ponytail palm tree. White-tiled walls and open shelves of modern black-and-white pots make the space feel like a dreamy planting shed.
This April, local womenswear designer Abbey Glass brought her superfeminine frocks to a retail store at the Shops Buckhead, relocating from Ponce City Market two years ago. Her latest fall/winter collection features sateen white blouses and dress shirts, as well as wide-leg trousers and Glasss signature, flowy dresses, in festive patterns like polka dot and camo.
Best New Bespoke Menswear: Knot Standard
Atlanta became the 10th outpost of the bespoke brand Knot Standard, which opened a showroom in July at the Buckhead Exchange. Offering made-to-measure suits, trousers, and shirts in various standard and premium fabrics, the new spot also features digitally savvy customer service, including a voice-activated Style Wall that shows customization options. The brand partners with Atlanta United to dress players off the pitch. A standard suit starts at $845.
Best New European Fashion Import: Scotch & Soda
Offering attire for all people and ages, Amsterdam-based fashion label Scotch & Soda made its Georgia brick-and-mortar debut this fall with its 1,500-square-foot store outfitted with vintage furniture in Lenox Square. The Dutch brands eclectic and, at times, electric stylesthink cornflower blue velvet track pants ($178) and an emerald snakeskin print leather shirt ($445) for women, and an orange corduroy blazer for men ($275)flaunt street-inspired colors and bold prints interpreted in upscale materials.
HOT HACK
Room & Board, which just received a top sustainability ranking from the National Wildlife Federation and the Sustainable Furnishings Council, has a clearance and floor-sample sale only once a yearon the first Saturday in January.
Buying a ball gown can be intimidating even if youre prepared to splurge. But owner Rawan Asad and her friendly staff put visitors at ease. Dont be fooled by the modest Alpharetta strip-center location. The boutiques crystal chandeliers, floral-bedazzled arches, and museum-like glass cases make visitors feel instantly regal. Asad offers North American exclusives by Walib Shehab and Baracci, plus Georgia exclusives by Zuhair Murad and Marchesa. Find a dress to remember, whether your big day is a prom, gala, wedding, or family celebrationand whether your budget is three figures or six.
Best Place to Buy Big Cacti: Varnish + Vine
When Shelby and Will Perry started their midcentury vintage business, succulents were just a side gig. But their huge cacti were such a hit that, this summer, they opened an East Point warehouse and started offering plant pop-ups across the Southeast full time. Peruvian apple cactus ($15 per foot) is the most popular varietyand also one of the easiest to care for here, partly because it is native to Florida and tropical climes, which also have high humidity. Most cuttings are below seven feet tall, but Varnish + Vine has sold specimens up to 12 feet. Follow them on Instagram to keep up with weekly sales. They plan to offer online ordering by the holidays.
Best Pattern Play: CROSBY
The nationally distributed but Atlanta-based label CROSBY by Mollie Burch opened its first retail store in Inman Quarter this past spring. A pink faux fur wall with a neon sign matches the whimsy of the labels signature abstract prints, all designed by Burch herself in an adjoining studio. Racks hold a curated selection of the nine collections released each year. And dont be misled by the light-hearted vibe. Theres also a serious side here. Each season, one print is inspired by a survivor of sex trafficking, and its proceeds are donated to Wellspring Living, a nonprofit that helps victims.
Best New Kitchenware Shop: etHOME
In October, this Roswell-based wholesaler opened its first retail store at Shops Around Lenox. With 19th-century timber sourced from Budapest, recycled glass, and other sustainably harvested materials, it crafts furniture and housewares with simple lines inspired by classic European kitchens. We especially admire cooking items like cutting and charcuterie boards, dough bowls, and bakeware.
Best Ecofriendly Undergarments: Thinx at COCO + MISCHA
Since launching in 2013, Thinx has built a cult following for its panties, available in boyshort, high-waist, and other styles, which are designed to absorb menstrual flow and replace pads or tampons. Washable and reusable, each piece is made in the companys factories in Sri Lanka, which aim to be zero-waste by 2025. Peach State shoppers can now find this brand in store exclusively at COCO + MISCHA, which announced its retail partnership with Thinx this fall.
HOT HACK
Extend the shelf life of your vintage and sustainable fashions to new customers through COCO + MISCHAs Slow Fashion Buy Back program.
Best Fair Trade Shopping: Nica Life
Founded as an online jewelry company in 2015, Nica Life opened its first retail location at the Beacon Atlanta last December and will expand to a larger space near Cabbagetown next year. The brands mermaid necklaces, colorful paper-bead earrings, and waxed cord stack bracelets are designed by artisans in Nicaragua, who earn fair wages to support their families. Simple string bracelets start at $6, while woven necklaces with glass beads can run up to $75.
Best Retail Relocation: Tom Ford
After three years at the Shops Buckhead Atlanta, luxury fashion brand Tom Ford has relocated to Phipps Plaza in the former Giorgio Armani space. Offering mens and womens ready-to-wear, the new 4,500-square-foot location enhances Phippss $300-million renovation, which began in October 2018 and will include a Nobu hotel and restaurant.
HOT HACK
Alternative Apparel opens its warehouse doors a few times a year for sample sales where fleece and cotton goods are discounted up to 85 percent. Look for a holiday sale in December.
Superlative services
Tailoring
Hongs Custom Tailor is the go-to vendor for Hollywood costume crews, offering everything from bespoke suits to alterations. Custom garments are embroidered with the owners initials or name. Locations in Buckhead and Norcross.
Leather Care
Santana Leather Care, a family business established in 2008, is a trusted source for the meticulous repair of name-brand and delicate leather goods. Its Atlanta location is in Buckhead.
Closet Editing
Dont worry: Lillian Charles is no Marie Kondo. But she will help you tap the full potential of your wardrobe and polish your personal style. Services also include personal shopping, virtual styling, even packing for trips.
Custom Curtains
Pretty fabrics are making a comeback, and its got us thinking about drapery again. The Curtain Exchange, a longtime Huff Road hidden gem, will help you design custom treatments from a wide array of designer fabrics and trims. Upstairs, theres a consignment space for high-quality panels.
Terrariums
Dont just send flowers; send a terrarium. Westside Provisions floral design firm Le Jardin Francais creates magical botanical worlds under glass, from $110. Weve kept ours alive for more than two years with just a weekly spritz or two of water.
Design Ateliers
Sometimes interior designers collect so much stuff they decide to open a retail store. And sometimes home boutique owners get so immersed in design that they become decorators. Either way, design services and home furnishings are a natural combo. Below are a few of our favorite spots across the metro area that offer both:
Blue Fern Merchant and Design Studio, Newnan
Sisters Lori Duncan and Staci Mandrell named their vintage and interiors store after their grandmothers, Fern Isabelle and Evelyn Blue. Their nostalgic, glass-storefront venue features accessories from small items like agate coasters and pottery drip coffee makers to bed linens and architectural remnants. Around the corner, Duncans pal (and former podcast cohost) Kenya Brantley stocks a smaller but sweet collection of accessories at Greenhouse Mercantile.
Dixon Rye, Westside
Owner Bradley Odoms collection of the original, repurposed, or discovered exudes an elegant Southern flavorthough more Truman Capote than Margaret Mitchell. Odoms grandfather was an upholsterer, so its no surprise that the house DR Collection is especially handsome, with classy details like channeled velvet and saddle-stitched leather. Carefully curated housewares range from French pottery to Belgian linen pillows.
RW Design & Exchange, Cumming
Recently relocated from the Collection at Forsyth to the new Halcyon mixed-use development in Cumming, this grand, two-story showroom feels a bit like RH Modern. Rich textures in leather chairs, cabled throws, and cowhide rugs mix with moody accessories like floor candles (tree stumps filled with wax) and Jan Barboglio iron tableware.
Trinity Mercantile & Design Co., Decatur
Co-owners Wallace Bryan and Lisa Turner stock a well-curated collection of furniture, lighting, and accessories and host creative events like flower arranging, art walks, and indigo dying. The mix finds that delicate balance between fresh and contemporary but warm and cheerful. The best part is their rotating group of featured artists like Lea Ann Slotkin and Liefje Smith.
Readers Choice
The post Best of Atlanta 2019: Style & Design appeared first on Atlanta Magazine.