Also see Marc Chagall at Auction
 Phillips - Marc Chagall's Le Père
 
Marc Chagall
Le Père, 1911
Estimate: $6-8 Million
 On 15 November, Phillips will offer Marc Chagall's Le Père in the New York Evening Sale of 20th Century & Contemporary Art. Executed in 1911, during a transformative period in the artist's career, the painting is among fifteen works of art that the French Government have restituted earlier this year — part of an ongoing effort to return works in its museums that were wrongfully seized by the Nazi Party during World War II. A long-treasured part of the collection of David Cender, a musical instrument-maker from Łódź, Poland, the work was taken from him in 1940 before he was sent to Auschwitz with his family. By 1966, it had been reacquired by Chagall himself, who held a particular affinity for the painting, as it portrays his beloved father. In 1988, the Musée national d'art moderne, Centre national d'art et de culture Georges-Pompidou in Paris received the painting by dation from Chagall's estate. Estimated at $6-8 million, this is the first work from this group of fifteen restituted artworks to appear at auction.
Jeremiah Evarts, Deputy Chairman, Americas, and Senior International Specialist, 20th Century & Contemporary Art, said, "Phillips is honored to play a role in the incredible journey that this painting has taken over the last century. Chagall's legacy is vital to the history of Western art, with Le Père standing as a masterwork within the art historical canon. The heart-wrenching and compelling history of the painting after its completion, all leading to the wonderful news of its return to the Cender Family makes the story of Le Père all the more fascinating. We commend the French government for their dedication in returning such important works in their collection to the families of their rightful owners."
Le Père is a rare, dynamic portrait which signifies the artist's pivotal transition from art student in Saint Petersburg to one of the defining figures of European Modernism. During the winter of 1911-1912, Chagall moved into La Ruche, an artists' commune on the outskirts of Montparnasse. The works he created over the next three years are among the most highly regarded of his career, with his portraits bearing particular significance. Throughout his lifetime, Chagall revitalized the inherited traditions of portrait painting. He painted dreamy and fantastical portraits of lovers, religious figures, villagers, and his beloved family throughout his seven-decade career.  Le Père is an intimate portrait of the artist's father Zahar, a quiet and shy man who spent his entire life working in the same manual labor job. Portraits of the artist's father are rare within Chagall's oeuvre. Far from the generalized symbols of lovers that dominated much of his later paintings, this early work is a remarkably personal and heartfelt depiction.
The early owner of this painting, David Cender, was a prominent musical instrument maker in Łódź, Poland who created pieces of the highest class for the eminent musicians of the era, as well as being a musician and music teacher in his own right. In 1939, David married Ruta Zylbersztajn and soon after their daughter Bluma was born. Prior to 1939, 34% of Łódź's 665,000 inhabitants were Jewish, and the city was a thriving center of Jewish culture. In the spring of 1940, David Cender and his family were forced to leave their home and move into the ghetto, leaving behind numerous valuable possessions including their collection of artwork and musical instruments. While David survived the war, his wife, daughter, and other relatives were killed at Auschwitz.
Chagall reacquired the work by 1966 and it remained in his personal collection through the remainder of his life. In 1988, Musée national d'art moderne, Centre national d'art et de culture Georges-Pompidou in Paris received by dation from the Chagall estate Le Père along with 45 paintings and 406 drawings and gouaches. Ten years later, the work was deposited into the Musée d'art et d'histoire du Judaïsme in Paris, where it was been on view for twenty-four years.
Earlier this year, on 25 January 2022, the French National Assembly unanimously passed a bill approving the return of the fifteen works of art; the bill was then passed by its Senate on 15 February. The Minister of Culture, Roselyne Bachelot, praised the decision saying that not restituting the works was "the denial of the humanity [of these Jewish families], their memory, their memories." The historic passing of this bill marks the first time in more than seventy years that a government initiated the restitution of works in public collections looted during World War II or acquired through anti-Semitic persecutions.
On April 1, 2022, Le Père was returned to the heirs of David Cender by the Parlement français in Paris.
Coming to auction for the first time, Le Père is a treasured and rare example from the artist's early oeuvre. It's inclusion in this landmark restitution signifies a historic moment in cultural history.
Christie's The group is led by Le peintre et les mariés aux trois couleurs (1984, estimate: £1,000,000-1,500,000, illustrated above, right).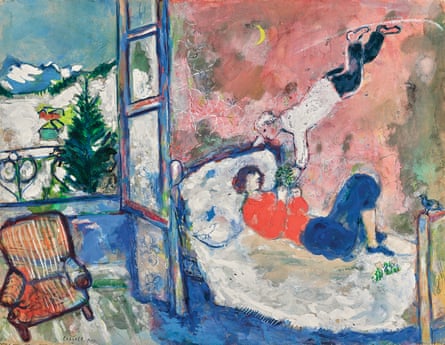 Marc Chagall, La branche de gui or Le rêve, 1928, gouache, black chalk and pencil on paper (est. £700,000 – 900,000)

Unseen since 1985 In this beautiful and tender evocation of Chagall's most beloved subject matter, his wife Bella, the artist depicts himself presenting her with a branch of mistletoe, a symbol of long life and health. The joyous work was painted in the 1920s, a happy and peaceful time for the family, and as they travelled through France his works became increasingly brilliant and luminous. Having never previously been offered at auction, it will go on public view for the first time since it was exhibited in 1985.

Marc Chagall, Fleurs de St. Jean-Cap-Ferrat. Estimate $2.5/3.5 million. Courtesy Sotheby's.


A brilliant wash of emerald green and crimson red, Fleurs de St. Jean-Cap-Ferrat belongs to a body of work created by Marc Chagall following World War II, featuring several motifs that would remain central to Chagall's late oeuvre (estimate $2.5/3.5 million). Lighter, renewed tapestries of couples, flowers and animals began to replace Chagall's darker, religious and Holocaust-related works. The bottom portion of the canvas is devoted to the placid coastline of the work's titular town, Saint-Jean-Cap-Ferrat, situated on a picturesque peninsula southeast of Nice, which served as the locus of Chagall's artistic rebirth in 1949.
Autour de 'La Revolution 1937', a remarkable, and joyous work painted in the aftermath of the Second World War by the Russian-French artist Marc Chagall, leads Bonhams Impressionist and Modern Art Sale in London on Thursday 28 February. It is estimated at £300,000-500,000.
The 1917 Revolution and subsequent Russian Civil War were key events in Chagall's artistic development. 20 years later – having moved to Paris in 1923 from his home town of Vitebsk – he embarked on his Révolution series. Over several, similarly structured, works, Chagall juxtaposes political upheaval, represented by the revolutionaries on the left side of the canvases, with artistic and domestic harmony in the form of musicians, roof tops, animals and lovers on the right. Separating these two worlds, the figure of Lenin is shown performing a handstand on a table, at which sits a rabbi contemplating the Torah.
Chagall returned to the theme in the years following World War Two. Being Jewish, he had fled France after the German invasion of 1940, and lived in America until 1948 when he returned to the country he saw as home. Autour de 'La Revolution 1937' was painted at some point between 1945-1950, and is a reflection on the earlier series (the title translates as Around 'The 1937 Revolution'.) The tone is markedly apolitical and lighter. The figure of Lenin has been replaced by an acrobat – a favorite Chagall motif - and the rabbi is now an elderly violinist. The revolutionary crowd has shrunk to a small group of banner-waving protestors.
Bonhams Global Head of Impressionist and Modern Art India Phillips commented: "After the Second World War, Chagall made a deliberate decision to emphasize beauty and peace. From exile in New York, he had followed the fate of European Jewry with mounting horror. Unlike many of his contemporaries, however, he chose to process his reaction to this unimaginable suffering through determined and conscious optimism."
Marc Chagall, La Tour Eiffel, 1929. $6-9 million
Property from the National Gallery of Canada, Ottawa, Sold to Benefit the Acquisitions Fund
Filled with an air of sensuous, passionate romance, La Tour Eiffel encapsulates the wonderfully poetic style that emerged in Marc Chagall's oeuvre during the 1920s and 1930s. It was during this period that he experienced a period of unprecedented happiness, stability, comfort and professional success amidst the bustle and energy of Paris. Bursting with rich color and the artist's unique symbolic vocabulary, this beautifully composed painting includes many of Chagall's favorite themes, from love and memory, to music and fantasy, combining unexpected elements to create a mysterious, otherworldly scene.
Its dreamlike atmosphere offers a glimpse into not only the rich depths of the artist's imagination, but also the close family bond that Chagall shared with his wife Bella and their young daughter Ida. The three principal characters in the composition may be read as symbolic portraits of the trio, Chagall as the rooster, Bella the reclining nude, and Ida the angel who graces their life with such joy. In this way, the scene becomes a celebration not only of the artist's creative vision, but also the happiness that the Chagalls found in their new life in Paris, following the years of upheaval and tumult they had suffered through for more than a decade.
At its heart, La Tour Eiffel is a romantic ode to Chagall's beloved wife Bella, whose enigmatic personality and unparalleled beauty enthralled the artist throughout his life, and drove him to reach new painterly heights in an effort to capture the true essence of her spirit. In La Tour Eiffel, her reclining pose echoes numerous art historical depictions of the female nude, from Titian to Manet, Goya to Modigliani, revealing the soft sinuous lines of her body as she stretches elegantly across the couch. Modelling her form with delicate touches of pink, green and blue, Chagall captures not only the beauty of his wife, but also the serenity and poise he so admired in her. Setting her in the immediate foreground of the composition, he identifies her as the symbolic heart of his life in Paris, the source of all the joy and bliss he enjoyed there.
Filled with an air of sensuous, passionate romance, Marc Chagall's La Tour Eiffel (estimate: $6-9 million) encapsulates the wonderfully poetic style that emerged in his oeuvre during the 1920s and 1930s. It was during this period that he experienced unprecedented period of happiness, stability, comfort and professional success amidst the bustle and energy of Paris. Bursting with rich color and the artist's unique symbolic vocabulary, this beautifully composed painting includes many of Chagall's favorite themes, from love and memory, to music and fantasy, combining unexpected elements to create an otherworldly effect. La Tour Eiffel, which Christie's is honored to handle on behalf of the National Gallery of Canada, Ottawa, to benefit its acquisitions fund, is being offered for its' first time at auction, following record-breaking results for Chagall in November.
Marc Chagall's lyrical masterpiece, 

 

Les 

 

Amoureux   will highlight 
Sotheby's 

 

 

that  New York Evening Sale of Impressionist & Modern Art 

 

on 14 November 2017. A stunning 

 

image 

 

of the artist's two great loves – his 

 

childhood 

 

sweetheart and muse, Bella Rosenfeld, and his 

 

adoptive 

 

home 

 

of 

 

France 

 

– 

 

Les Amoureux encapsulates the best 

 

characteristics of Chagall's oeuvre . The work has remained in 

 

the same family collection for nearly 90 years, having been 

 

purchased from legendary Pari ian gallery Bernheim -Jeune 

 

in 

 

October of 1928 

 

– the year it was painted. 
The enchanting oil on canvas is estimated to sell for $12/18 

 

million during the 

 

November Evening S ale. Simon Shaw, Co -Head of Sotheby's Worldwide Impressionist & Modern Art Department , remarked: 

 

" It is 

 

an honor to offer this exquisite 

 

painting by Marc Chagall , perhaps his greatest work of the 

 

1920s . Les Amoureux 

 

captures 

 

at a critical moment one of the most celebrated love stories in art 

 

history – the romance between the 

 

artist and Bella 

 

is palpable, and their 

 

happiness is at its 

 

very heart . In addition to the 

 

painting's 

 

importance 

 

with in Chagall's career, it is truly exceptional to offer a 

 

work of this caliber that was acquired so soon after its creation, and which has remained in the same 

 

collection since. We have seen a compelling demand for important works by 

 

the artist in recent 

 

yea rs, an d we look forward to presenting Les Amoureux this fall ." 

 

Sotheby's set the current auction record for any work by Marc Chagall in May 1990, when 

 

we 

 

sold 

 

his 1923 painting 

 

Anniversaire for 

 

$14 .9 million . Similar 

 

in subject matter to the present work , 

 

Anniversaire depicts the 

 

starry -eyed lovers sharing a kiss while, q uite literally, floating on air . 

 

 
LES AMOUREUX 
The present 

 

work fully evokes the devotion and tenderness so 

 

present in Marc and Bella's relationship. Entwined together in 

 

the night sky, surrounded by verdant, flowering bushes and a 

 

bird soaring through the clouds, the lovers 

 

lay engulfed in a 

 

dream -like space, with 

 

Bella's dress and skirt saturated with 

 

colors of the French fl ag. 

 

Chagall's love for his first wife and most 

 

celebrated muse is 

 

difficult to overstate. Upon meeting Bella for the first time, the 

 

artist wrote of his certainty: 
"Her silence is mine. Her eyes, 

 

mine. I feel she has known me always, my childhood, my 

 

present life, my future; as if she is watching over me, divini ng my innermost being....Her pale 

 

coloring, her eyes...They are my eyes, my soul." * 
The artist met Bella Rosenfeld in Vitebsk in 1909 
and the couple became engaged within a year, shortly before Chagall's first trip to Paris in the 

 

summer of 1910. During the a rtist's first four years abroad, he and Bella would correspond 

 

frequently and his homesickness for Russia became 

 

enmeshed 

 

with 

 

his desire for his distant 

 

fiancée. 

 

Following Chagall's return to Russia and his marriage to Bella, paintings depicting the couple 

 

dominated the artist's work. In 1916 -17, 

 

he created four oils of the two embracing on abstracted 

 

backgrounds. It was in these years that the couple in flight – a trope that would become one of 

 

Chag all's prime pictorial devices in later years – became firmly established. 
Just as Bella inspired many of the works in his oeuvre, France also became 

 

a prominent source of 

 

inspiration for the artist. Chagall arrived in Paris at the young 

 

age of 23; within his first two days, the 

 

artist visited the Salon des Indépendants, where he observed works by André Derain, Fernand Léger, Henri Matisse, Pablo Picasso, and Robert Delaunay, who would later become Chagall's mentor. 

 

 
During this time, the artist lodged in La Ruche , the legendary block of studios in Montparnasse 

 

known for its lively bohemian atmosphere and diverse array of inhabitants, next door to Amedeo Modigliani 

 

and Chaim Soutine. It was in this milieu of spontaneity and rich cultural exchange that Chagall began his first period of painting in Paris. Chagall returned to his beloved city with Bella , and 

 

their first and only child, Ida ,in September of 1923 and remain ed there until 1941, when World War II forced them to flee to the US. 
With his great 

 

loves with him in France, Chagall was able to fully enjoy his adopted 

 

home country. All of the portraits of him and Bella together during 

 

their time in Russia were now imbued with a new -found peace and 

 

tenderness in this new stage of their life together. 

 

These years in France were particularly fruitful for Chagall , marking a period of comm ercial and 

 

critical success, happiness and security . Having returned to the C ity of Light after a nine -year hiatus, 

 

the artist found a new equilibrium of mind, a peaceful atmosphere and an audience . Young 

 

Surrealists welcomed 

 

him back to Paris , and in turn 

 

Chagall was pleasantly surprised to find that 

 

they 

 

supported 

 

a changing attitude towards the sort of dream -like 

 

poetry painti ng he pioneered 

 

many years before. Despite their flattery, Chagall declined the group 's invitation to join the 

 
4 
movement, though his influence can be seen throughout their work , from ambiguous space to 

 

collections of objects. The moon and sky of the present work , for example, evoke René Magritte's 

 

composition s of later years. 

 
*This quote was reproduced in J. Baal- Teshuva, ed, 

 

Chagall, A Retrospective , New York, 1995, pp.58 -59 #
Other highlights include: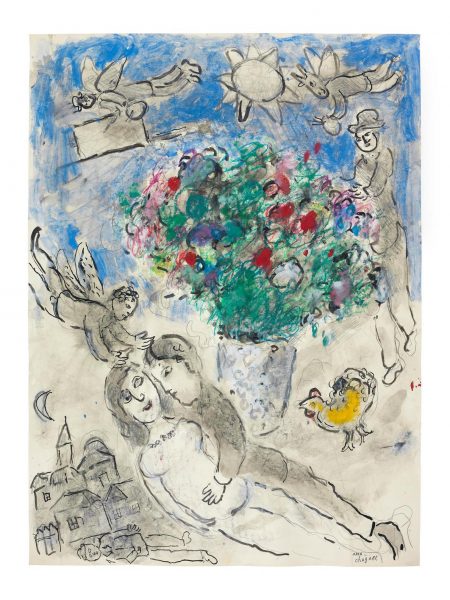 • A sublime manifestation of Marc Chagall's appreciation of youth, beauty, love and harmony, his painting 
Repos au bouquet de fleurs
, circa 1980, is estimated at £250,000-350,000.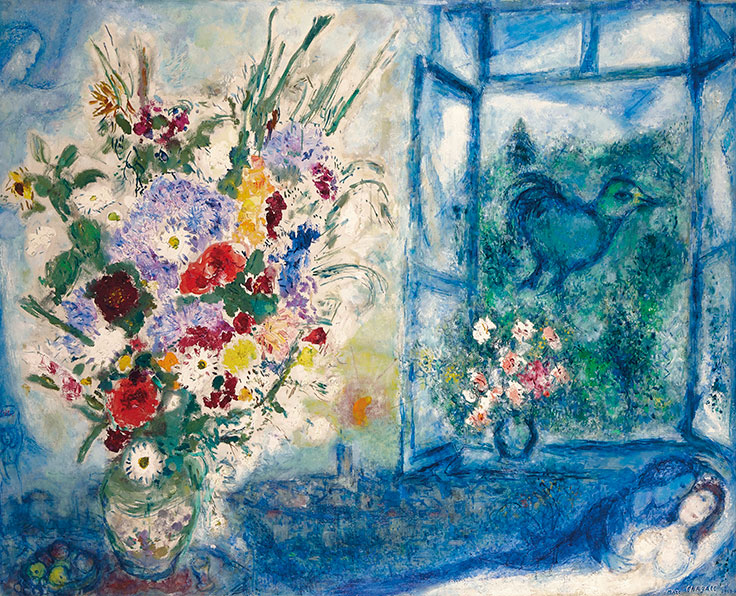 Painted from 1959 to 1960, 
Bouquet près de la fenêtre
 by 
Marc Chagall
 (1887-1985) has been identified as one of the finest flower paintings of this period by the author of the artist's definitive biography and catalogue raisonné, Franz Meyer (estimate: £2.5 – 3.5 million). Acquired by the family of the present owner 35 years ago from Galerie Maeght in Paris, this monumental work presents the themes that dominated Marc Chagall's painting throughout his career: romance, memory and nostalgia. Filled with light and colour, 
Bouquet près de la fenêtre
 reflects the peaceful Mediterranean idyll that was Chagall's life at this time. Chagall had first introduced floral still-lifes in his paintings in the mid-1920s, having returned to France from his native Russia in 1923. He developed a new feeling for nature, and was particularly enchanted by flowers as the embodiment of the French landscape. Flowers also served as a potent symbol of love in Chagall's work; the present work celebrates his love for Valentina or 'Vava' Brodsky, his second wife and last great love. Arranged like fragments of a dream, the various motifs of 
Bouquet près de la fenêtre 
appear as figments of Chagall's imagination, memories from the artist's past, and images of his present life, creating a new, fantastical reality.