Street Style Meets Italian Realness
Photos by Daniela Lisi
How many of you have wondered what a personal stylist (or wardrobe stylist) actually does?
I often talk with individuals who have two key beliefs about styling:
It is one very specific service (generally personal shopping) and

It is only accessible / financially viable to the rich & famous
While both of those points may have bits of truth within them, they are not exclusively true or representative of what I offer and prioritize as a stylist.
While personal shopping is a substantial part of many styling appointments, there are so many additional service options from cleaning out / decluttering your closet to auditing your closet to creating a strategy to be more intentional with your wardrobe to adding pieces that you NEED and WILL WEAR to planning for an upcoming vacation and/or special event.

Additionally, the motivations for why my clients use a stylist range broadly from lack of time, love of style but loathe of shopping, love of shopping but overwhelmed by options, love of fashion but seek support to curate a strategy and style identity, and the list goes on.
As you can see styling is MANY things with no one definition, which is why I offer (and advocate for) consultations. Consultations provide an opportunity to zero in on your needs + wants and create a styling plan that is developed with your goals, budget and time at the center.
I am here to support your style journey in any way and my goal is to make approaching your closet and style seamless, so that every day you can FEEL your best with minimal effort.
You may be saying, greatmakes sense but I require more detail. Read on!
---
To help add more color and life to the process and, most importantly, share an outcome example, I am going to walk through a recent styling appointment completed in partnership with, none other than, the amazing, Candice Simons of jadore Detroit.
THE TRAVEL DETAILS
Candice was jet setting off on a two-week Italian adventure and requested my styling services.
First up : the consultation to learn more about Candices itinerary, timeline, needs / wants and vision for her vacation style. In this phase, I focus on very tactical questions (they are essential), like
Where are you going?

How long are you traveling for? How many/ what type of suitcases are you bringing?

What type of activities are you planning? Any special events to consider?

What is your budget?
Once I have the basics, I start to formulate a vision board in my head and map out all the client inputs and begin to overlay my vision and path to the intended output (in this case, a travel wardrobe)!
Candices trip brought a unique challenge, in that she was heading to THREE different parts of Italy (Positano, Florence and Tuscany) at a transitional time when the weather could range from 45F to 75F. Secondarily, the pressure was on because we are talking about ITALY; leaders in some of the best street style EVER.
[The good news is that I pride myself in my ability to curate eclectic street style vibes!]
Additionally, travel styling is VERY unique because it presents a fair amount of restrictions that require careful planning. Generally, for travel, I focus on defining what COMFORT, STYLE and TACTICAL NEEDS (fits in suitcase, readies for events & itinerary, addresses weather) mean to the client and then have them rank where these attributes fall in level of importance.
For Candice specifically, we zeroed in on maximizing street style with comfort and prioritized:
1) Adding staples + statement pieces to compliment her existing pieces and round out her overall travel wardrobe (budget friendly)
2) Adding staples + statement pieces to compliment her existing pieces and round out her overall travel wardrobe (budget friendly)
CREATING A STYLE STRATEGY & WHAT TO BUY
This is where the jonnellebird special comes in.
As a stylist, I create a strategy that translates the clients preferences into a functional, stylish wardrobe they will love! I, of course, pull directly on what is communicated but the styling magic happens when I sprinkle in my style expertise and unique perspective to create style personalities, which will guide the purchases I make for the try-on session.


Candice described her travel style vision as:
FUN. EFFORTLESS. CHIC. WHIMSICAL BUT COMFORTABLE. MULITPLE TEXTURES AND PATTERNS. MIXING UP PIECES IN AN UNEXPECTED, EDGY WAY.
In summary, STREET STYLE MEETS ITALIAN REALNESS
Based on all of this, the styles personalities I focused on creating through wardrobe for Candice were:
Personality #1 : Street Style Meets Business
Floral shirt: Baacal, Skirt: Banana Republic, Sparkly top: Target
For this look I decided to focus on a tailored silhouette (bias midi skirt) while introducing different patterns (leopard + floral), colors and textures to balance business with fun. Additionally, I choose this skirt for the versatility; it can go with virtually any blouse. We were able to style this with a shirt Candice already owned (above left) + a new blouse with shoulder detail (above right). I also love this because Candice can easily add a sweater or trench coat to build additional street style (or warmth, when necessary).
Personality #2: Feminine + Masculine
Hello. Super feminine dress, please meet leather jacket.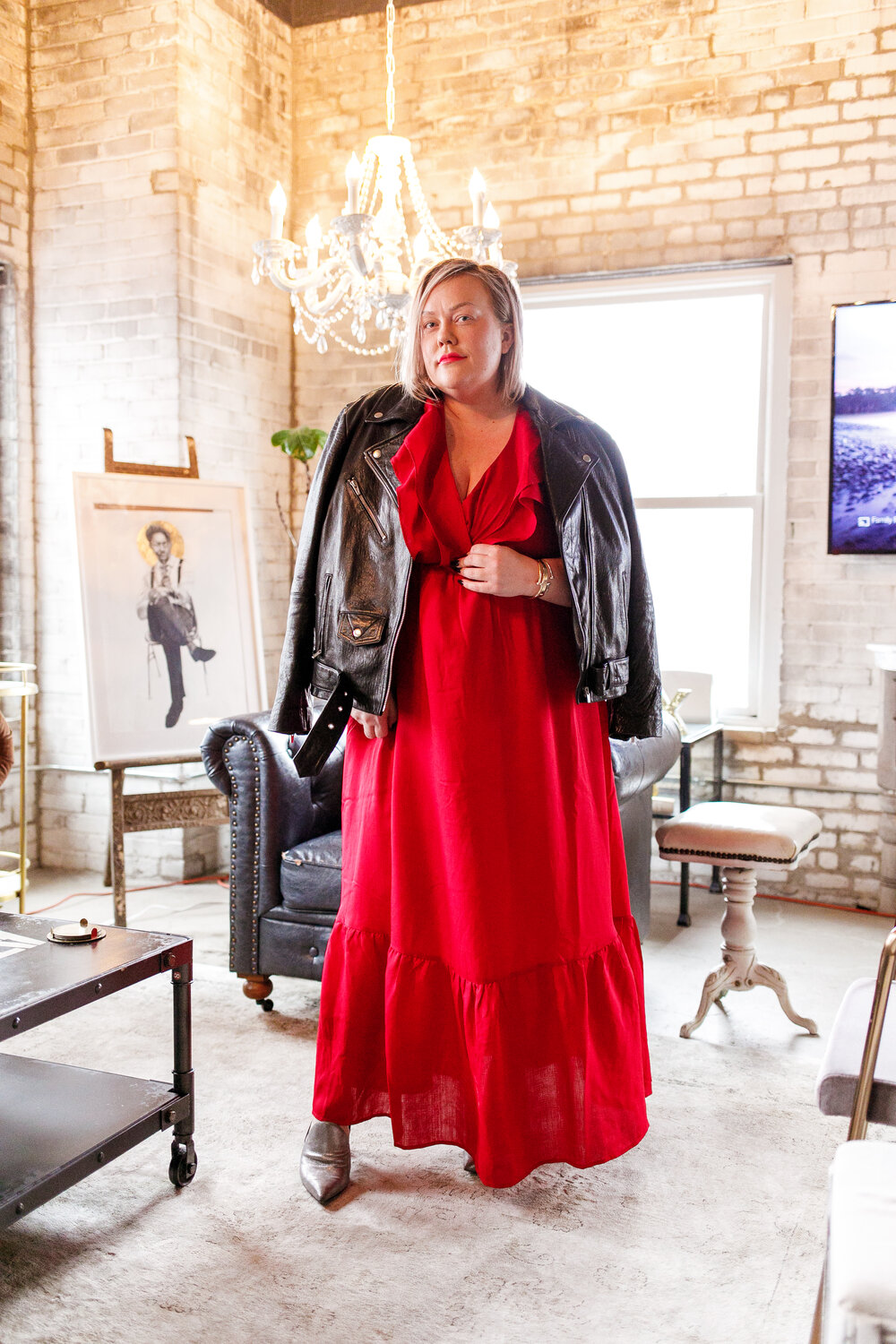 Dress: Target, Jacket: 11 Honor/Veda
This look pulls together a flowy boho cut, powerful ruffles and the structure of a leather jacket to create a bold, powerful look with only two pieces. Candice highlighted wanting to combine pieces in unique, surprising ways and this look does just that. It demands attention and requires compliments.
Personality #3: Fun & Whimsical
Skirt: HALOGEN x Atlantic-Pacific Tiered Tulle Skirt
Shirt: Asos
I am OBSESSED with this skirt. When Candice shared it as an item she already had in her wardrobe, I knew I had to find the perfect complimentary pieces. To exude whimsical & fun (but also powerful) I pulled a leopard print top in the same color palette. Additionally, to maximize use of the skirt, I also opted for a structured blouse with red polka dot pattern. I loved pulling in the red; it is in the same color family as the skirt but added another pop of intentional complexity.
This option could easily shift into street style meets business as well!
As part of this styling appointment, I pulled around 50 pieces for Candice to try on!!
Quick facts & figures:
Of the 50, Candice selected 19 items to purchase. Overall, for those 19 items, I was able to save Candice over 30% off the overall retail total. For me, there is no better feeling than seeing the smile, confidence and comfort that Candice (and my other clients) have after booking a jonnellebird style experience.
I am so excited with the outcome of Candices styling appointment and cannot wait to see these creations in action. Watch out Italy; a fashion maven is coming for you.
And remember, while this specific post focuses on travel style, styling appointment options are endless, with my services starting at $100.Follow me on Instagram or email me at jonellebird@gmail.com for styling & fashion inquiries!
Until next time birdies,
Xoxo jonnellebird
What do you think of the looks & style personalities? Let us know below!