Of course you can dress any which way you like. But i know that some of you worry that you look too young, or you feel that you may be trying too hard to stay young. I've also been getting questions on how to avoid appearing older than you are. So here are some of my guidelines on how to dress after 40.
Please note that these are just GENERAL guidelines and some of my own personal preferences. They certainly don't apply to everyone.
However, I do believe in dressing to your strengths and taking your body shape and style personality into account. So, if you would like to have some guidelines on how to dress after 40, then you can find them below.
How to dress after 40 – What are some of the things you should avoid?
Below are a few general guidelines on what to avoid doing in terms of style after 40.
1. Don't buy clothes that do not flatter you, even if they are on trend this season.
You may be tempted by a new trend but be picky. Only choose those that suit your personality and your your body type. You can find guides on dressing all the different body types in these articles:
2. Try not to be too matchy-matchy or too polished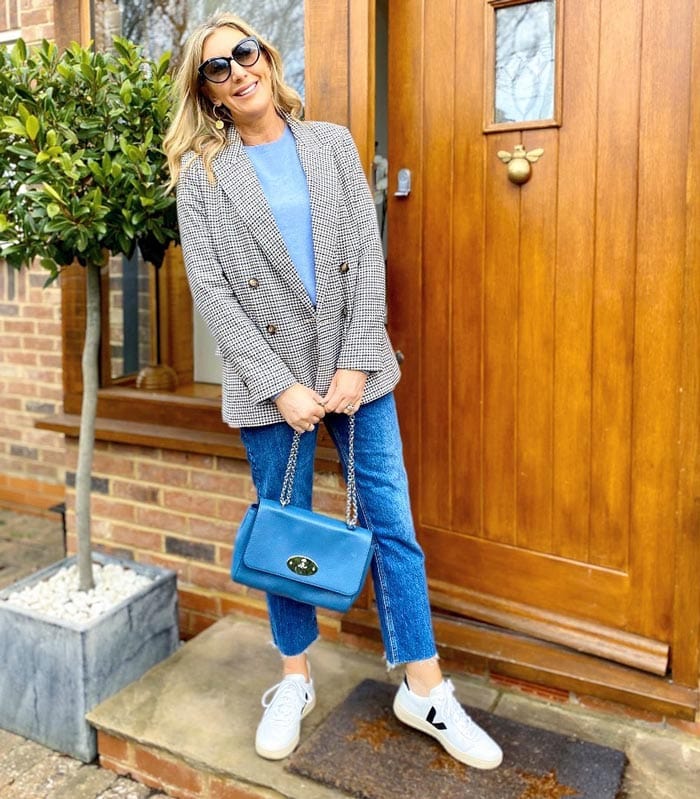 It's nice to mix things up and be a bit more playful. A 2-piece suit will quickly look old. Better to mix that jacket with another skirt or pants and look effortlessly chic.
Sarah (above) teams her blazer with her jeans for a modern look.
Recreate her look with this pair of Veja sneakers, and pair with this similar crewneck top, blazer, jeans, handbag and sunglasses.
3.  Avoid buying fabrics that look cheap (or are cheap and poorly made) as they are usually not flattering or will not last 
As a young woman, you may have looked cute in a flimsy, poorly made t-shirt but as a woman over 40, you need something with a bit more substance.
You can see some characteristics of fabrics here. We also have a list of recommended shops here. Best to buy only the clothes that you love and that have a chance to last.
Look for beautiful natural fabrics like silk, cotton, linen and cashmere and you will enjoy them for years to come.
Avoid fabrics that don't drape well or cling.
4. Wearing tight and tight together
Of course there are many exceptions but in general tighter items like leggings look better when they are combined with wide pieces like a tunic or wider shirt.
That also applies to skirts. Aim to have either a tight skirt with a loser top or vice versa.
Dahlia (above) opts for loose layers on her top half, and combines with a tighter pair of leggings.
Check out this similar tee, denim long sleeves, leggings, tote and loafers.
See also my tips on how to wear leggings over 40.
5. Check our guidelines for the following items:
Dressing over 40: What are some of the things you should do more of?
1. Know your style!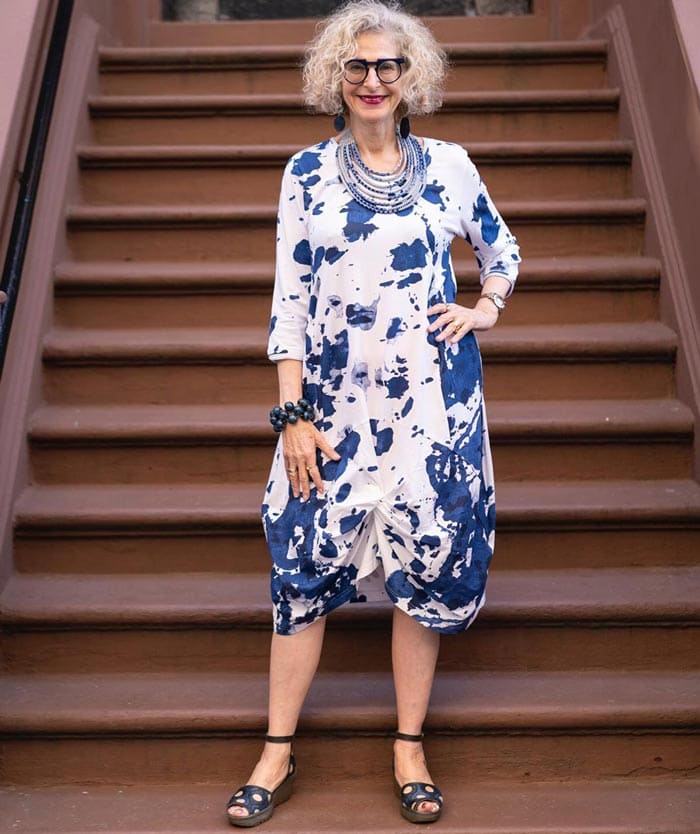 Nothing is more important than dressing in a way that pleases and represents you.
If you know your style and understand your body you can break any of the rules or add items from the 'don't list' as you please. My style guide will help with that.
Doing our style personality quiz will also give you a better idea of your style.
Dayle (above) is someone who knows her own style, and wears it with confidence.
Check out this dress that you can try, and wear with this similar pair of sandals and necklace.
2. Determine the wardrobe essentials that are unique to your style.
Not everyone will have the same wardrobe essentials. This will depend on your lifestyle and your style personality.
But having a collection of wardrobe essentials in your closet will make dressing every day so much easier – and more stylish.
I love to have lots of asymmetrical items in my wardrobe and clothes that are a bit whimsical, like this asymmetrical, multi fabric dress with big sunflowers!
Other asymmetrical dresses I love satin midi dress, bodice midi dress, floral dress, shoes by Fly London
3. Have more lasting high quality items in your wardrobe.
These vary for each style personality but some important classics are:
4. Mix and match designer items with non-designer ones.
Abi (above) is a master at pairing designer with high street.
She is wearing a pair Marks & Spencer jeans and accessorizing with a limited Gucci GG Supreme Monogram top handle bag but it is already sold out in stores. Here is another handbag from the same collection. Complete her look with this similar sweater and sneakers.
5. Look effortlessly chic
Take a good critical look at yourself before you go out and see if you look too overdone. The aim is to look effortlessly chic so just evaluate and if necessary you may have to add on something a bit more casual.
Jo (above) pairs a Chanel-style jacket with her jeans for a look with perfectly combines casual and formal.
Check out this similar tee, tweed jacket, jeans and pumps to steal her look.
6. Mix your own style with a trend you like
Keep updated with the fashion trends and make sure you have a few current items in your wardrobe. Only pick those trends that work for you!
If you want to know about the latest trends check our article on the latest trends.
7. Choose a skirt or dress length that's right for you
For many women dresses and skirts that are just above or on top of the knee are a great length for women over 40. Right now longer dresses are very much on trend as well.
Petite women may want to go a bit shorter with their skirt lengths to get the 1/3 – 2/3 silhoutte. Find out more about this rule of thirds in our article on how to wear capris.
Venetia (above) picks a beautiful striped, knee-length shirt dress.
Get her look with this similar striped dress, sandals, clutch and sunglasses.
For more inspiration, see this article on the perfect skirt length for women over 40.
8. Play with accessories
Wear accessories like belts, jewelries and scarves. They can make a real difference to your outfit.
Kylie (above) creates a completely different look by belting a scarf into her dress.
Check out this similar long dress, sandals, scarf, belt and earrings.
Read our article on how to wear accessories.
9. Use shapewear
If you want to hide some of the bulges, then shapewear definitely helps. I personally only wear it on special occasions.
If you don't like shapewear, then learning how to skilfully hide with the right clothes will be preferable, like these tips in my article on how to hide your belly.
SPANX OnCore mid-thigh shaper bodysuit
10. Wear a good bra
Make sure you wear a good bra and invisible undergarments. A great bra will make sure that there is clear distance between your chest and your tummy!
Wacoal Perfect Primer underwire bra
More info in my article on how to find the perfect bra.
11. Wear hip and current shoes
These add an instant young and hip vibe to your outfits.
Make sure to choose shoes that you are able to walk in. Mid high heels can look fabulous.
If you need more support I have a great list of arch support shoes.
FLY London Yala perforated wedge sandal
12. Wear what makes you feel amazing.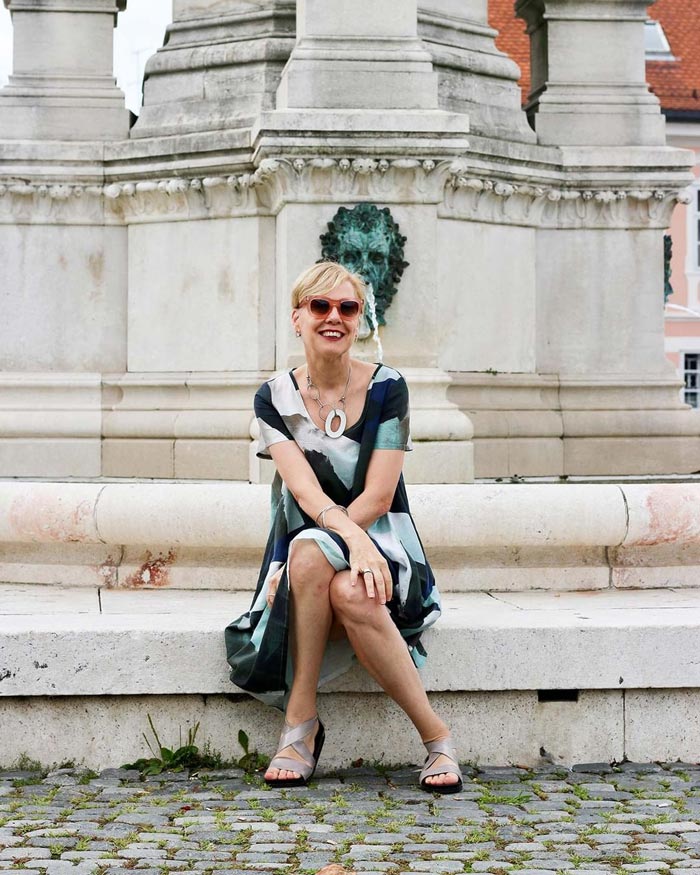 The most important style "rule" of all is to wear what makes you feel confident. That way, you'll have a spring in your step and you'll be ready for whatever the day brings.
Check out this similar dress, sandals, necklace and sunglasses to recreate my look.
Wear what feels right to you!
I want to emphasize again that these tips are not set in stone and it's up to you to decide what works best for you. But if you want to look young and hip, then these guidelines can certainly help. 
The more you understand your body and your style, the more you can break these rules as you please.
For all my best tips and a complete style course that will get you looking stylish in no time, I highly recommend my style course.
If you have any further tips then I would love to hear them. Enjoy!
What are your tips on how to dress after 40? Share them below.
Continue reading:
Like this post? Share it on Pinterest!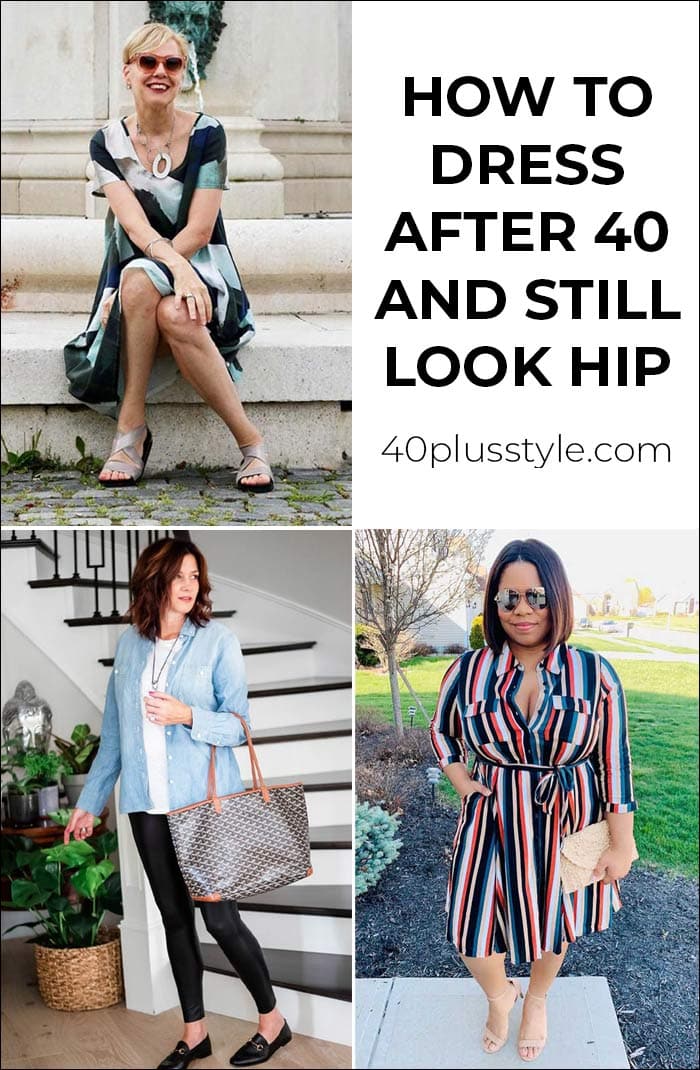 The post How to dress after 40 and look hip? appeared first on 40+ Style.