Orange is not the easiest color to wear as the color can be quite bright and overpowering. However, if you look more carefully, there are actually a lot of fabulous ways to wear orange in all kinds of color combinations.
In this updated comprehensive guide I show you how to wear orange in a number of surprising ways. 
How to wear orange: Colors that go with orange
As I usually do when I look for inspiration on how to wear a certain color I visited colourlovers.com.
It's a great site where you can create your own color combinations or get inspired by those of others.
Here is what I found.




The versatility of orange
Can you believe that orange looks so good with so many colors? It's actually proving to be quite a versatile color.
I have seen orange in the shops in all kinds of shades from very bright to more demure colors, so you can just pick the color orange that suits your complexion and temperament best and mix and match with all these other fine colors.
You don't even have to buy a garment in this color. Just adding a scarf or a bag will already give you that orange flavor and will add some flair to your outfit.
Melinda (above) shows off one of the easiest color combinations to wear – orange with white.
Recreate her look with this similar dress, sneakers, scarf and handbag.
Orange outfits on the spring and summer 2020 catwalks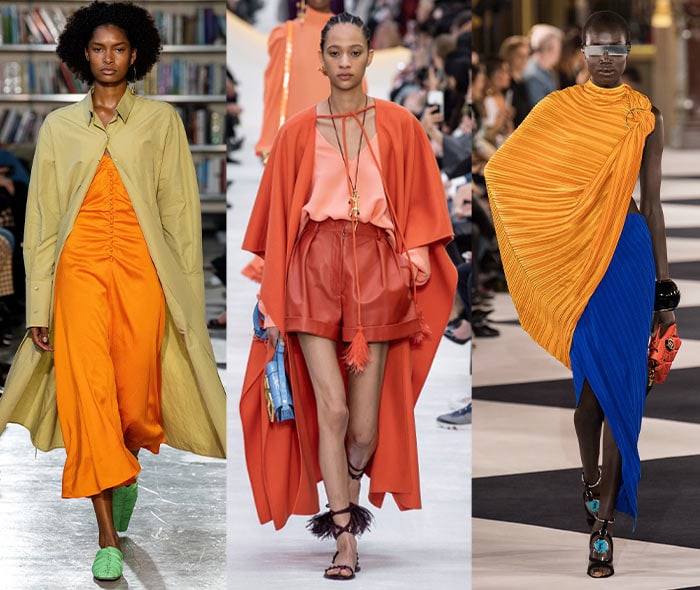 Rejina Pyo – Valentino – Balmain
There was plenty of orange on the runways at spring and summer fashion week, from peaches to flame orange. Here is how the designers interpreted the trend.
Here are the perfect orange clothes and accessories for you
Before you can think about what colors go with orange, you will need to find the perfect orange clothes and accessories to provide inspiration for the rest of your outfit.
The perfect orange dress
This orange dress from French Connection could be ideal if you have an hourglass figure as the belt will ensure you show off your waist.
The perfect orange maxi dress
This belted dress by NICHOLAS is perfect for summer events and vacations.
It makes a statement all by itself, meaning you could keep the rest of your accessories to a minimum and still make a big impact.
If you aren't keen on showing off your arms, you could always wear with a cardigan or a moto jacket.
NICHOLAS ribbed belted maxi dress
The perfect orange shirt
You probably already have a classic white shirt in your closet, but how about an orange shirt in a classic shape?
This shirt from Marks & Spencer is cut loose and has a drape detailing which is perfect for a casual look. It would style well with black or white bottoms.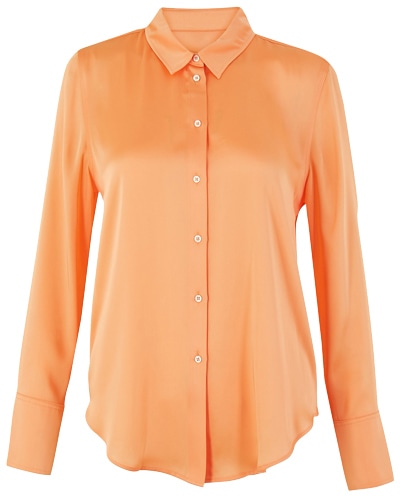 The perfect orange top
The styling for this orange blouse from Joie has a little twist thanks to the cuff detailing on the sleeves.
An orange top would look lovely with white jeans and metallic accessories for summer.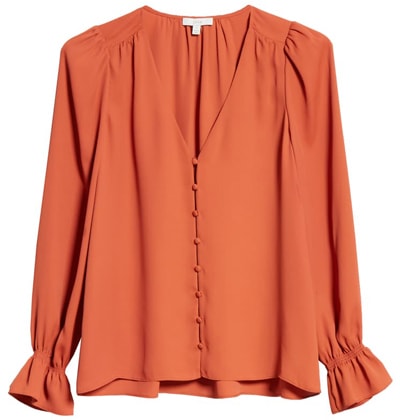 The perfect orange cardigan
A long, draped cardigan can be a lovely way to add interest as well as to hide any parts of your body you aren't so confident about, and to create nice, long lean lines.
The asymmetrical hem on this cardigan would add an extra element to your outfits.
The perfect orange jacket
Do you already have a denim jacket in your closet? Instead of traditional blue, how about opting for a burnt orange?
This denim jacket from Liverpool would look stylish worn over a white or black dress for summer.
The perfect orange sweater
Orange can be the ideal color to add some flair to even the most casual of outfits.
You could wear an orange sweater with your jeans and sneakers, or with a leather or pleated skirt.
This sweater by Halogen is a woolly stretch-knit pullover that is designed with a v-neck and an easy fit.
The perfect orange pants
You could opt for a pair of orange jeans, or choose a more tailored pair of orange pants like these ones below from Wit & Wisdom. Either way, these will be the hero piece in your outfit.

The perfect orange jeans
This pair of jeans from Tinsel is designed with comfortable stretch and could flatter you from day to night. They're more of a soft peach than an orange so if you don't want to go too bright, they could be a good choice.
The perfect orange skirt
This skirt from Vero Moda has a flattering bias cut and is also made with recycled fibers.
The perfect orange shoes
Shoes can be a stylish way to transform an outfit.
This pair of loafers from Steve Madden are lightweight, flexible, and will add a pop of color to your existing outfits. They would look fantastic worn simply with a pair of skinny jeans and a white shirt.
Find out the the top 20 shoe trends for women over 40 this season.
The perfect orange bag
Just as the shoes you wear can make a big difference to the overall look of your outfit, the handbag you opt for can create a refreshing pop of brightness.
This tote from Longchamp is casual enough to use everyday and would look great with jeans and a striped sweater.
Make a statement this season by knowing the handbag trends of SS 2020.
So, now that you have chosen your favorite orange item, what color should you wear it with. Below, you will find ? suggestions.
Let me know in the comments at the bottom which color combination is your favorite.
1. Pair orange with neutrals – white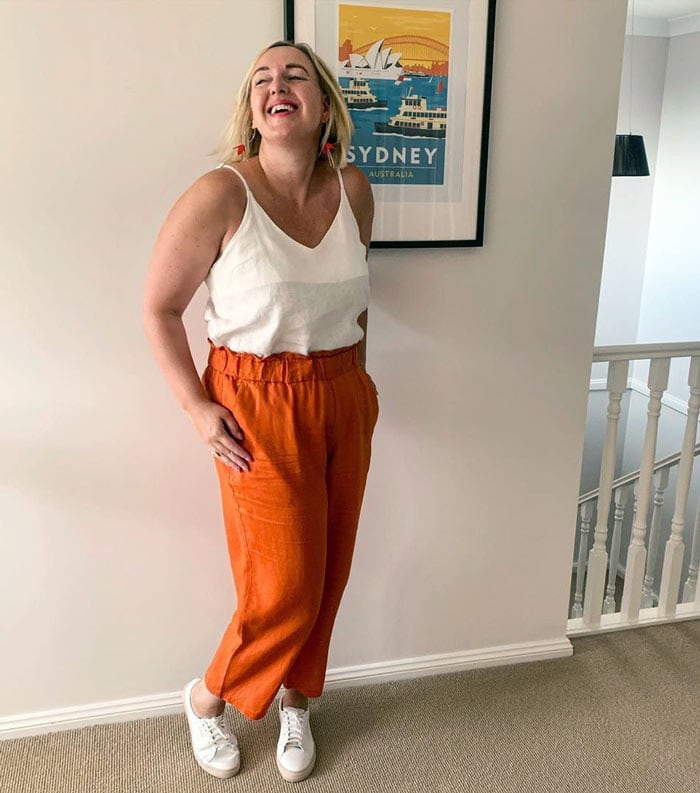 A great way to let the bold tones of your orange piece stand out without competing with any other color, is to pair orange with neutrals. From black to nude shades, your look will be cleaner and more refined with the fun and punchy characteristics of orange.
Kylie (above) shows off a perfect pairing of orange and white.
Steal her look with this similar tank top, pants, sneakers and earrings.
Blank NYC moto jacket – Madewell t-shirt – Vero Moda skirt – Naturalizer loafer – ALLSAINTS shoulder bag
2. Pair orange with neutrals – beige
Beige is one of those colors which is often seen as "boring". You may also like to take a look at can you wear beige? One way to make sure that your beige definitely isn't dull is to wear it with orange.
Bev (above) shows how to wear an orange maxi skirt with beige for the perfect vacation outfit.
Recreate her look with this similar tank top, blazer, wide leg pants, sandals, woven handbag, sunglasses and earrings.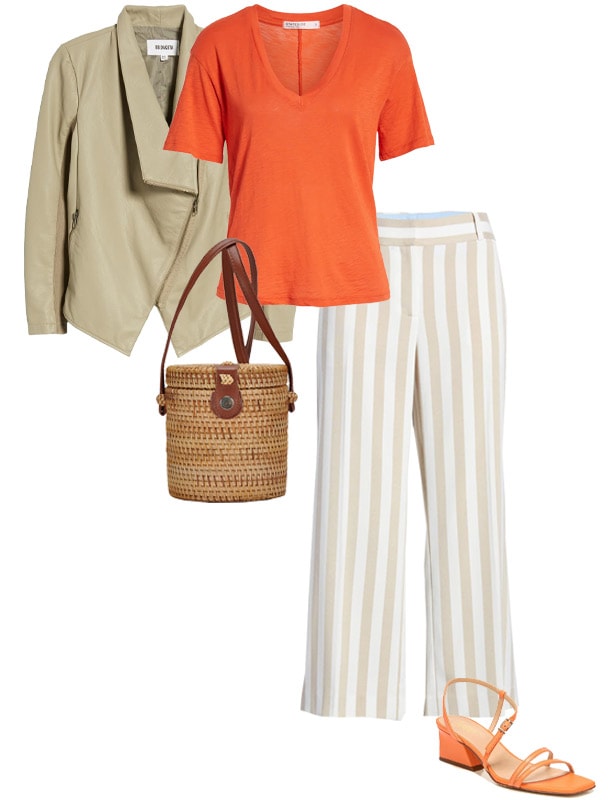 BB Dakota asymmetrical jacket – Stateside v-neck tee – Tommy Hilfiger stripe crop pants – Franco Sarto sandal – Antik Kraft woven straw bag
3. Pair orange with neutrals – black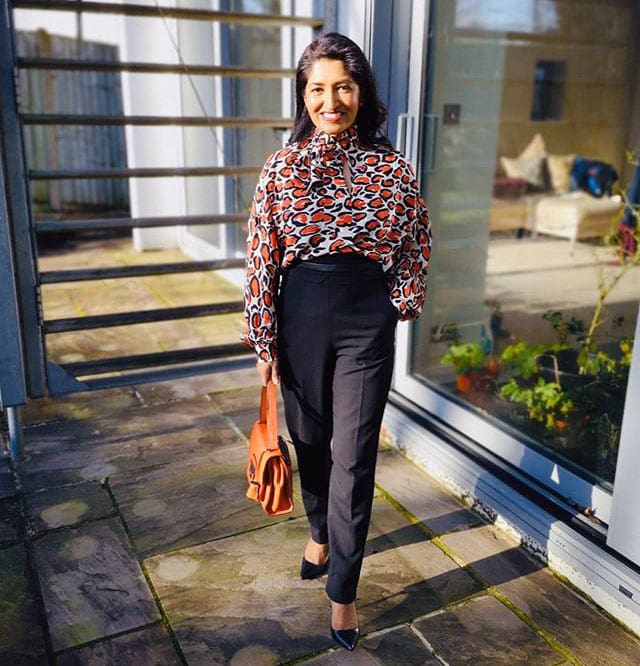 Is there anything black doesn't go with? If you aren't sure what to wear with your orange, black is definitely a safe, and stylish, option.
Monika (above) wears an orange print shirt, which she matches with her bag.
Check out these orange tie neck blouse options from Allegra K and ACEVOG that you can pair with these similar trousers, pumps and handbag.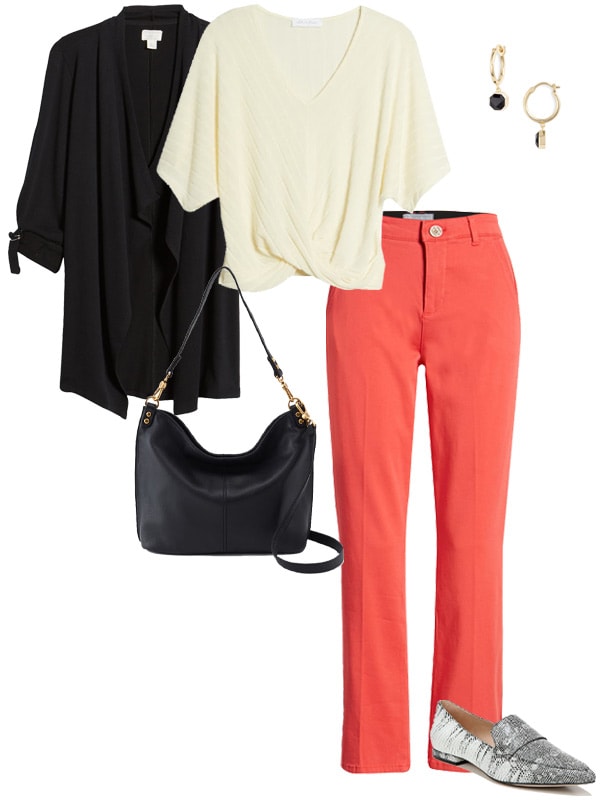 Caslon roll tab knit jacket – All in Favor ribbed twist front top – Wit & Wisdom ankle pants – 27 Edit loafer – Hobo leather tote – Gorjana stone charm huggie earrings
4. Pair orange with neutrals – gray
Another fantastic way to wear orange is with gray.
Claudia (above) makes sure her look is bang on-trend by wearing her gray suit with sneakers.
Get her look with this similar shirt, plaid blazer and pants, sneakers and necklace.
Ted Baker London wrap coat – Marks & Spencer satin shirt – English Factory belted crop trousers – Naturalizer loafer – ALLSAINTS shoulder bag – Lizzie Fortunato mosaic hoop earrings
5. Orange with cobalt blue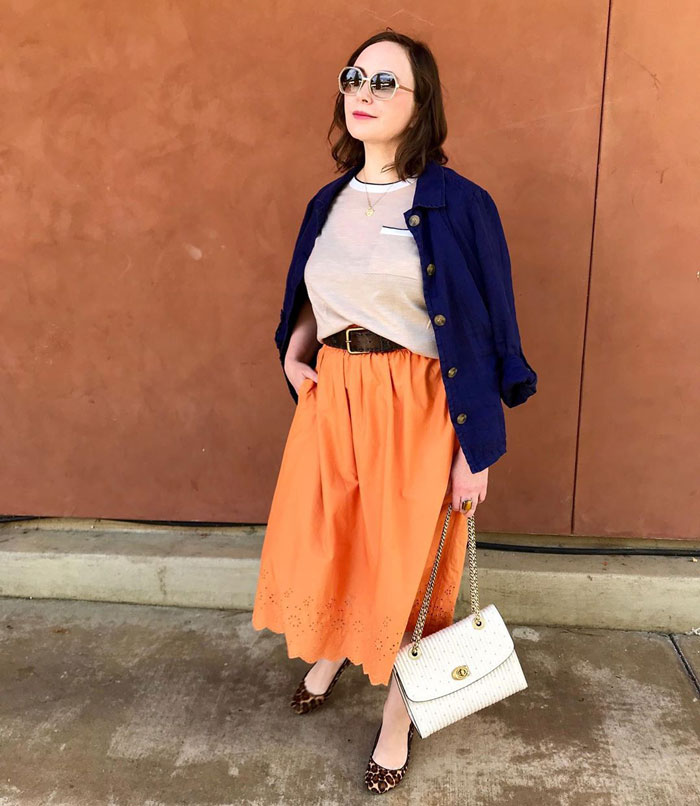 Pairing orange with cobalt blue can bring out the best in both colors. By sticking to classic styles and shapes, or including a neutral piece like a pair of white pants, the look is vibrant yet clean.
Oxana (above) teams her orange with blue and leopard pring.
Steal her look with this similar pocket tee, skirt, belt, jacket, flats, handbag and sunglasses.
Mark + James by Badgley high/low scuba shirtdress – BCBGeneration slide sandal – DMIX crystal box clutch – Isabel Marant stone drop earrings
6. Orange with baby blue
You don't have to choose a darker shade of blue with your orange. Baby blue looks just as beautiful.
Carin (above) opts for a retro style, complete with a playful turtle-shaped bag.
Get her look with this off the shoulder top (plain option), similar skirt, sandals, headband and rattan bag.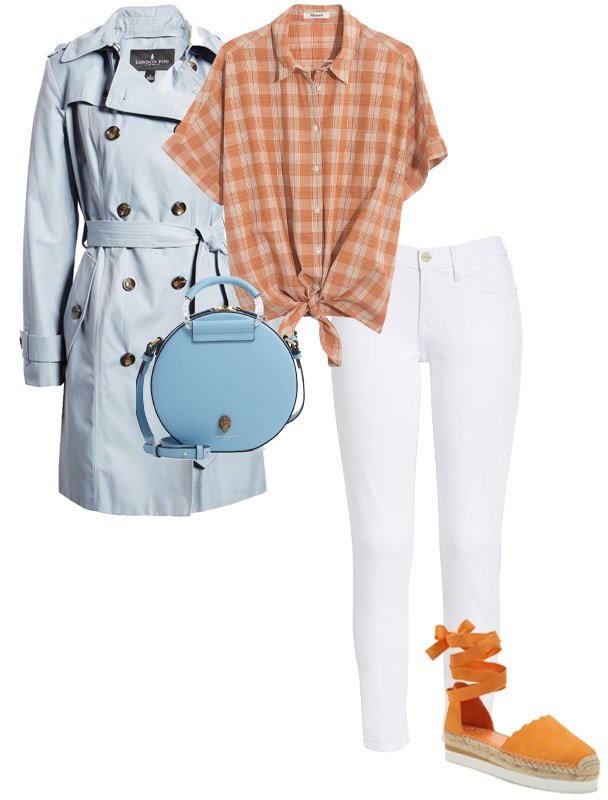 London Fog trench raincoat – Madewell plaid tie front top – FRAME skinny jeans – Vince Camuto espadrille sandal – Kurt Geiger London round crossbody bag
7. Embrace the purple-orange clash
Orange and purple are a style favorite when it comes to contrasting combinations. Visually appealing, the two dynamic shades create a bold and chic look when paired together.
The key here is to ensure you add a neutral piece, such as a pair of white shoes or a dash of gold jewelry, to the look to keep it from being an overwhelming display of colors.
Psyche (above) teams her orange and purple with a white tee and tan boots.
Check out this similar cardigan, pants, mules, necklace and earrings.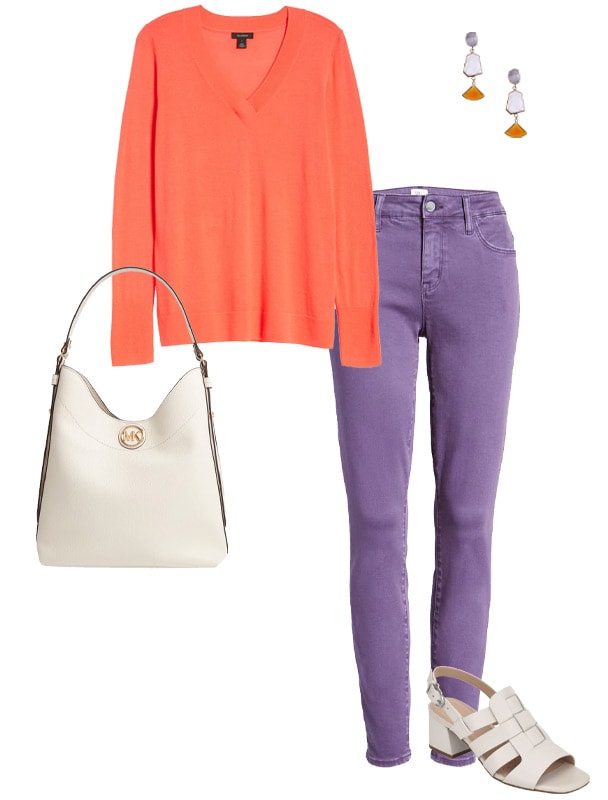 Halogen v-neck sweater – WASH LAB skinny jeans – Evolve sandal – Michael Kors hobo bag – Nakamol Chicago geometric linear earrings
8. Orange with green
If you love a natural style, you could choose a muted olive green to wear with your orange.
L'AGENCE denim jacket – Chelsea28 floral dress – Teva strappy sandal – Ted Baker London croc embossed crossbody bag – BP. hoop earrings – Bourbon & Bowties bangles
9. Orange and pink
Whether you choose a paler shade of pink or a shocking shade, pink with orange can be an unexpected, yet beautiful combination.
Kim (above) opts for a playful take on wearing orange with her fruit-print dress.
Check out this printed dress with pink and orange print that you can wear with this similar denim jacket, sneakers and sunglasses.
Lulus wrap top – Tinsel crop flare jeans – Amalfi by Rangoni sandal – Hobo leather clutch – Alexis Bittar drop earrings
10. Embrace orange prints
Combining bold orange hues with unique prints is a very effortless approach to putting together a visually interesting look, with enough of a bright dimension to lighten up your look.
Sarah looks fabulous in this orange printed jumpsuit.
Check out this similar jumpsuit, bolero, pumps, headband and sunglasses.
Eliza J floral high/low maxi dress – ROTATE python print midi dress – Tanya Taylor floral pleated midi skirt – Alcea Rosea plaid a-line skirt
11. Accessorize with orange
Not ready for a full bold display of orange?
You can add the punchy color as a highlight to your look by incorporating as an accessory or go-to beauty tool. We particularly love the orange nail polish, which is flattering on a number of skin tones.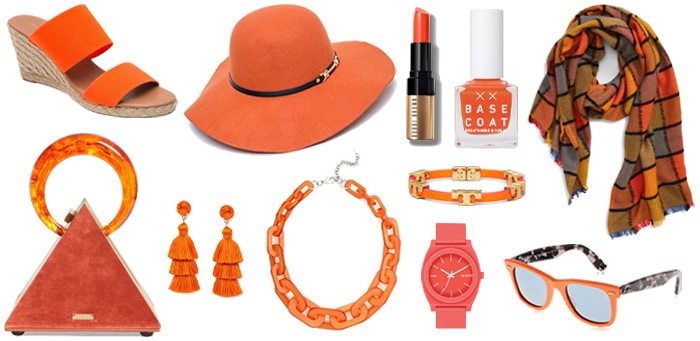 André Assous espadrille sandal – Oldstone Quality fedora – Bobbi Brown lipstick – Base Coat nail polish – Madewell plaid scarf – Cult Gaia pyramid top handle bag – Me&Hz tassel earrings – ZENZII resin link necklace – Tory Burch T-logo bracelet – Nixon watch, 40mm – Ray-Ban wayfarer sunglasses
Here is the list of the best accessory trends for spring and summer 2020.
The orange color combination ideas from above put together in one capsule.
Want to know how to wear other colors too?
I have created several color guides for popular colors right now:
Do you plan to wear orange this coming season and which color combination is your favorite?
Continue reading:
Like this article on how to wear orange? Save it on Pinterest!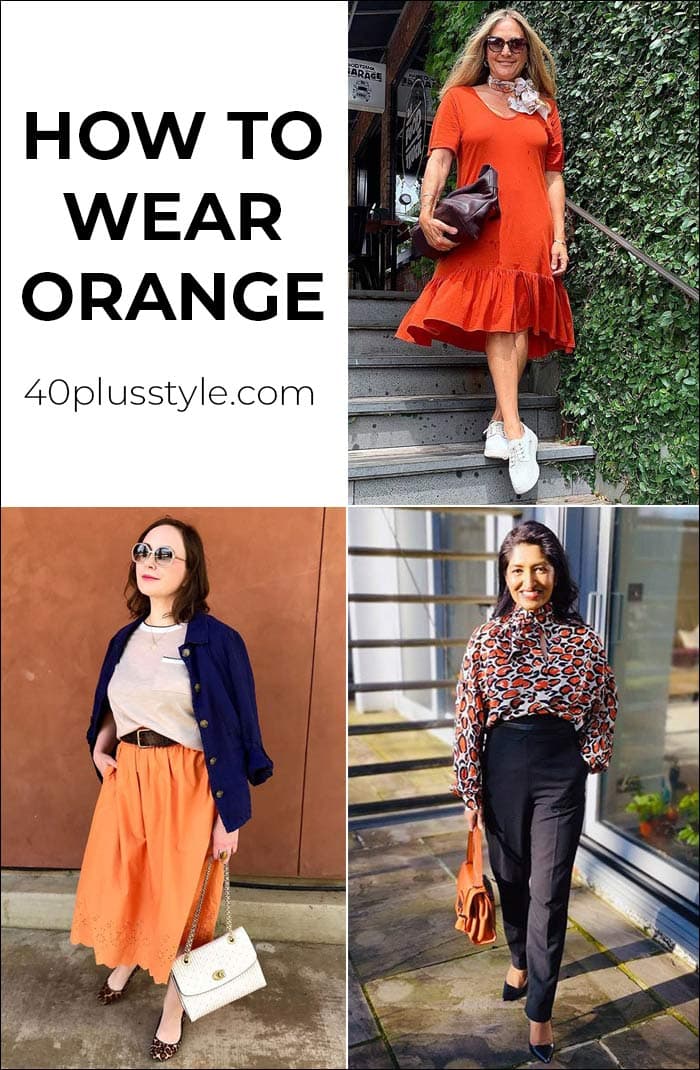 Feature image by Anita
The post How to wear orange? 7 color combinations to get you started! appeared first on 40+ Style.