Yellow remains popular as an accent color. As you may recall from my article on the psychology of color, yellow is associated with laughter, happiness, optimism and good times. In this article you'll find out how to wear yellow including the colors that go best with this cheery shade.
All the more reason to wear it wholeheartedly. As the world is going through some tough times right now, anything to bring some cheer can only be a good thing. Below are plenty of tips and tricks to help you to put together flattering yellow outfits. 
First, you may like to discover which hue of yellow is right for you
How to wear yellow outfits?
If you're going to wear yellow, you will need the perfect yellow clothing and accessories.
The perfect yellow dress outfit
If you want to make a statement with your yellow, then wearing a yellow dress can be the perfect way to do so.
I'd keep it relatively simple and team with neutrals like blacks, whites, metallics or browns. But, you could, of course, decide to opt for a contrast and wear a color like blue or a pattern like leopard print to bring a touch of the unexpected to your outfit.
A yellow dress could be the perfect option to keep you cool and stylish in summer.
Nic (above) chooses a flattering wrap style and teams with neutral shoes.
Recreate her look with this similar printed yellow dress and sandals.
The perfect yellow blazer
Everyone from No Doubt singer Gwen Stefani to Desperate Housewives actress Eva Longoria has been rocking the yellow blazer trend! It looks great teamed with Breton stripes, blues and whites.
If you already have a striped top and a pair of jeans in your wardrobe, this could be the perfect way to update them.
Many of the blazers I've seen in stores recently have been double-breasted, which can be a tricky style to wear as they can add unwanted width.
However, if you opt for a blazer with nice, clean lines, this can be universally flattering as well as versatile. You can wear over jeans, pants or a dress for a more formal event.
Patricia (above) wears a single breasted blazer with her jeans, white top and tan accessories.
Check out this similar tee, blazer, jeans, belt, sandals, handbag, necklace and sunglasses.
Caslon drape collar knit blazer
The perfect yellow coat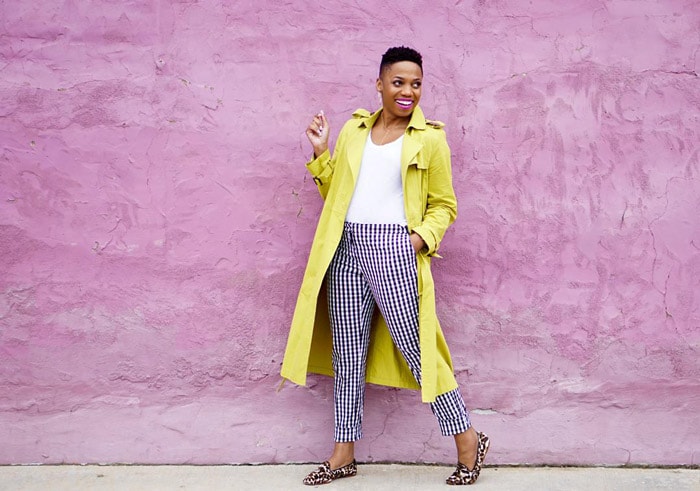 If you are not afraid of the color, yellow can look fabulous on a coat.
It will brighten up any darker days in fall and winter and add a ray of sunshine in summer. Yellow looks fabulous with a black and white outfit and makes the overall look really chic!
If you have a summer wedding or event to attend, you could team a monochrome dress with a yellow coat.
A great way to wear a yellow coat can be to opt for a truly classic style like a trench, a leather biker or a duster and to update this through your use of bright, sunny yellow.
Psyche (above) looks stunning in her yellow coat and gingham pants.
Get her look with this similar tee, trench coat, pants and loafers.
The perfect yellow top outfit
Yellow can be easily worn as a top. Fabulous with neutral bottoms like blue jeans, white or black.
If solid yellow is too bright for you, then choose a striped one. You can minimize the effect of the yellow by combining your yellow top (like a tank) with a blazer in a more neutral color.
This will still give you the hip vibrancy of yellow without the yellow overpowering you too much.
Kim (above) opts for an outfit full of cheerful colors and prints.
Check out this similar shirt, printed pants, sandals and sunglasses.
I love the asymmetrical hem of this soft yellow tunic (below) which would be ideal if you're looking for a top to wear with leggings or skinny jeans.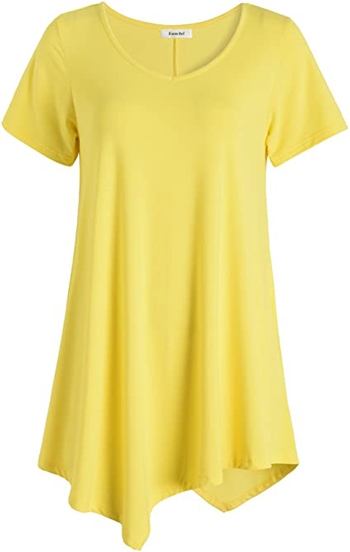 There are more tops to wear with your leggings in this article on how to wear leggings over 40.
The perfect yellow blouse
Of course, yellow doesn't have to be very bright and "in-your-face". You can go for a much more subtle approach with either a mustard or lemony or pastel yellows.
You could opt for a deep yellow button-down. It would look lovely with white jeans for summer.
Look out for options in linen or cotton to keep you cool in the warmer months or go for a beautiful silk shirt in a deeper yellow to create a high-end feel.
The perfect yellow pants outfit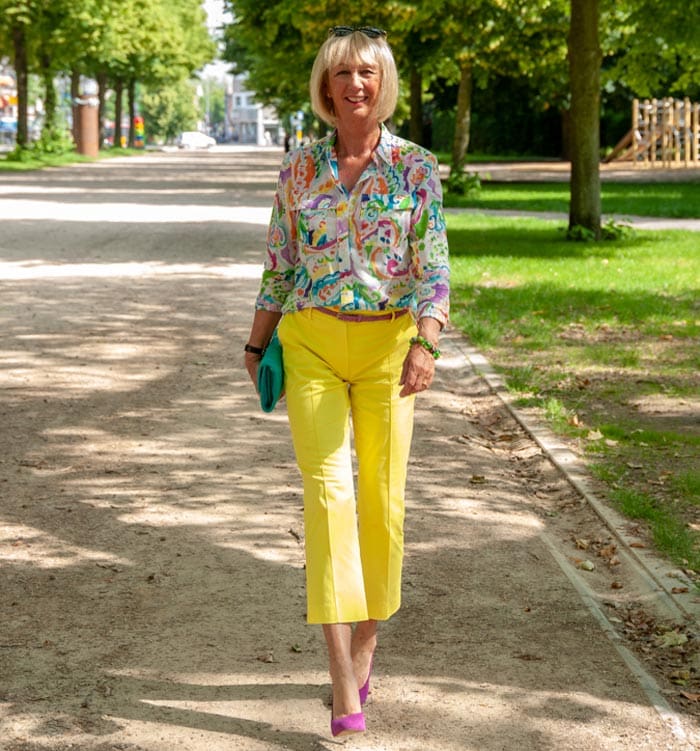 Yellow pants can be a great way to make a casual style statement, as demonstrated below. You can simply team with a white tee and sneakers.
If you don't like yellow too close to your face you may opt for a yellow pair of pants instead. I like to combine mine with neutral colors like white and black, so the color does not overpower me too much.
It you have a black and white top, this would be perfect to match with yellow pants.
A pair of tailored pants could be a good addition to your summer wardrobe. I can see these going with a casual striped or plain tee, or with a silk shirt or blouse for lunch out with friends and family.
Greetje (above) chooses to wear her yellow with other beautiful, bright colors to fantastic effect. She creates a harmonious look as all of the colors in her outfit are tied together with the print of her shirt.
Check out this printed collared shirt that you can wear this similar pair of trousers, pumps, belt and clutch.
The perfect yellow jeans
For a more casual approach to yellow pants, you could always opt for jeans instead.
A crop or skinny style would be perfect for summer. As these will be the hero piece in your outfit, you can keep the rest of your look clean and simple, perhaps pairing with a white shirt or tee, or a striped sweater.
The perfect yellow skirt outfit
You could opt for a yellow skirt. I wear my own yellow skirt frequently, either dressed up or down, and take it on most of my vacations.
A yellow skirt looks good teamed with most striped, polka dot or patterned tops.
You can opt for an a-line or fuller style in linen or cotton for a more casual summer look which would be ideal for vacations. Or, look for a piece in satin or silk which would be lovely for more formal events like this skirt below which has a bronze-yellow tone to it.
Georgette (below) opts for an outfit which can't fail but make you feel cheerful. she wears a blazer from ELOQUII along with her pleated, yellow skirt.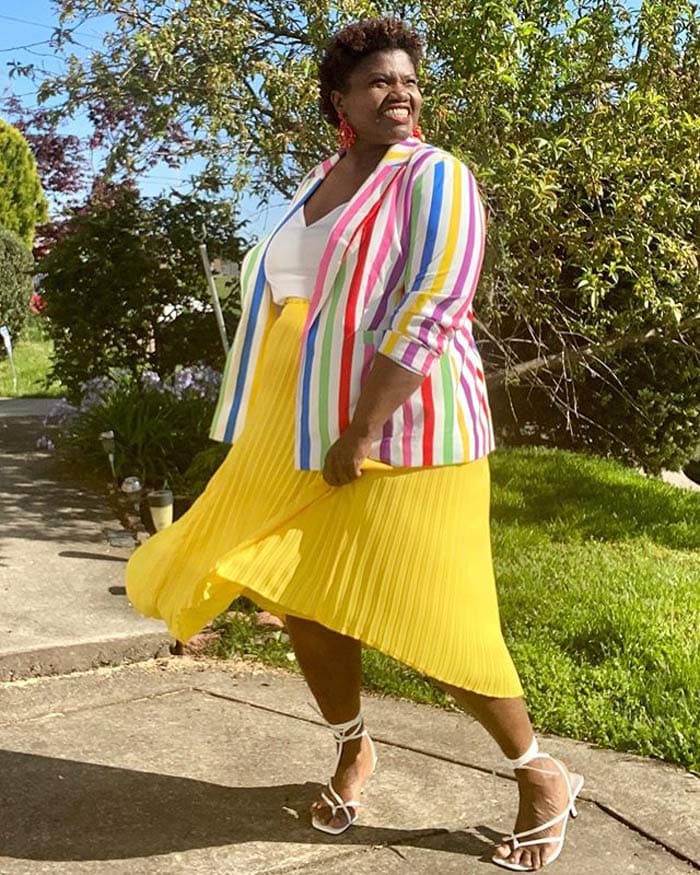 Get her look with this similar v-neck top, pleated skirt, sandals and earrings.
The perfect yellow shoes outfit
I love the sense of fun that wearing brightly colored shoes can bring to an outfit.
Plus, this is such an easy way to update your closet and add a talking point to pieces you already wear.
Shoes can make a big impact to your outfit and adding a bit of yellow here is very hip. Yellow shoes look perfect with neutral outfits or any other outfit that has just a little bit of yellow in it.
You could wear an all navy outfit and add a pop of yellow with your shoes, or add yellow to a monochrome dress for a formal event or a lunch out with friends and family.
Or, you could opt for a pair of yellow sneakers to wear with your jeans.
A pair of yellow sandals with a relatively low block heel could be a good buy for summer as they will be easy to wear and walk in, while adding oomph to your existing closet.
Jenny (above) chooses yellow sneakers with her jeans.
Check out this similar printed top, denim jacket, jeans and sneakers. I also love these yellow shoe options (below)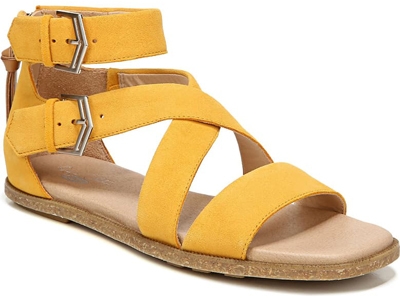 The perfect yellow accessories to wear with neutrals or your yellow clothing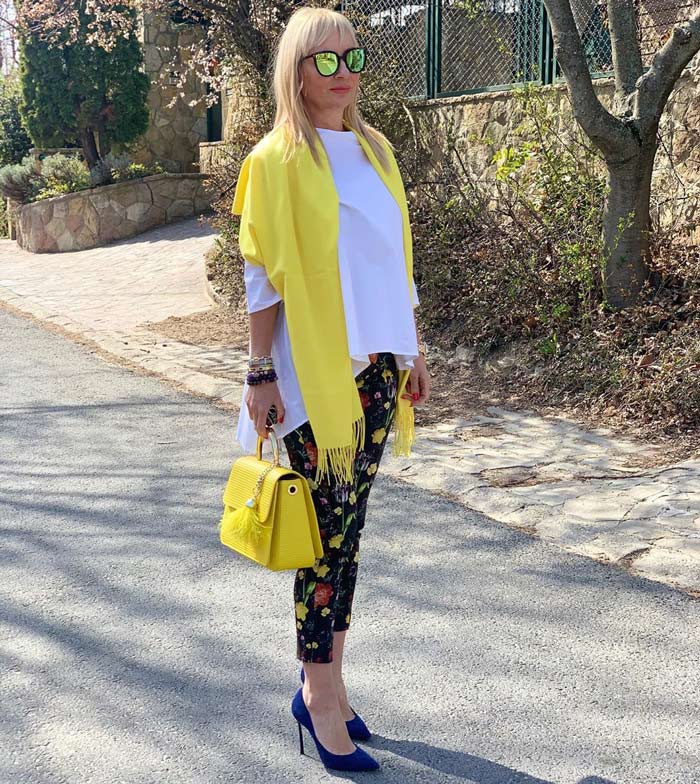 If you are not too keen on wearing color but still like to liven up your outfit with a bit of sunshine, then accessorizing is the way to go. It is an excellent way to add color to your outfit and take it to the next level.
You can see yellow is very nice with an all-white outfit or a black and white combination. Just add a yellow bag, belt, scarf or necklace and you're good to go.
This is by far the easiest way to add a bit of yellow to your wardrobe and still get the benefits.
Alice (above) chooses yellow with her print pants. You can see she has tied her look together as the print in her pants features yellow florals. She also adds a pair of navy pumps to her look.
Steal her look with this similar loose top, printed pants, pumps, handbag, scarf and sunglasses.
The Tory Burch tote below will surely elevate any look. It can fit all of your essentials and its design and shape are very classic so you can wear for season after season.
Colors that go with yellow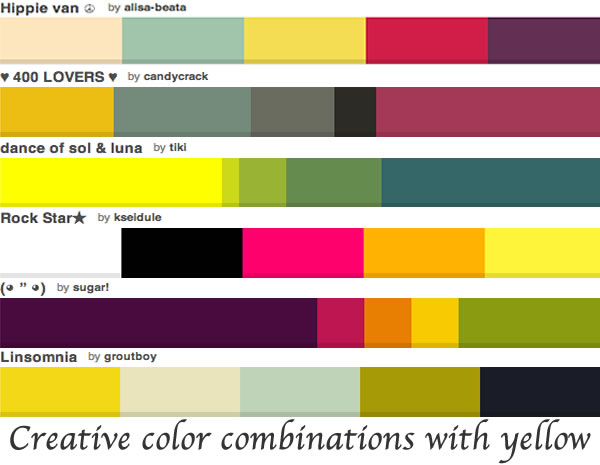 So, now that you have your yellow basics sorted, what other colors are you going to wear with them? What are your favorite colors to wear with your yellow? Below are some of my own favorites. Let me know what you think.
Black and yellow outfits
Melinda (above) looks beautiful in a yellow and gingham outfit with black sandals.
Recreate her outfit with this similar blouse, skirt, sandals, clutch, necklace and earrings.
Yellow and white outfits
Below are more black and white options to wear with your yellow.
Outfit 1: LARACE tunic top – Bellivera moto jacket – 1822 denim jeans – David Tate sandal – Dagne Dover clutch – Set & Stones hoop earrings
Outfit 2: Milumia self tie blouse – FRAME bootcut jeans – Sam Edelman slide sandal – Dagne Dover clutch – Set & Stones hoop earrings
Outfit 3: Boden silk collarless blouse – Halogen midi skirt – Fly London sandal – Dagne Dover clutch – Y & M tassel earrings
Blue and yellow outfit
Wearing yellow and blue is a classic combination. Opting for a navy shade is an easy way to get this look. But you could also choose cobalt or paler shade of blue.
Emma (above) teams her yellow top and jacket with cobalt pants.
Get her look with this similar blouse, tweed jacket, pants and handbag.
Outfit 1: Caslon v-neck tee – Halogen asymmetrical skirt – Toni Pons wedge sandal – Y & M tassel earrings
Outfit 2: Nordstrom stripe shirt – FRAME bootcut jeans – Sperry sneakers – Longchamp crossbody bag – Set & Stones hoop earrings
Outfit 3: Boden silk collarless blouse – Boden pencil skirt – Boden kitten heels – Boden woven clutch – Set & Stones hoop earrings
With an unexpected bright pop of color
Nadine (above) looks stunning by creating a color block look with her yellow and bright pink. This article has more ideas for color blocking.
Check out this similar sweater, blazer, skirt, handbag and booties.
Outfit 1: Caslon v-neck tee – Dreamparis trousers – Dagne Dover clutch – David Tate sandal – Isabel Marant drop earrings
Outfit 2: FRAME linen tee – Boden belted skirt – Naturalizer ankle strap sandal – Boden woven clutch – Y & M tassel earrings
Outfit 3: Boden collarless blouse – Boden pleated skirt – Fly London sandal – Dagne Dover clutch – Isabel Marant drop earrings
A capsule wardrobe featuring yellow
Below is a capsule wardrobe for summer, which puts together many of the clothes and accessories used above. There are 9 outfits here, but you could easily mix and match to create plenty of different combinations.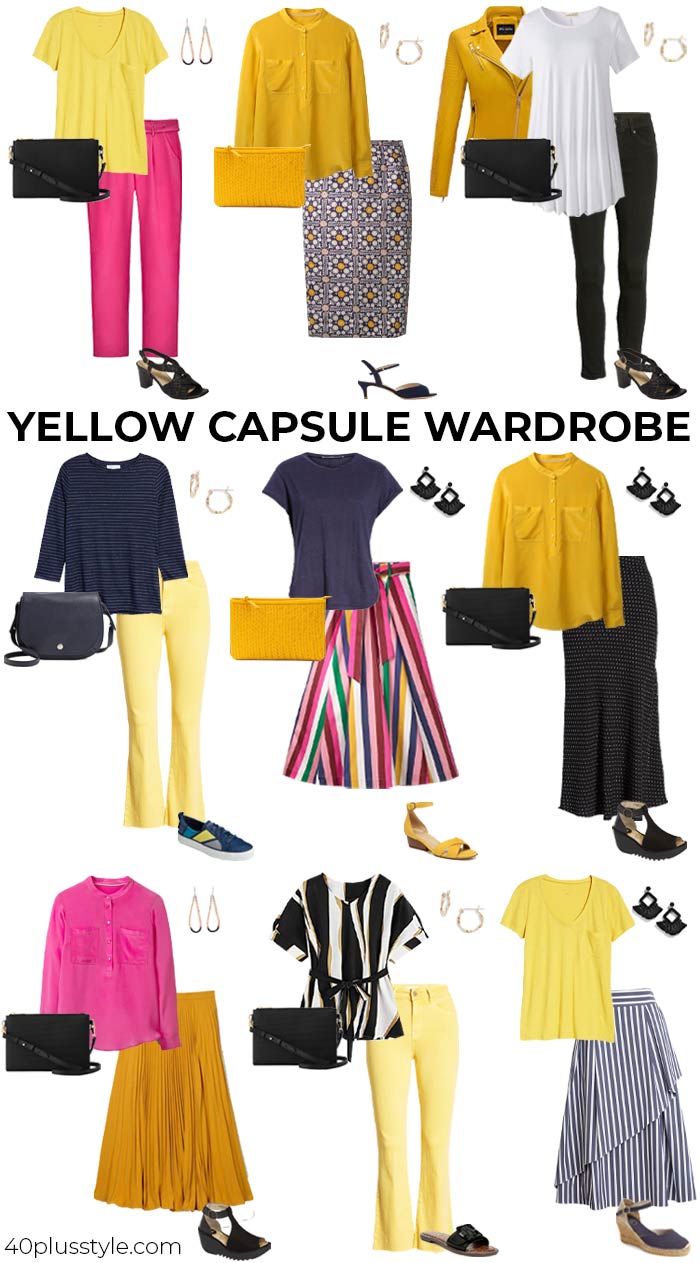 More yellow fashion inspiration for you
Below, you'll find more mood boards and more yellow outfits to give you plenty of ideas whether you are buying a new yellow piece for your closet this season, or looking for new ways to wear what you already have.
Petra (above) shows that another fantastic look with yellow is to wear it with tan accessories.
Steal her look with this similar sweater, skirt, booties and crossbody bag.
Tanasha (above) wears her yellow dress with a fantastic pop of turquoise.
She is wearing a dress from C21 Stores and accessorizes it with a Cult Gaia handbag and a scarf from Shein. Here is a similar pair of turquoise heels that you can try to complete her look.
You may dismiss yellow immediately as a color that you cannot wear, but as this article has shown, you don't have to go full out in yellow to embrace the color.
I personally don't like the color too close to my face but have still added yellow elements to my wardrobe like this yellow skirt (above). And it's featured in the top too.
I also still enjoy wearing my yellow and nude sandals, my yellow skirt and a yellow belt. Since yellow is a bright color you don't need much of it to give your outfit just that bit of color or extra flair.
An earlier yellow capsule wardrobe we created
Here are more outfit ideas for you. This is an older capsule so no links for these items but shop your own closet and recreate the looks!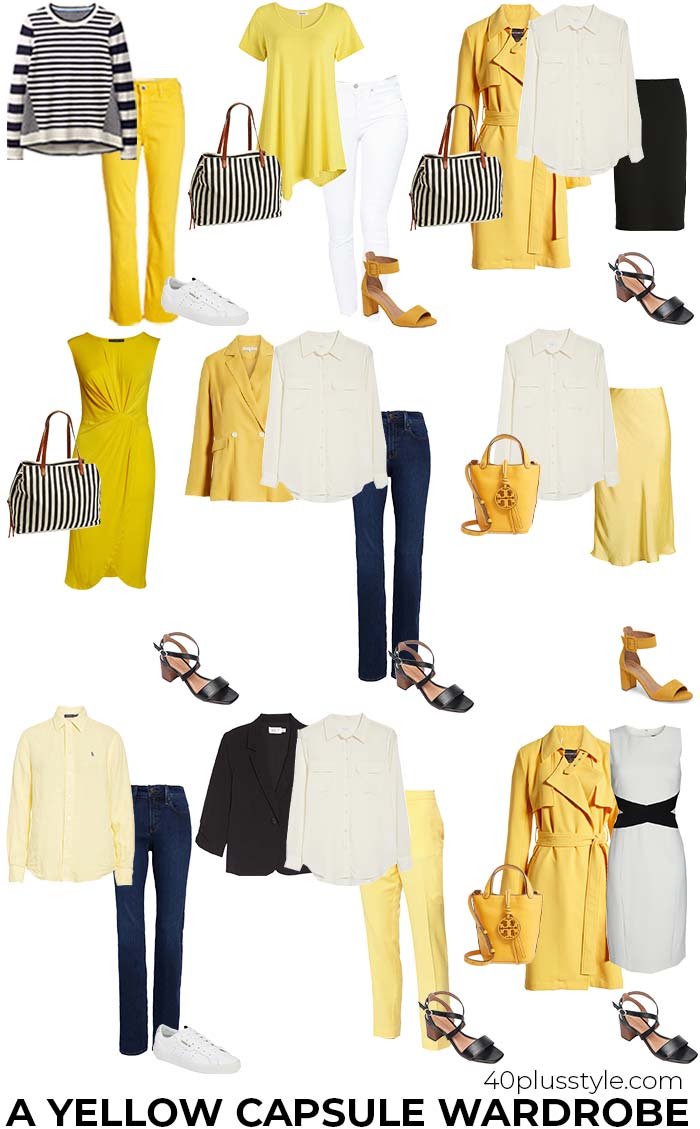 Read our ultimate guide to creating a capsule wardrobe that works best for you.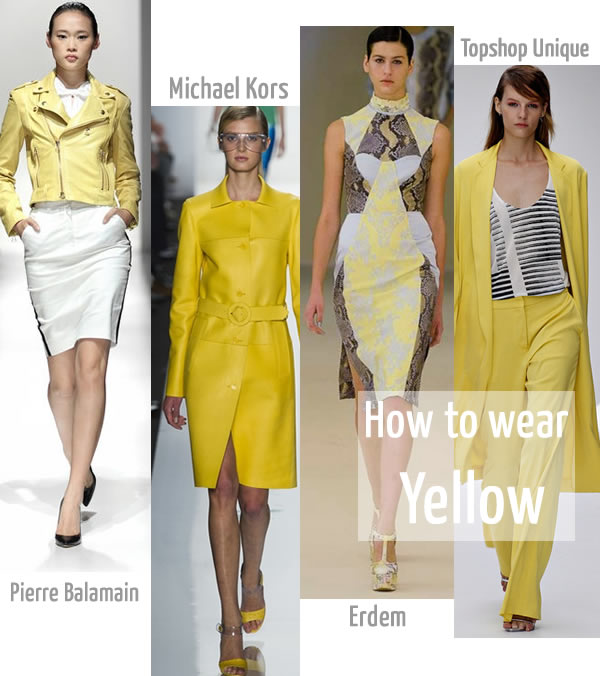 Do you already have some yellow outfits in your wardrobe? How would you style the color yellow? I'd love to know in the comments below.
Like this article on how to wear yellow outfits? Save it on Pinterest!
Feature image by Petra
The post How to wear yellow and brighten up your day! appeared first on 40+ Style.