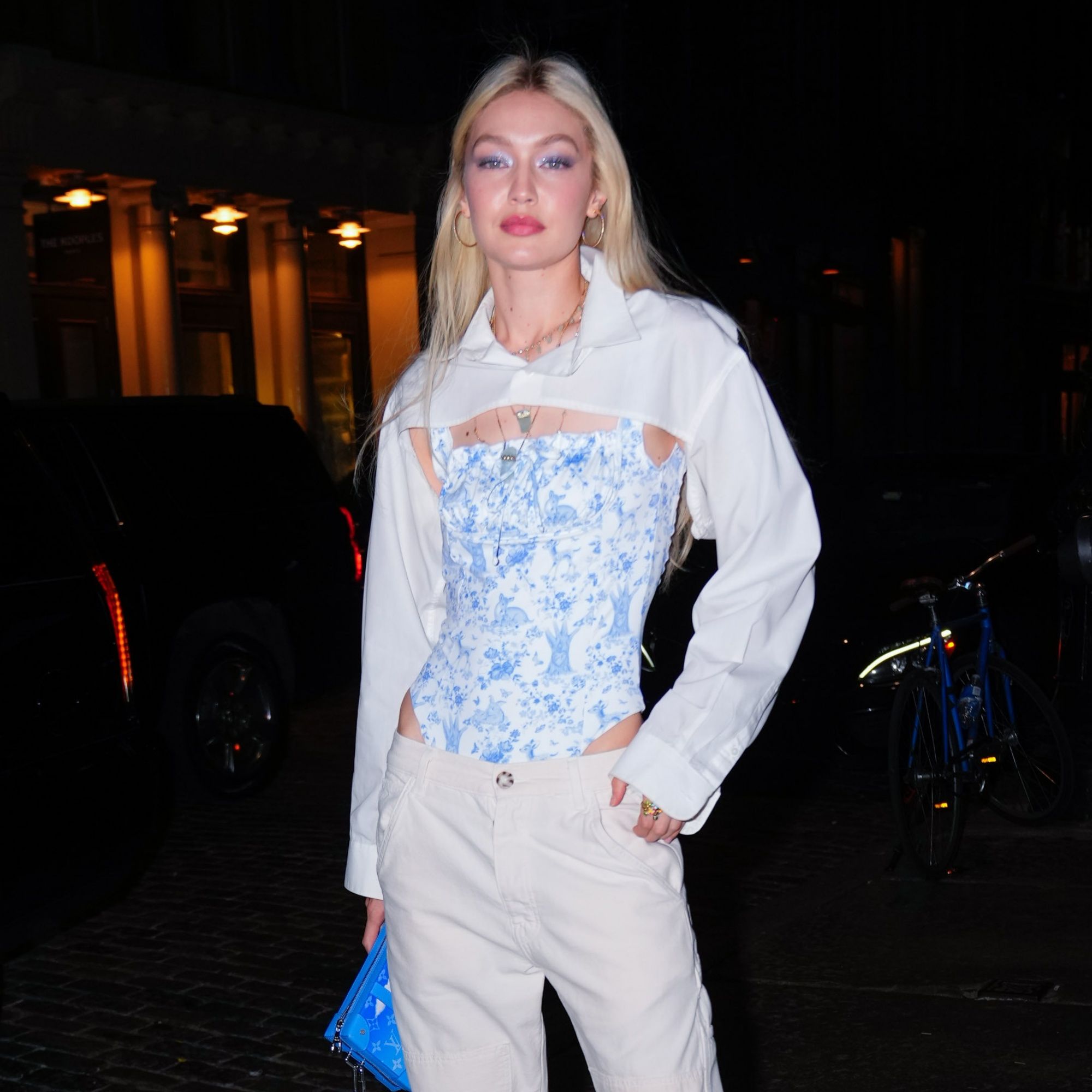 For the launch party of her capsule collection with Frankie's Bikinis, Gigi Hadid taught us how to be a little creative with our beachwear rotation: by wearing said beach pieces to, well, not the beach.
What do you wear to a party in Manhattan celebrating the launch of a line of swimsuits? You wear the damn swimsuit. The blonde Hadid paired her Toile de Jouy-patterned one-piece with baggy pants, an extremely-cropped top — gotta show off the 'suit — and a black baseball cap worn backwards because being adaptable is a virtue; a thing to celebrate. The younger Hadid did the same, but with a pleated skirt, tiered necklaces and baby bangs. The range! The styling options! The ingenuity!
And here's why swimsuit-as-top is genius. Nights out are prime "Danger! Splash Zone" territory, as are any kind of meal scenario if you're a little messy, a little grubby. Then there's the sweat and the grime of summer. In short, you're always going to feel more protected with a touch of waterproofing — and why not this entire range of type-casted, four-way-stretch clothing that doesn't have to be relegated as seasonal workers? You already have the bikini tops; the one-pieces. It's just time to get creative.
But more than that, there's big Laundry Day energy to choosing to don a tankini as a top. It's cute. It's je ne sais quoi. It's Cool Girl. It's a little unhinged, but all the best things in life are. Your swimsuit called and said it wants to see the world beyond sand and chlorine. So, time to paint the town red in red Lycra — and other stunning bikini tops and swim gear from The Attico, Eres and much, much more.
Swimsuits of the Season:
You may also like…
Gorgeous, gorgeous girls love big, big bags
Enter Clog Girl Summer with Ganni's Scholl collab
Are we still into cottagecore? Someone has to be. This Aerie one-piece's saccharine-sweet ditsy strawberry print — paired with chartreuse gingham straps because picnics, duh — doesn't really care if you've moved on from cottagecore to Dark Academic or whatever "Clean Girl Aesthetic" is. Wear it with a tiered prairie maxi and shimmy it off for lakeside dips after tucking into a full M&S spread. Again: picnics!
Herein lies the beauty of this bikini top from Dodo Bar Or: it already looks like a top. Better yet, it looks like a going-out top; a When-In-Miami top; a heavily-sequinned, disco-ball-reflective top that does that very flattering swoop-de-doop at the yoke. Go find a club with a pool in it for maximum usage of this shiny piece. I heard Soho House Hong Kong has one on the thirtieth floor.
If you're someone that's already been trained into wearing one-piece bodysuits, the swimsuit-as-top complex really shouldn't be much of a stretch for you. Especially if the swimsuit in question looks like this electric pink Eres one-piece, with its ruched angular cut-out running cheekily through the bust. Extremely hot.
The genius of swimsuit-as-top means the beach- and resort-wear options in your rotation now have more chances of being worn beyond their intended purpose. Which also means this way of styling shouldn't be relegated to one-pieces and high-coverage pieces. Who cares! When in Rome! Style this Isa Boulder piece like the cropped top that it is — under an oversized Oxford shirt with fun palazzo pants. Or go nuts: wear it by itself. Those twisty straps need to be seen.
One pitfall of this edition of WordPress — oh, there are many! — means I must pick one image that's most representative of the swimsuit-in-question to illustrate my copy. That's just a long-winded way of saying: Please click through and admire the back of this Jade Swim one-shouldered bikini top, because it's something to behold. Its straps form the outline of a right-angle triangle exactly where your shoulder blade sits and, oh, just imagine the tan lines.
This baby blue Norma Kamali bikini top barely looks like a bikini top. It's made of mesh! It's draped and ruched! But it is, in fact, a bikini top, so wear it to the beach and to brunch, then the bars and, what the hell, back to the beach again.
Après-ski gets a lot of press, but après-pool — or, even, avant-pool — is, arguably, much more fun. This PatBO one-piece takes poolside stunting extremely seriously, with its print, its twists, its cut-outs, its long, ballooning sleeves and its, uh, shoulder pads. A swimsuit with shoulder pads! This is a prime swimsuit-as-top contender.
This one-piece from The Attico ticks off all the boxes as a beyond-beachwear hopeful. High coverage, but with cool cut-outs, check. Retro-y, colourblocked moments, check. A very strappy composition for fun, artistic tan lines, check. Don't waste this on a grimy beach in South Lantau; shimmy it on for all the pub crawls you're going to do this summer. And if there's some accidental spillage throughout the night? Your outfit's waterproof.
The post I saw Gigi Hadid wearing a swimsuit as a top, so I bought a swimsuit to wear as a top appeared first on Lifestyle Asia Hong Kong.