A closet full of clothes and nothing to wear? We all have those days when nothing seems to work. But, there are plenty of go-to places to get new outfit ideas
These suggestions might just have you falling back in love with the pieces in your closet all over again.
Where to get your outfit inspiration
Maybe you already have all of the pieces you need to make an outfit. You may just need some inspiration to help you figure out what you may be missing from your closet.
In this article, you will not only find plenty of ideas about where to get more outfit inspiration, but also some easy and classic outfit ideas that you can always come back to if you are stuck.
Here are the best sources of inspiration for those times when you feel totally uninspired when you open your wardrobe doors.
Outfit ideas on Pinterest
Pinterest may fall below other social media sites such as Instagram, Facebook and YouTube when it comes to the number of users. But, its one of the best places on social media for fashion inspiration.
There are more than four billion fashion related pins, so you should definitely find something you like. You can pin the images you find which inspire you kind of like a virtual scrapbook, so you can keep everything in one place to refer to.
However, because there is such a wealth of content, it can be overwhelming.
A great first port of call is, of course, the 40+ Style Pinterest board, where youll find all the images from the 40+ style articles as well as pins we have found inspirational.
Outfit ideas on Facebook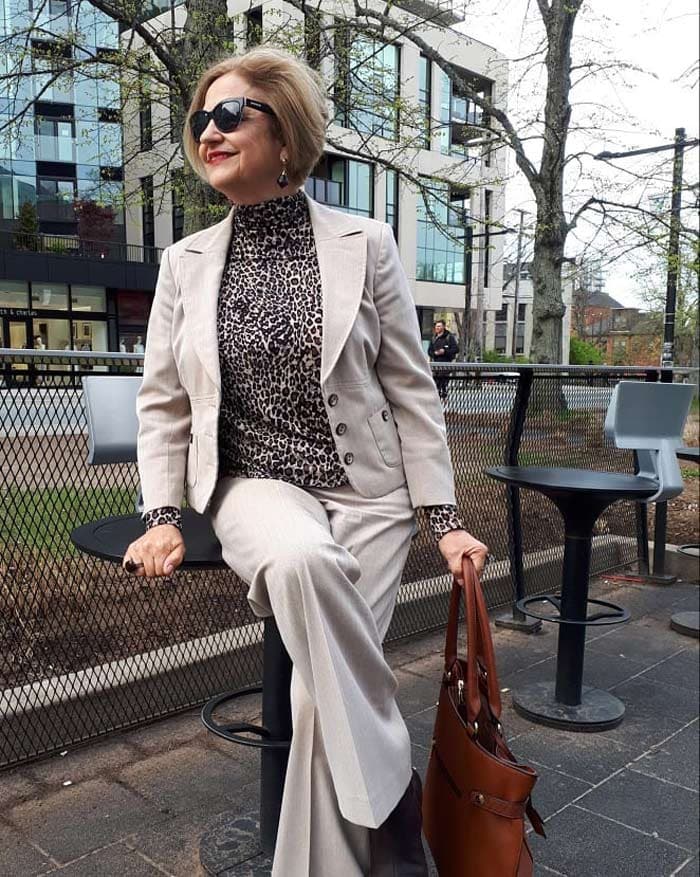 It goes without saying that the behemoth of social media can be both a source of inspiration and a sounding board when it comes to fashion choices.
In the 40+ Style Community, you can see posts from stylish 40+ women. How they put together their outfits could give you some ideas of your own.
Plus, when you do put an outfit together, you can post your own photos, and get helpful, constructive feedback from other members.Go on, be brave and post a photo of your own, if you havent already.
Above is Terri Durling who is one of the members of the 40+ Style Community. You can also read Terris style interview.
Fashion bloggers can provide the best outfit ideas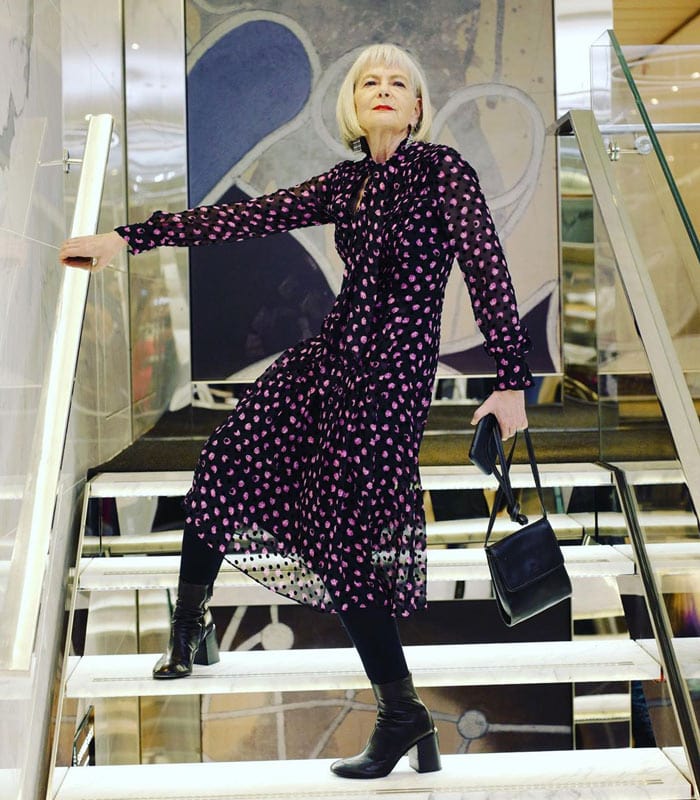 Lyn Slater, The Accidental Icon
It can be easy to think that style is something that is harder for women over 40 to achieve.
And, while I would agree that younger women may be more likely to wear fashion trends, I firmly believe that style is not about being trendy, and women in their 40s and beyond can definitely have more style.
We have more life experience, we know who we are, we can be more comfortable in our own skins, and all of that makes us better able to create, define and refine our own styles.
Here is a list of our favorite 40+ bloggers.
Outfit ideas from interviews with 40+ women
Sometimes, rather than just looking at photos, finding out more about why a woman has a particular style, how it has evolved over the years, how it suits her lifestyle and her personality, can really help not just to understand more about why she dresses the way she does, but to take a new look at your own style.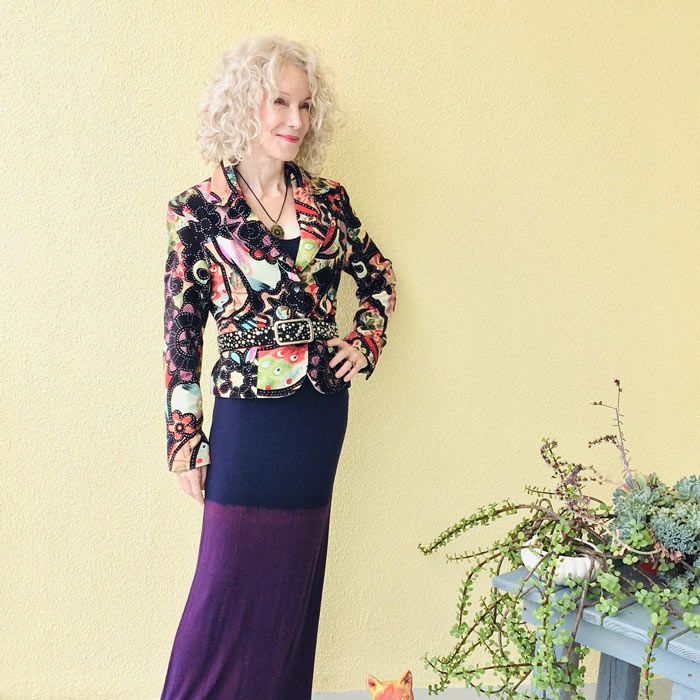 Youll find plenty of fantastic style interviews here, where each interviewee addresses questions about important components of their style, what inspires their own outfit choices, favorite brands and how their style has changed after 40.
The stylish women on Instagram can help you put together the best outfits
Of course, because it is such a visual medium, Instagram can be a great place to find beautiful images of stylish women who you may relate to.
To help you find the best women to follow, here is the 40+ Style round-up of 100 fabulously stylish Instagrammers, who are in the middle stages of their lives.
You will find women with all sorts of styles, including those who dress casually, formally, who are work-ready, classic, bohemian and eclectic.
Perhaps if you are struggling with your own outfit choices, you may just find one of these women wearing an outfit which you want to emulate in your own way.
Dont forget to follow 40+ Style on Instagram.
Good outfits: Stylish 40+ celebrities
Im thrilled that older women seem to be getting the recognition they deserve recently.
For example, actresses including Isabella Rossellini and Monica Bellucci have walked the catwalks for Dolce and Gabbana, while Cher has shot back into the limelight with her role in Mamma Mia! Here we go again, Glenn Close is winning critical acclaim withThe Wife, and Helen Mirren is starring in HBOsCatherine the Great.
Whether you identify with a girl-next-door casual style such as that of Jennifer Aniston, or you like the eclectic style of Sarah Jessica Parker, you will find plenty of ideas by looking at what your favorite 40+ style icons wear.
Here is a round-up of articles showing how to dress like your favorite celebrity.
Clothing inspiration from the people around you
How much do the people around you whether your friends, family or colleagues influence your style?
While what suits your hourglass friend may not look as good on you if you are a rectangle, or what looks great on your redhead sister may make you look washed out, theres no reason not to take inspiration from the people you see or meet.
Its natural to see a stylish woman and to want to look just as good. It may be that you take just one element of their style to elevate your own, such as wearing a statement necklace, or wearing bright shoes with a neutral outfit.
For more food for thought, take a look at this piece on how much you adapt your style to the people around you.
Get ideas for your style personality!
We can give you lots of ideas for your unique style personality. We have created a capsule wardrobe for 12 different style personalities.
If you want to know whats your you can take the style personality quiz.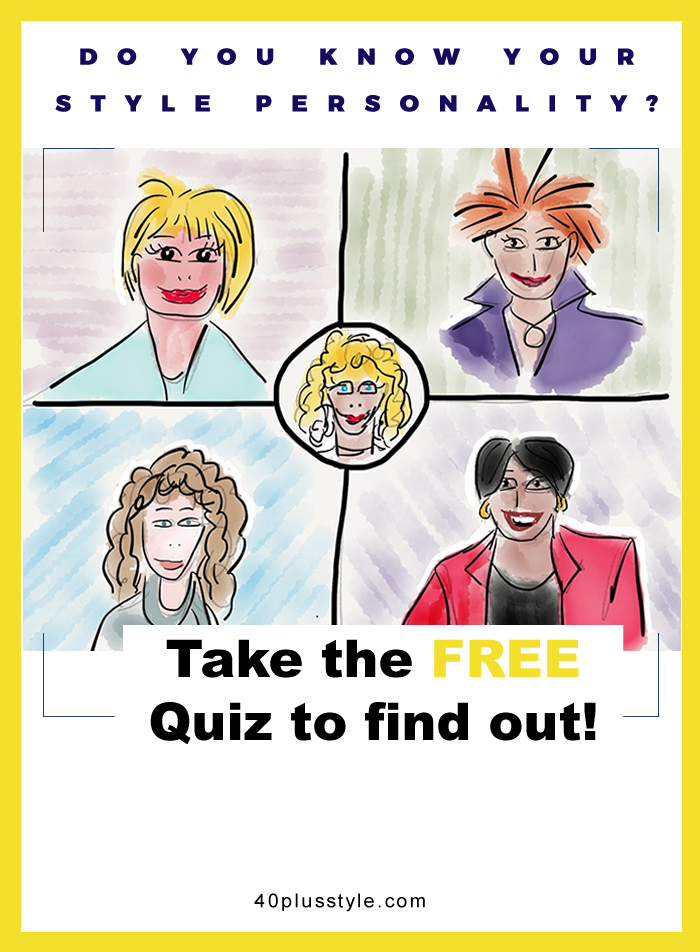 You can check out all the capsules we created for the various personality types here.
Style inspiration if you get stuck
If you really are standing in front of your closet and you just cant see anything you want to put on, or which goes together, here are a few quick ideas to break the style equivalent of writers block.
Start with your accessories
You dont have to begin an outfit by picking out a dress, or a pair of pants and a top. You can start with a completely different key item.
How about picking out a scarf, a handbag or a statement necklace from your closet and figuring out what would go well with it.
Ted Baker London leopard scarf
Start with your shoes
While you may usually think about dressing from the top down, how about starting from the bottom up?
Choose a pair of shoes and then work the rest of your outfit around them. For example, you may want to show off a bright pair of shoes by keeping the rest of your outfit choices neutral.
Create a capsule wardrobe
One of the main reasons you may stand in front of hundreds of items of clothing and still feel unable to put together a cohesive outfit is because you havent thought about how each item will go together.
By putting together one capsule closet, where everything goes with everything else, or by having several capsules you can use, you can make sure you will never be stuck for something to wear.
Also take a look at this ultimate guide to creating a capsule wardrobe.
Easy outfit ideas when you think you have nothing to wear
When you are struggling to find outfit inspiration, there are plenty of outfit formulas that you can fall back on to make getting dressed a breeze.
Here are just a few suggestions for you:
1. Bootcut jeans, a tee, a blazer & loafers
The beauty of this outfit is that it mixes casual and formal to create interest. A blazer can instantly elevate your jeans and t-shirt.
Tommy Hilfiger houndstooth jacket Eileen Fisher tee PAIGE bootcut jeans Tory Burch loafer Kate Spade New York tote
2. A trench coat, breton top, skinny jeans and ballet flats
Classic styles will never go out of style. A striped top and jeans will always look stylish, as often demonstrated by the Duchess of Cambridge.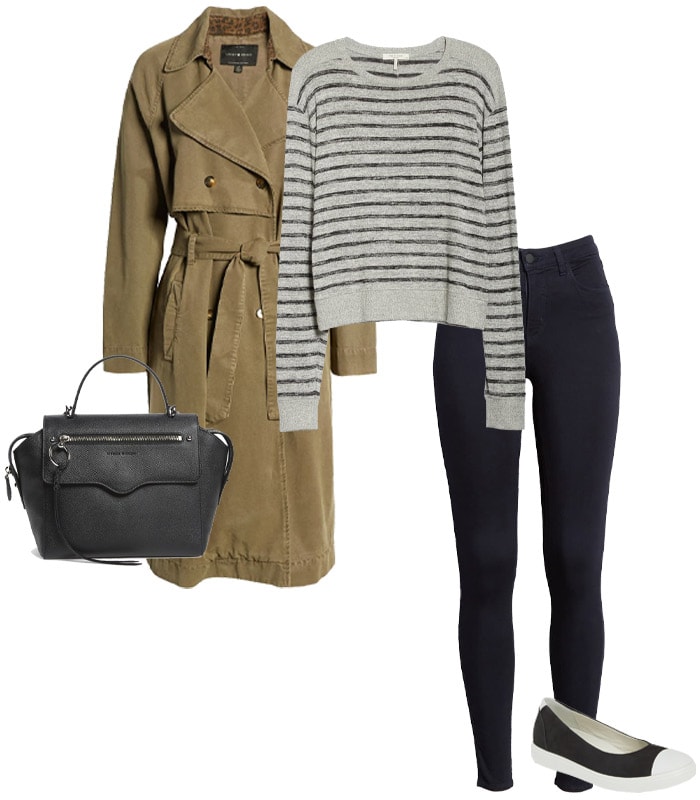 Lucky Brand trench coat Rag & Bone sweater LAGENCE skinny jeans ECCO flat Rebecca Minkoff satchel
3. A midi dress with a denim or moto jacket & booties
You probably already have a midi dress in your closet. How do you usually wear it. If you usually wear your dress formally with a pair of heels and a blazer, how about switching to a moto jacket and booties?
Or could you wear your dress over leggings or pants? Or if you have a shirt dress you could wear it open like a duster jacket.
BB Dakota moto jacket DVF shirtdress SARTO by Franco Sarto pump Rebecca Minkoff satchel
4. Printed pants, a plain top & sandals
A fail-safe outfit option is to take a plain pair of pants and a printed top, or vice versa, a plain top and printed pants.
Eileen Fisher mock neck top Band of Gypsies tie waist pants Naturalizer ankle strap sandal Rebecca Minkoff satchel
5. A sheath dress with pumps
If you have an event to attend or a dinner, you can never go wrong with a classic sheath dress worn with pumps. You can always add interest by choosing a style with a peplum or asymmetry.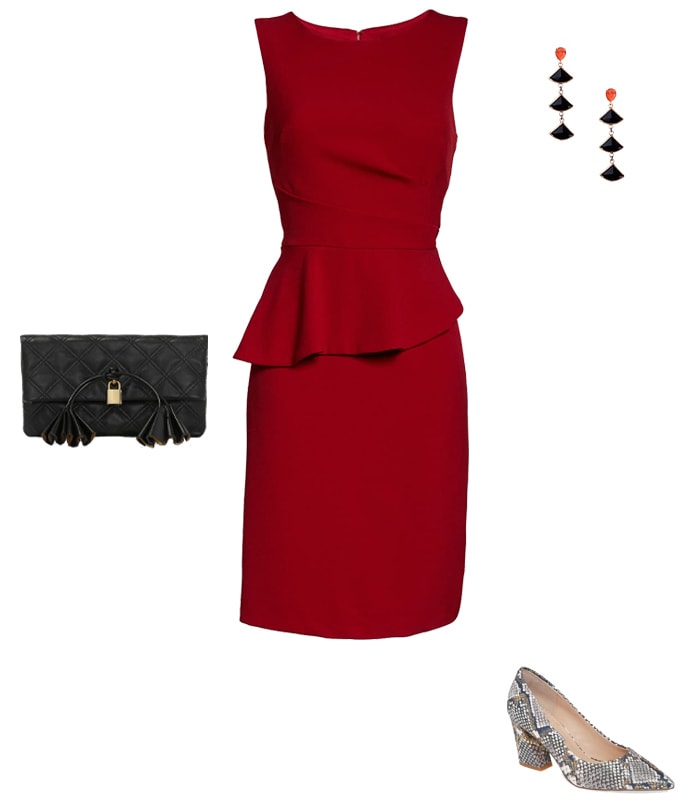 Donna Ricco sheath dress Charles David pump Marc Jacobs clutch Nakamol drop earrings
6. A tunic with leggings
If you want an outfit which offers you both comfort AND style, I really dont think you can go wrong with leggings and a longer top. Choose a top with interesting details or asymmetry to give your outfit the wow factor.
Halogen asymmetrical tunic Hue leggings Ted Baker London bootie Rebecca Minkoff satchel
7. Wear your dress over pants
When you find youve become stuck in a style rut when it comes to your outfits, think about how you can wear your clothes in a completely different way.
How about wearing dresses over pants if you havent tried this already?
AllSaints shirtdress Vince trousers Lucky Brand bootie Kate Spade New York tote Nakamol drop earrings
8. A denim shirt & dressy skirt
One way to create outfits you may not have put together before is to mix your casual and formal items, or to put together materials that you may not necessarily have tried together before.
Alice + Olivia a-line midi skirt Design by Olivia denim shirt tunic Naturalizer ankle strap sandal Marc Jacobs clutch
9. A white shirt layered under anything
Everyone probably has items in their closet that they dont wear anymore.
That may be because you have had them for many years and you are no longer happy to show off certain parts of your body, or because you have a wardrobe full of formal clothes but your lifestyle is now more casual.
If you have a shorter dress you dont wear, could you team it over pants? Or if you have sleeveless styles, could you wear a white shirt or t-shirt underneath?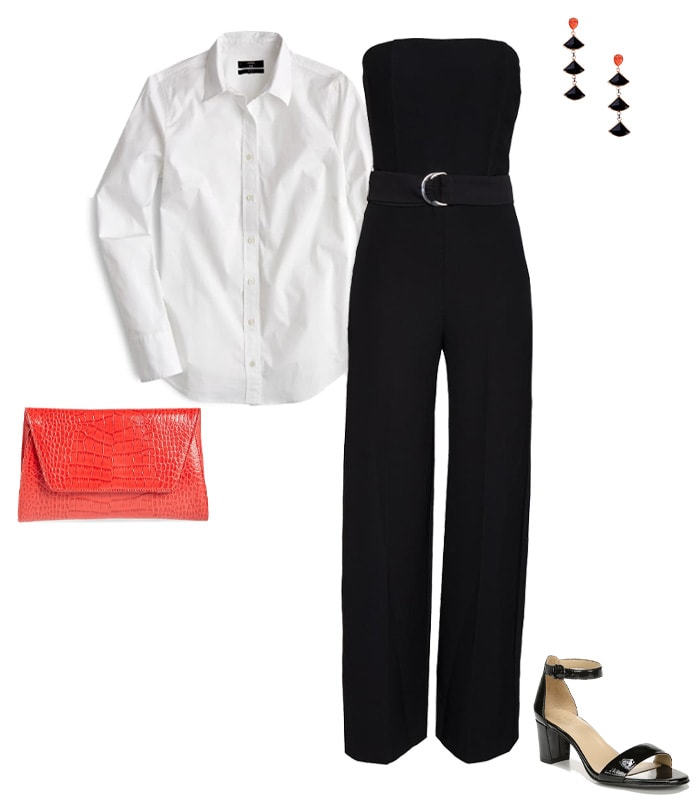 Chelsea28 belted jumpsuit J.Crew shirt Nordstrom leather clutch Naturalizer ankle strap sandal Nakamol drop earrings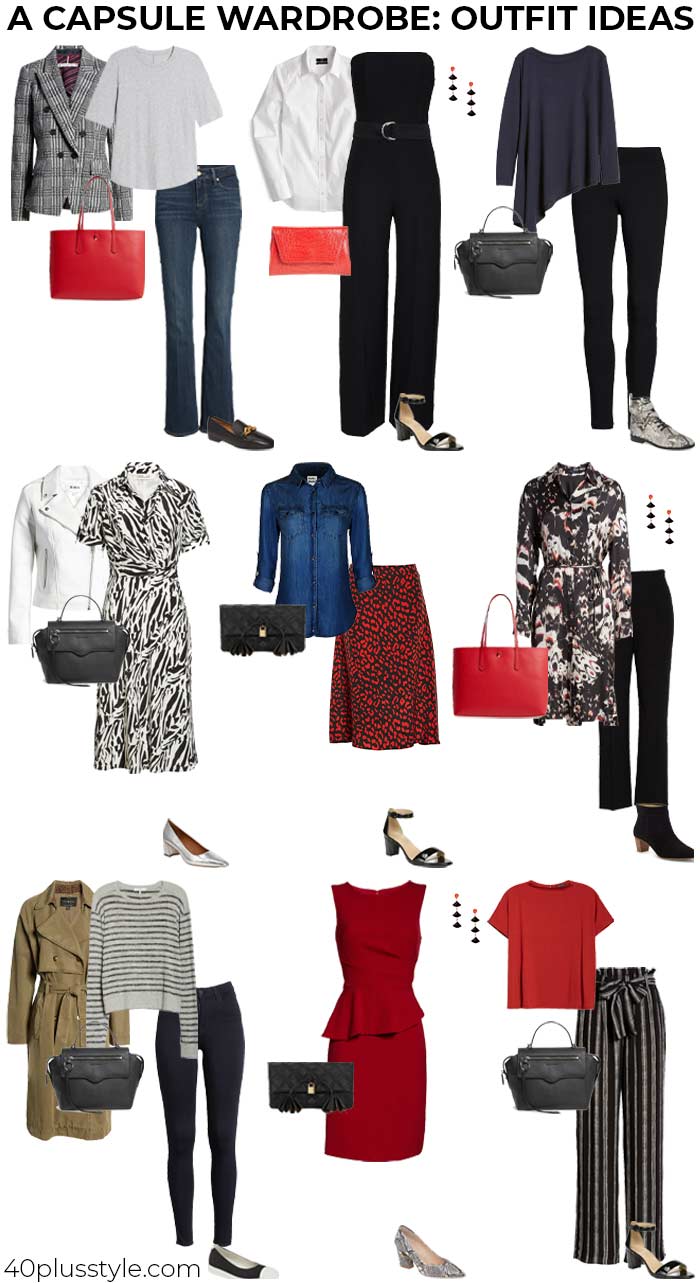 Want more help with your style?
Great style doesnt happen by accident. The style of your favorite celebrity may seem effortless but they often have worked hard to make it that way.
Or they have a personal stylist!
The good thing is, our students say that our course is actually better than a stylist. Because you can learn to become your own personal stylist and learn so much of your own unique style in the process.
In our style course 21 Steps to a More Stylish You, you will learn everything you need to know to style yourself and how to create amazing outfits so you always have something great to wear.
Where do you get your style inspiration from? How do you come up with outfit ideas? Let me know in the comments below.
Continue reading:
Like this article on how to find outfit ideas? Share it on Pinterest
Feature image by Jodie, @jtouchofstyle
The post Outfit ideas: How to get inspiration for your next outfit when youre bored with everything in your closet appeared first on 40+ Style.