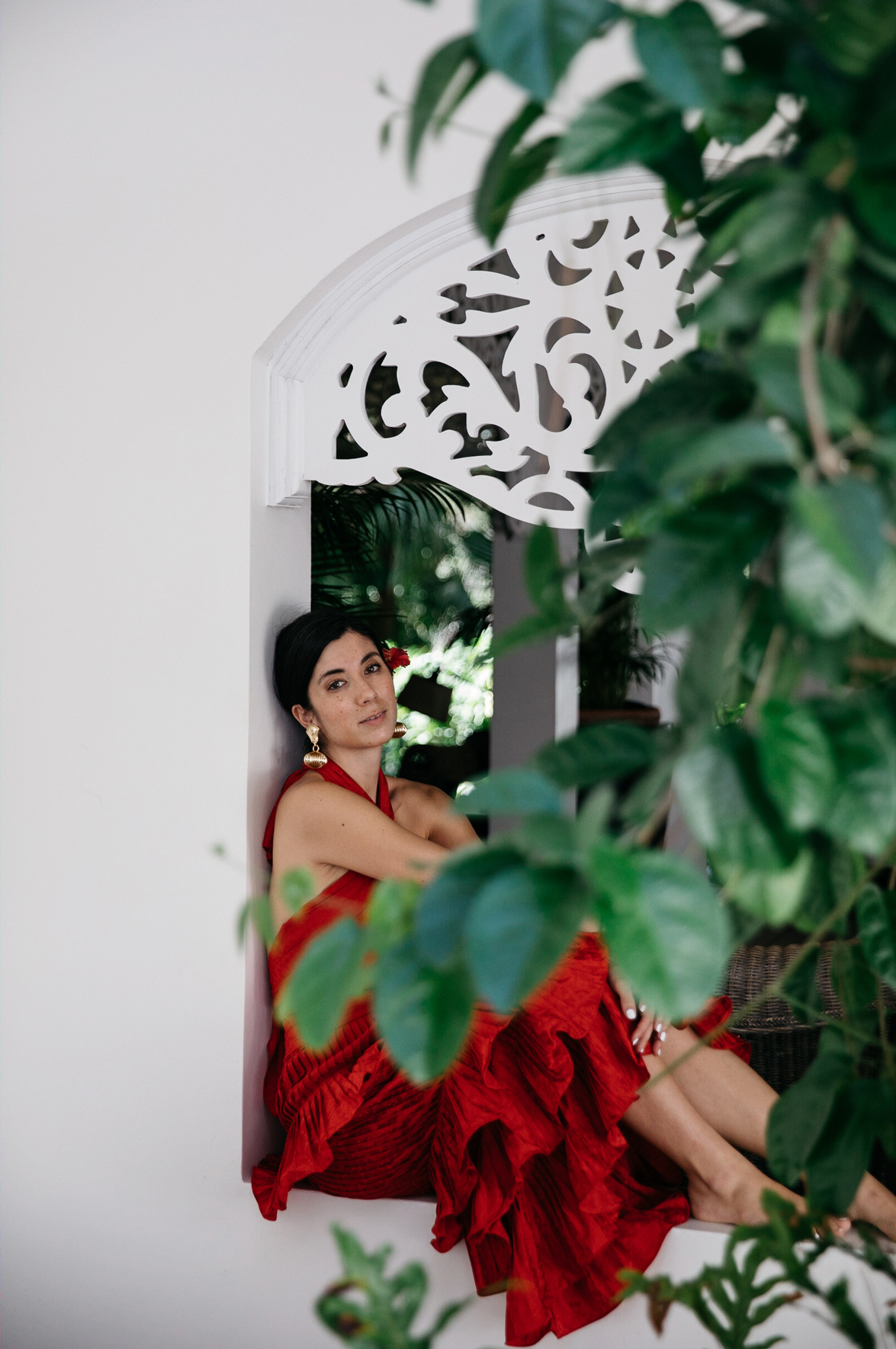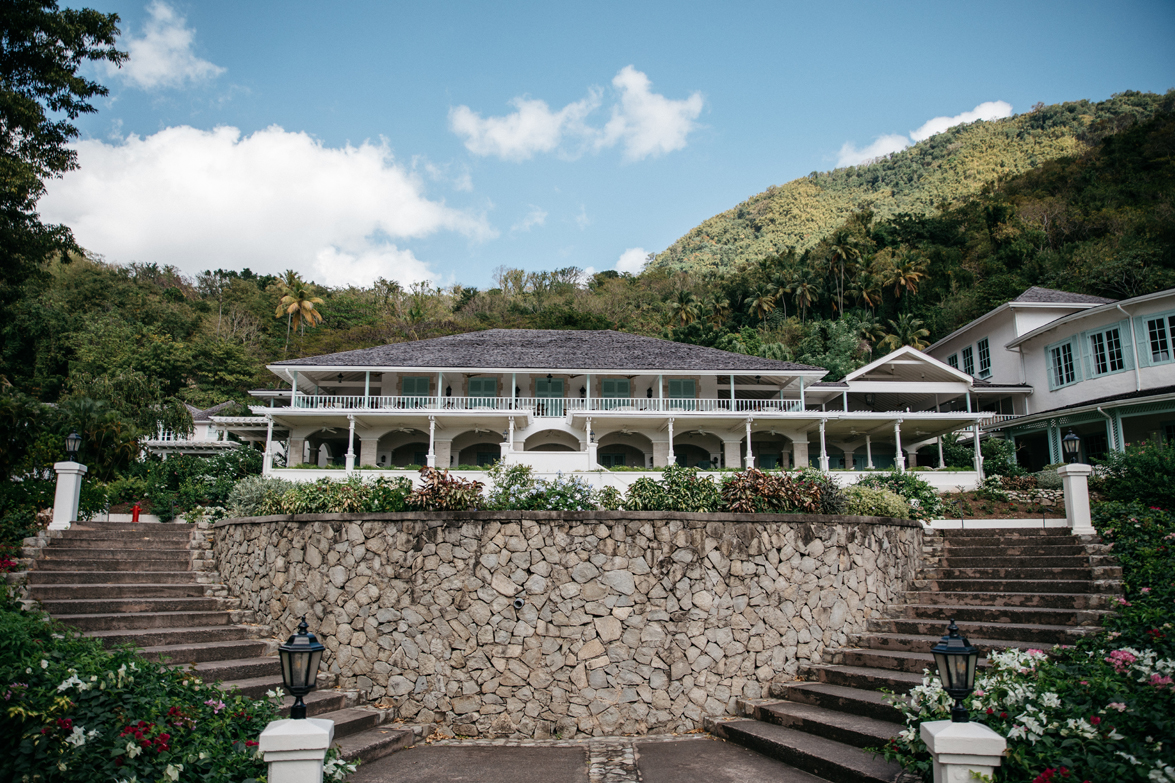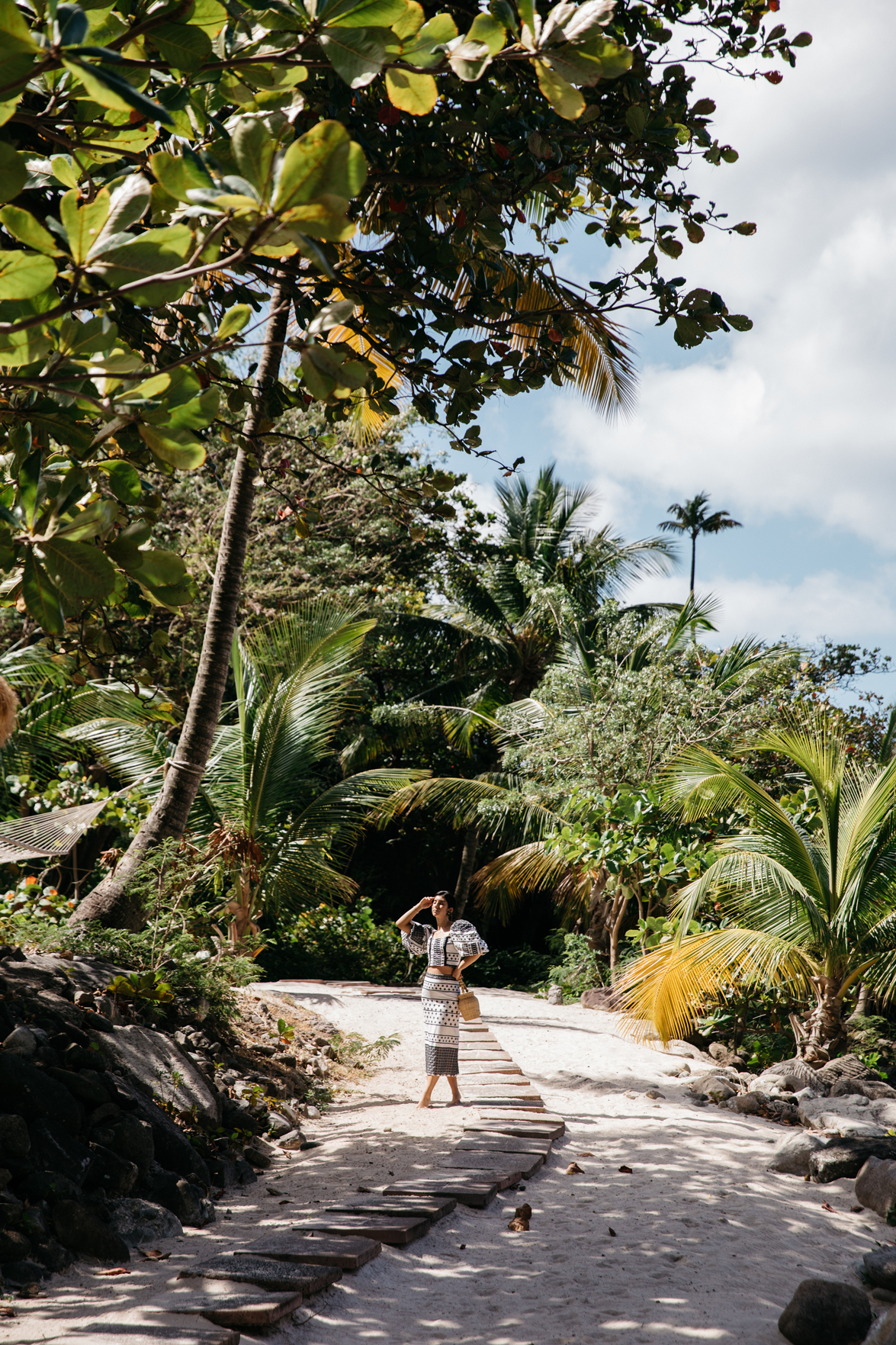 Saint Lucia.
What a heavenly little place — smack dab in the middle of a string of Caribbean islands. On one side, you have the colder front of the Atlantic Ocean and the other, the calm serenity of the Caribbean Sea. One thing is consistent though every where you turn in Saint Lucia, it's breathtaking. We're talking the stuff of far-off destination postcard breathtaking — so much so that during our drive from the airport to Sugar Beach, where we would be staying for the week, I leaned over to Allie to whisper:
"Doesn't it remind you of Jurassic Park? The lush jungles, the mountain peaks — it's like a pterodactyl might swoop down at any moment!"
Allie, being the true young millennial she is, leaned back to whisper:
"I've never seen Jurassic Park."
GASP. I KNOW.
The youth of today — no appreciation for cinematic culture. (Of course, just to be clear, I'm being sarcastic here. She also hasn't seen Dirty Dancing, so I'm starting to think she just doesn't like movies that much.)
Spielberg aside, back to Saint Lucia! Some of you may recall I visited the island back in September of 2016 (look how long my hair was!) with the swimwear line Heidi Klein on the more northern side of the island at Marigot Bay. This time around, we ventured further south to Sugar Beach, which unbeknownst to me at the time of booking, is literally situated between the two infamous Piton mountains on the island. And when I say situated between, I mean if you look to your right and crane your neck WAY upwards, you'll see the tippy top of one. And if you look to your left and crane your neck even further up, you'll see the top of the other. (Don't worry, no necks were harmed during this vacation.)
Understandably, trip planning may be coming to a slight halt these days, but I did want to share more about our trip today, in the event you're considering a Saint Lucia vacation for later this year or next. It truly is a slice of paradise and Sugar Beach is the epicenter.
How to get there and when to go
All my New Yorkers (or those traveling from the greater New York area), Jet Blue has added a bunch of direct flights from JFK to UVF (one of the two main airports on the island), clocking in a 4 and a half hour flight time. Delta and American have a few options stopping off through Atlanta and Miami, if those routes suit you better. We took a 6am flight, getting us to the island right around noon. Please note, Saint Lucia doesn't observe Daylight Savings, so depending on the time of year you go, they may be off by an hour from EST.
As far as when to go, we chatted with quite a few locals as to when would be the best time to visit the island and they all agreed, May and June offer the best weather with the most competitive hotel rates. Like most tropical destinations, peak season tends to hit during the holidays (end of November through beginning of January), so you'll definitely end up paying for it with more expensive airfare and room rates. Personally, we loved our weather for a late February trip — most days were in the high 80s with a few scattered rain showers that passed just as quickly as they came.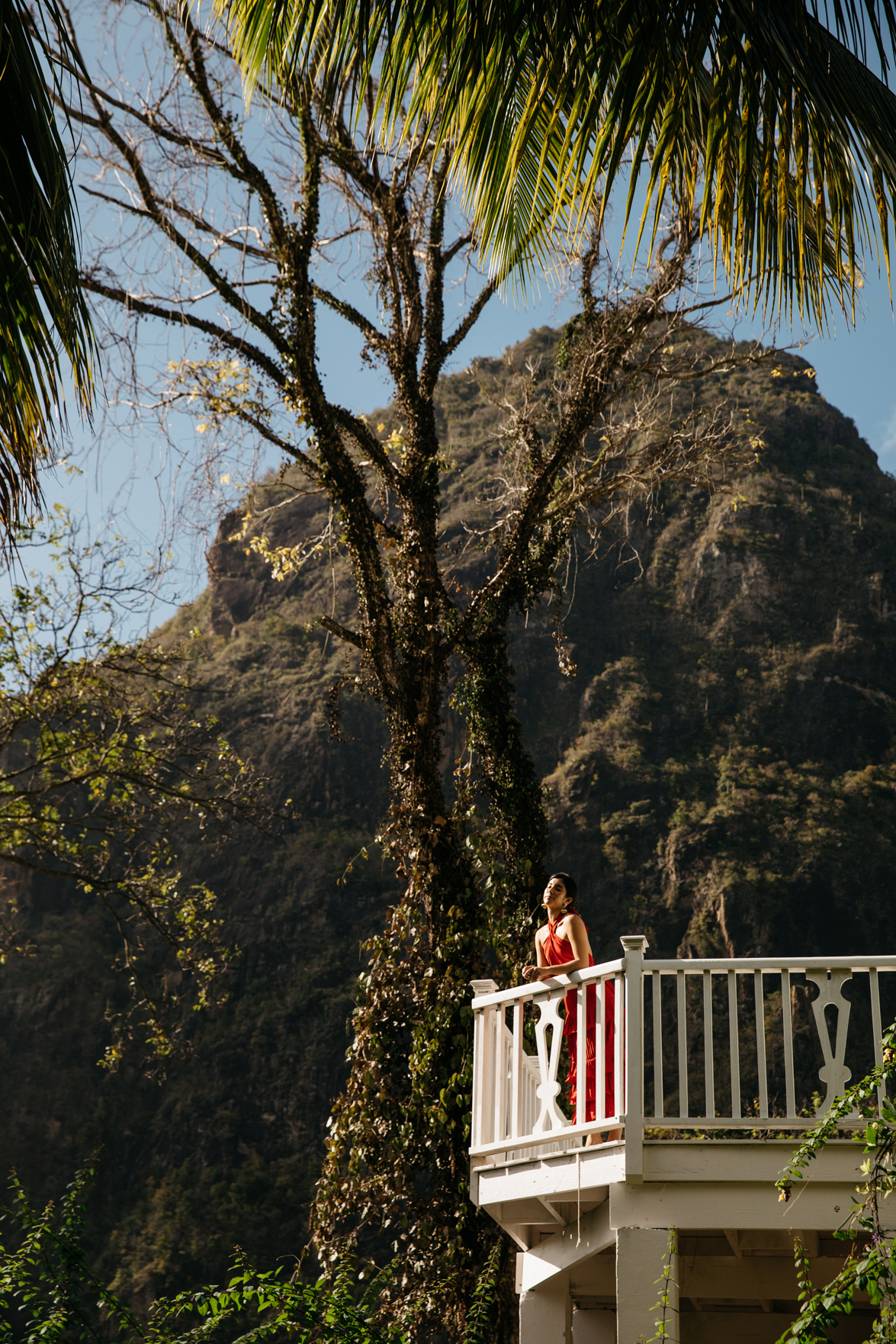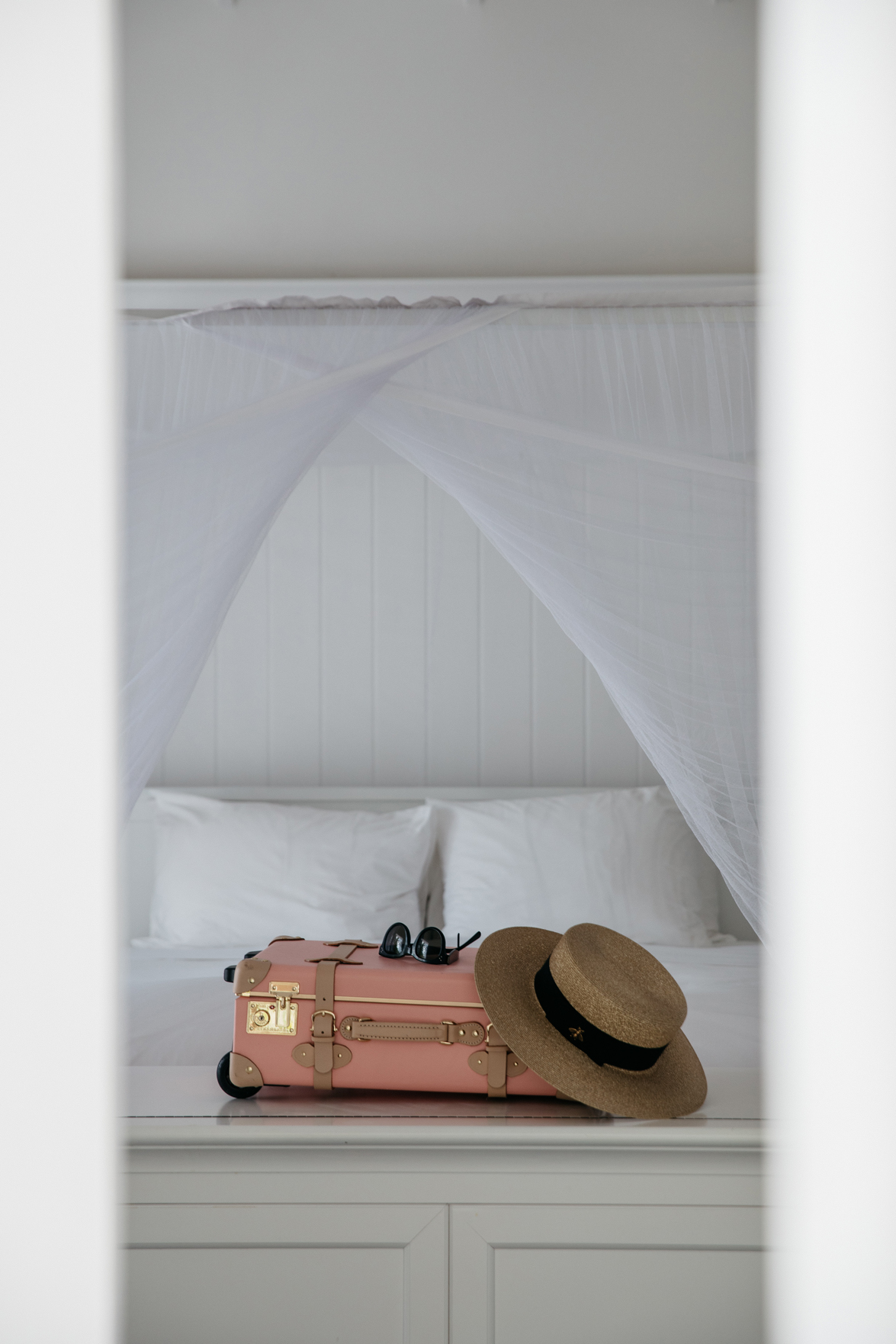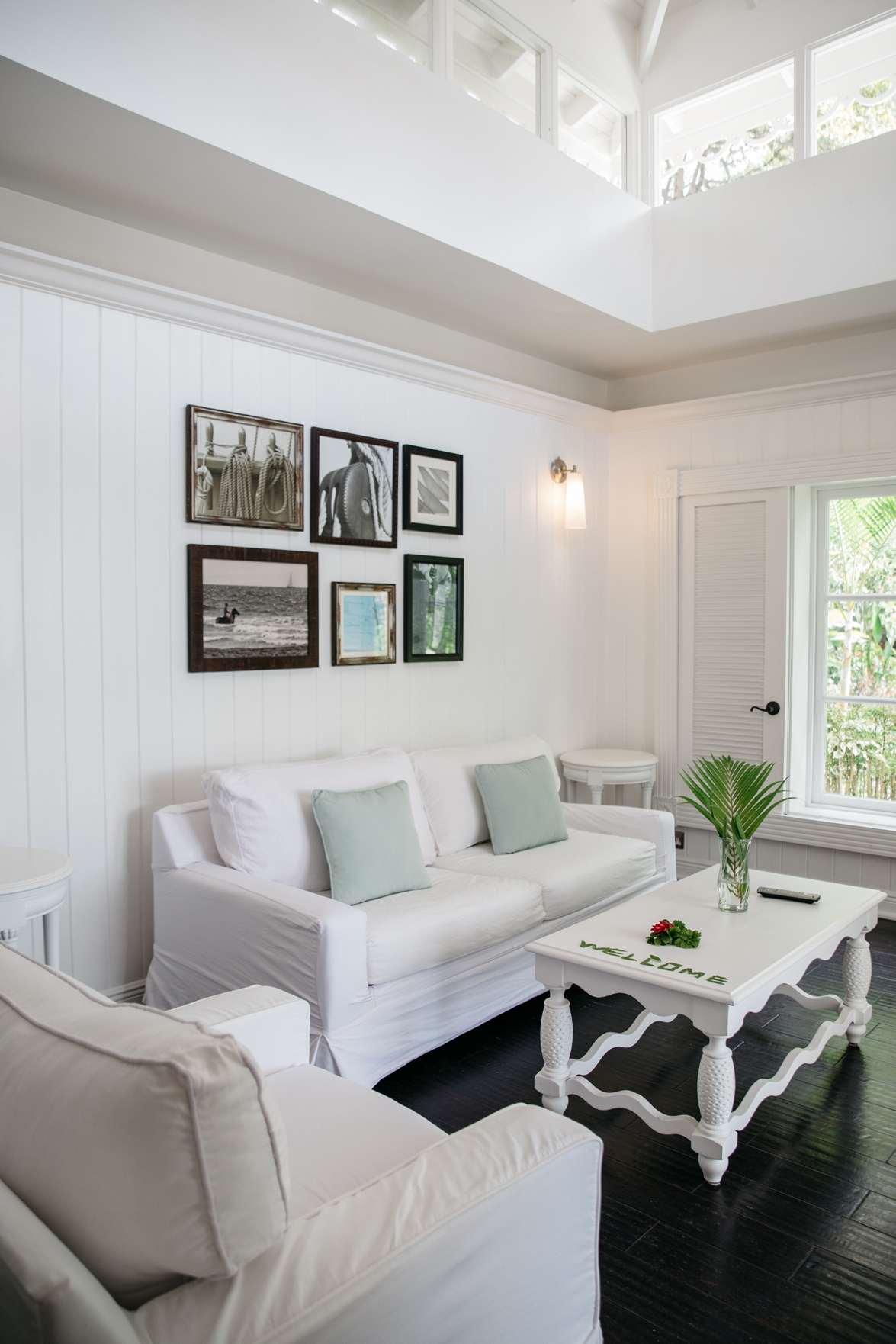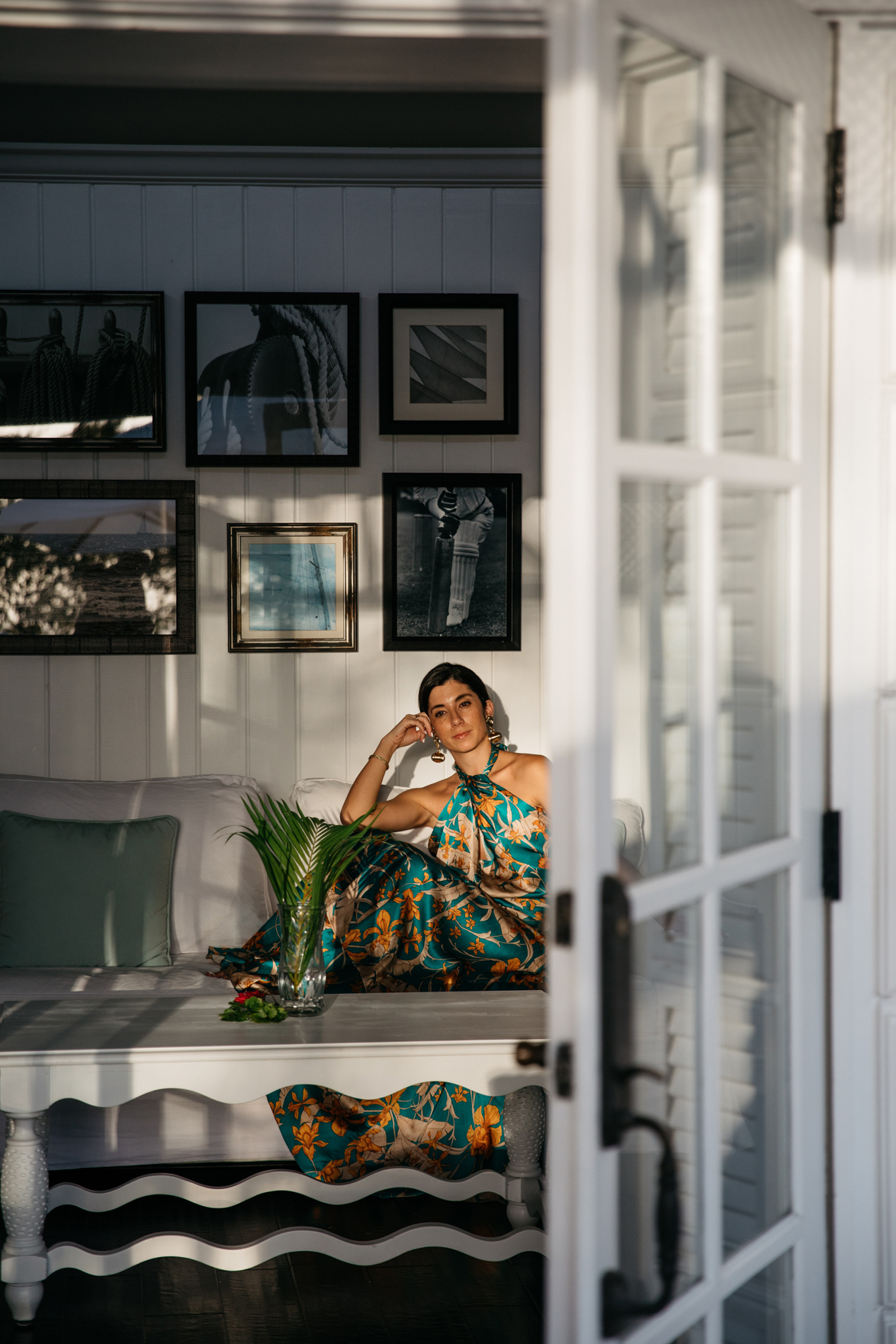 Where to stay and eat
Typically, I try to avoid being one of those travelers who "never leaves the resort" but honestly, once you see Sugar Beach, it's kind of hard to envision leaving. Like ever. For anything. Trust me, we tried to stow away in the walk-in closet of our villa. Spoiler alert: they found us. When you add to that, some of the biggest attractions on the island, ahem, the Piton Mountains, are right next door, well it's kind of a one-stop-shop. Most folks staying elsewhere on the island hop on busses/shuttles to the property to enjoy all the land and water activities nearby, especially the Piton hiking trails, and all you have to do is walk out your villa door.
A bit of background about Sugar Beach — what was once an 18th century sugar plantation, later renovated into a luxury resort property in the 1990s under the name Jalousie Plantation (Creole for jealousy), has now finally landed in the Viceroy hands. And let me tell you, she's a beauty! Nestled on 100 acres of lush, beachfront jungle that ultimately cascades down to white sandy beaches (some might even say, sugary white beaches), it's not hard to see how Sugar Beach has become such a destination among the honeymooning crowd. It's romance rivals the best of them — Hawaii, Maldives, you name it.
What I loved even more about the property was the amazing attention to decor details — specifically the art that adorns the common areas as well as the beautiful black and white photography in the guest rooms. On one hand it feels like you've stepped back in time at a grand plantation home, on the other, you might wonder if you're in the midst of Miami's Art Basel.
We stayed in one of their luxury cottages, which offers 24/7 butler service (you read that right), private dipping pool and patio as well as a beautiful view of the Pitons and the ocean (depending on the room). Since most of the property is situated on a hillside, there are walking paths to get around yourself, but most guests opt to hop on board one of the many mini vans doing pick ups and drop offs. In fact, upon checkin, you're given your own private cell phone to reach your butler or the front desk at any time, anywhere on property.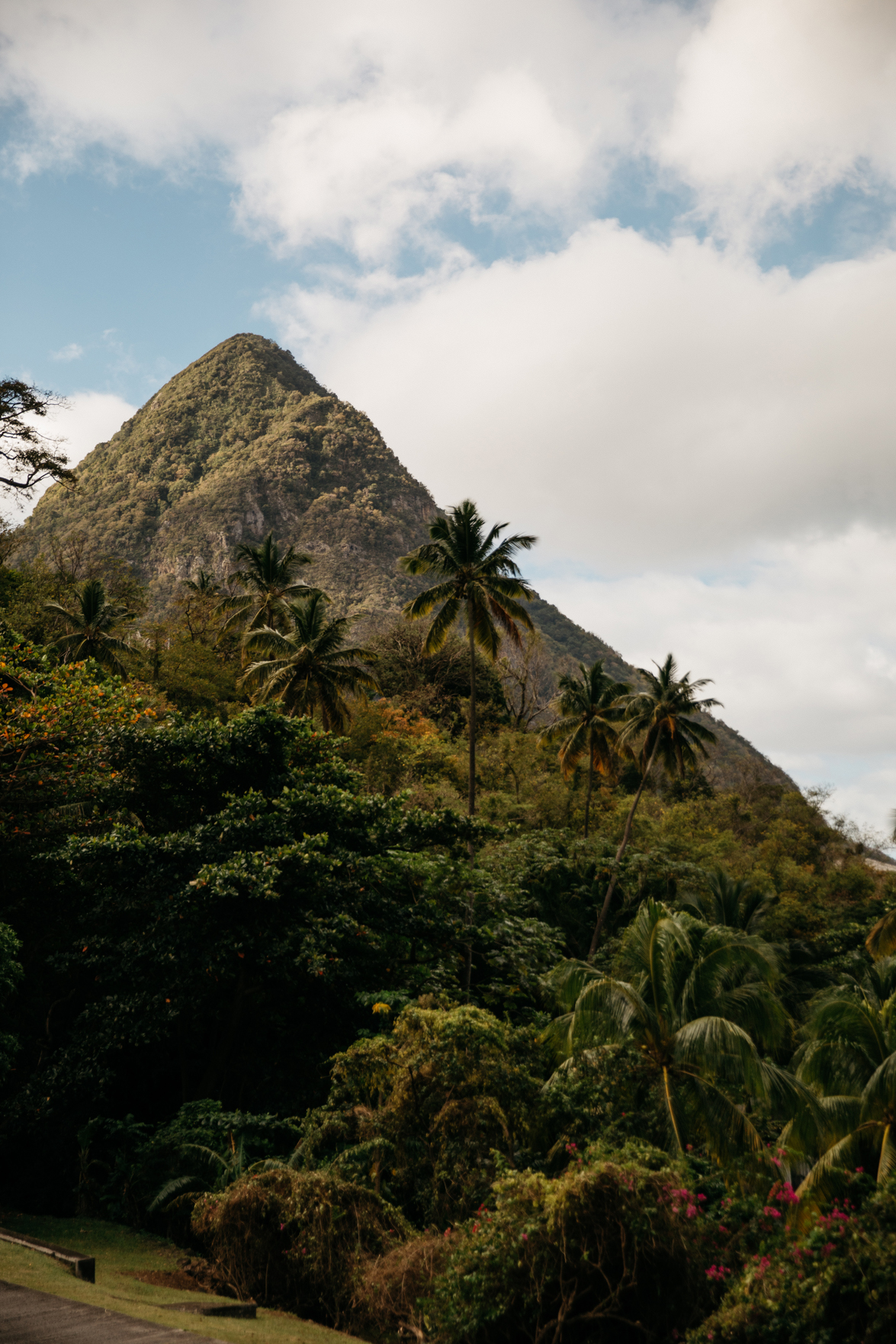 There are six different dining areas at Sugar Beach and we diligently tried them all — in the name of research, right?! Our personal favorites included Cane Bar (amazing sushi!), the Great Room restaurant (definitely ask to dine outside on the veranda — true plantation style!) and finally, the Bayside Restaurant for a post-paddle boarding lunch right on the beach.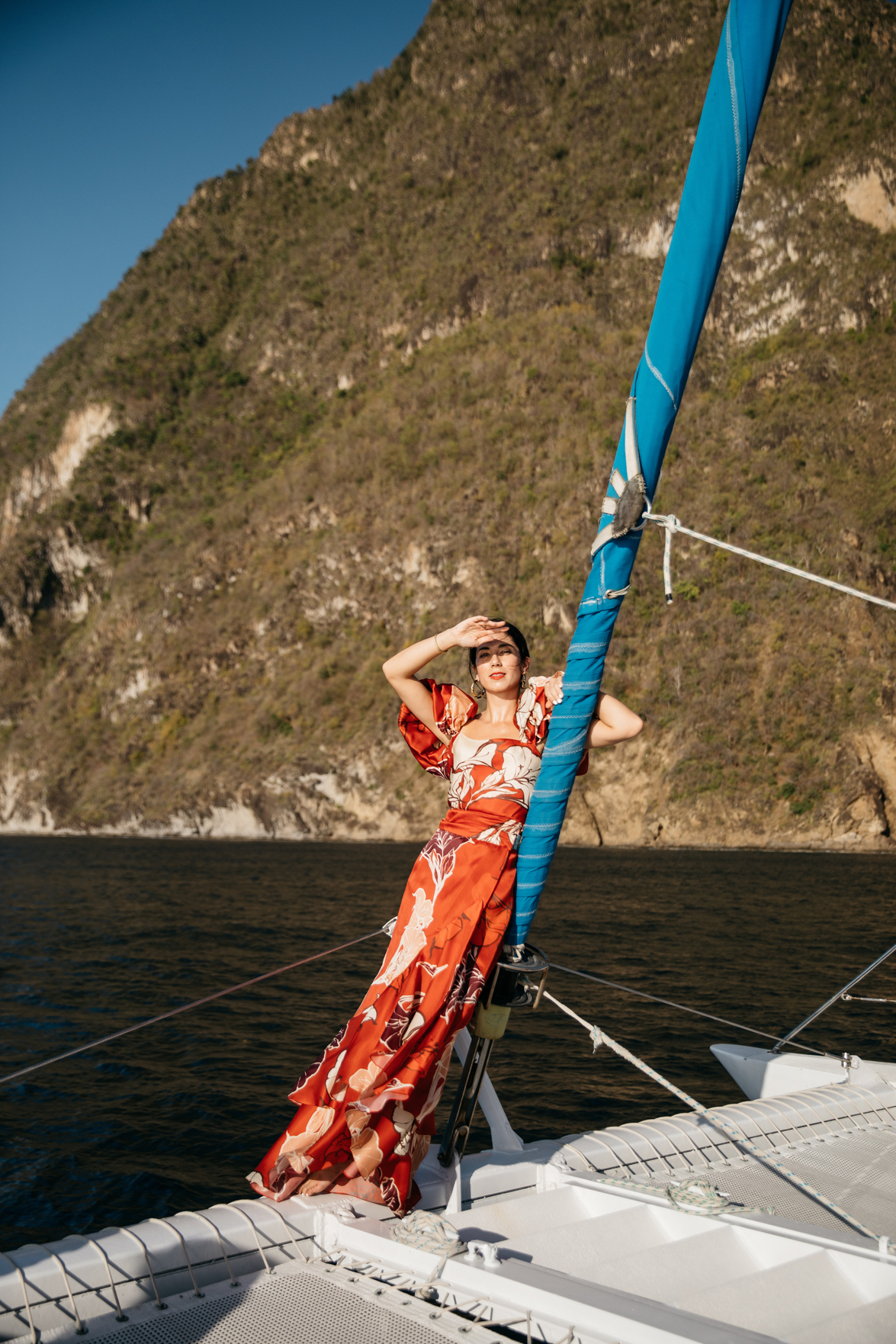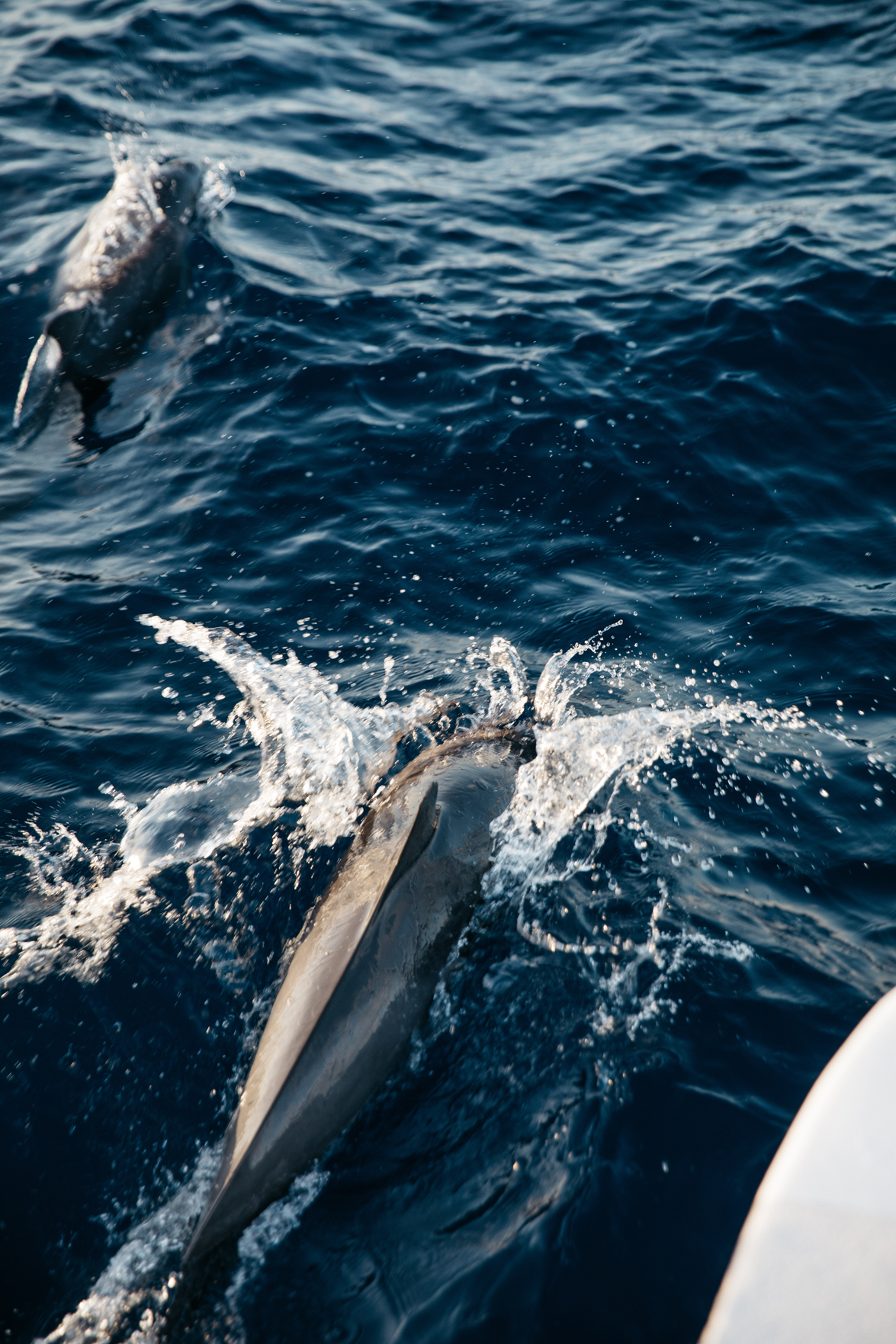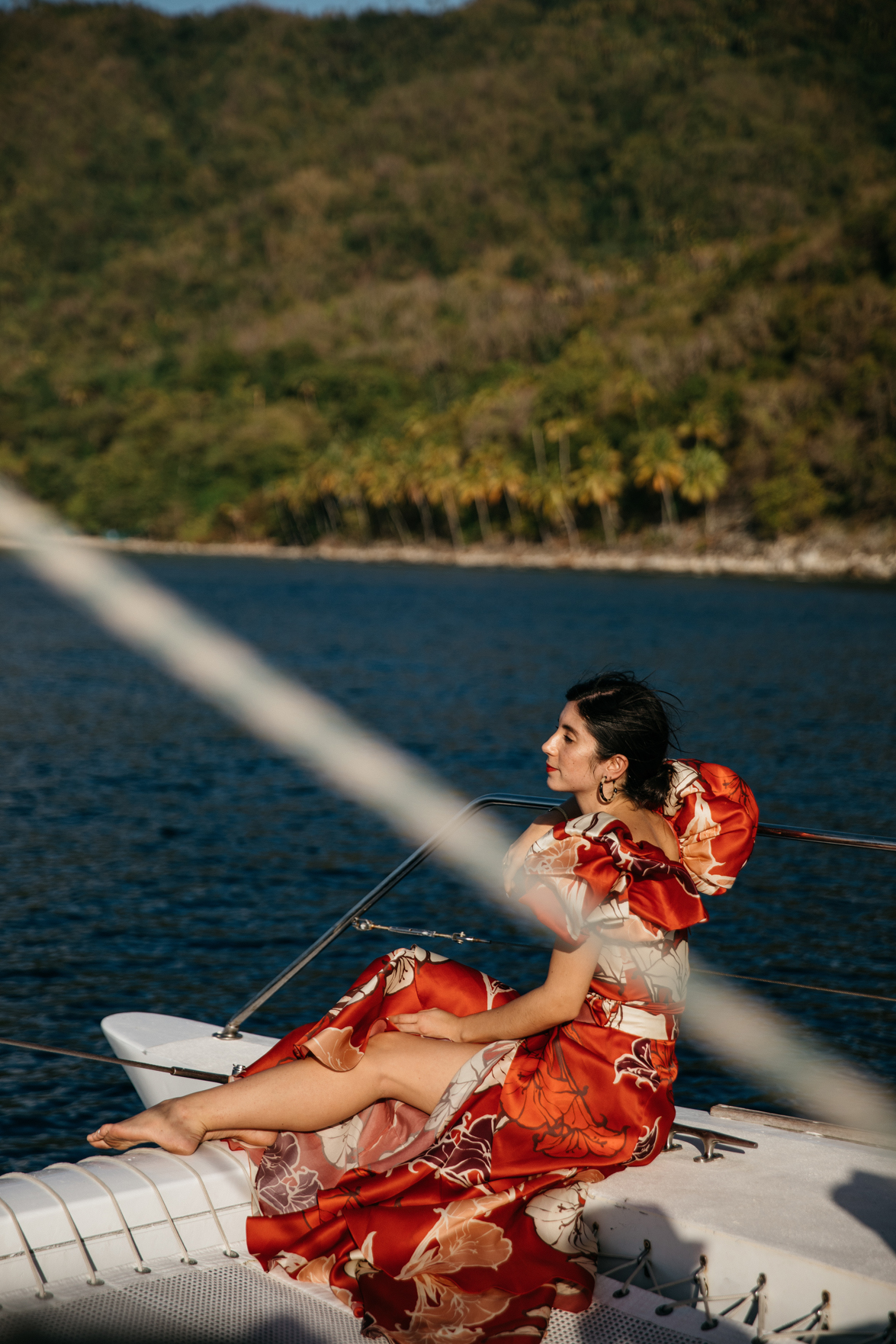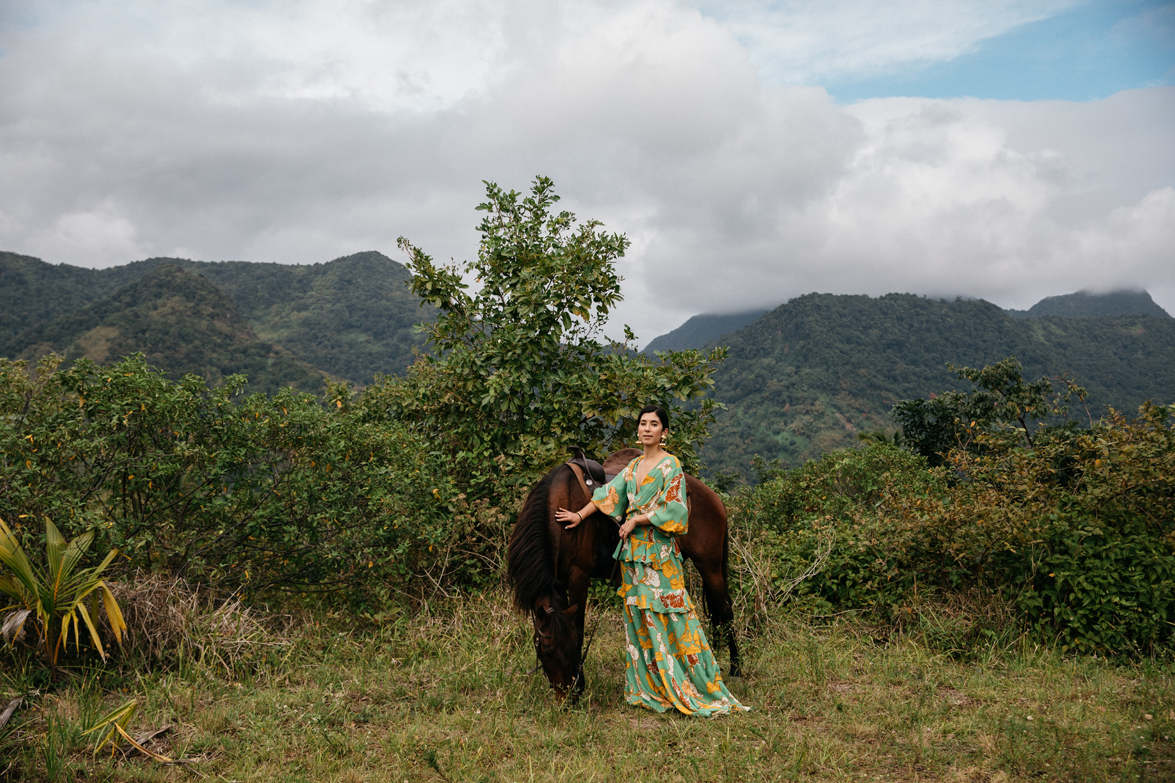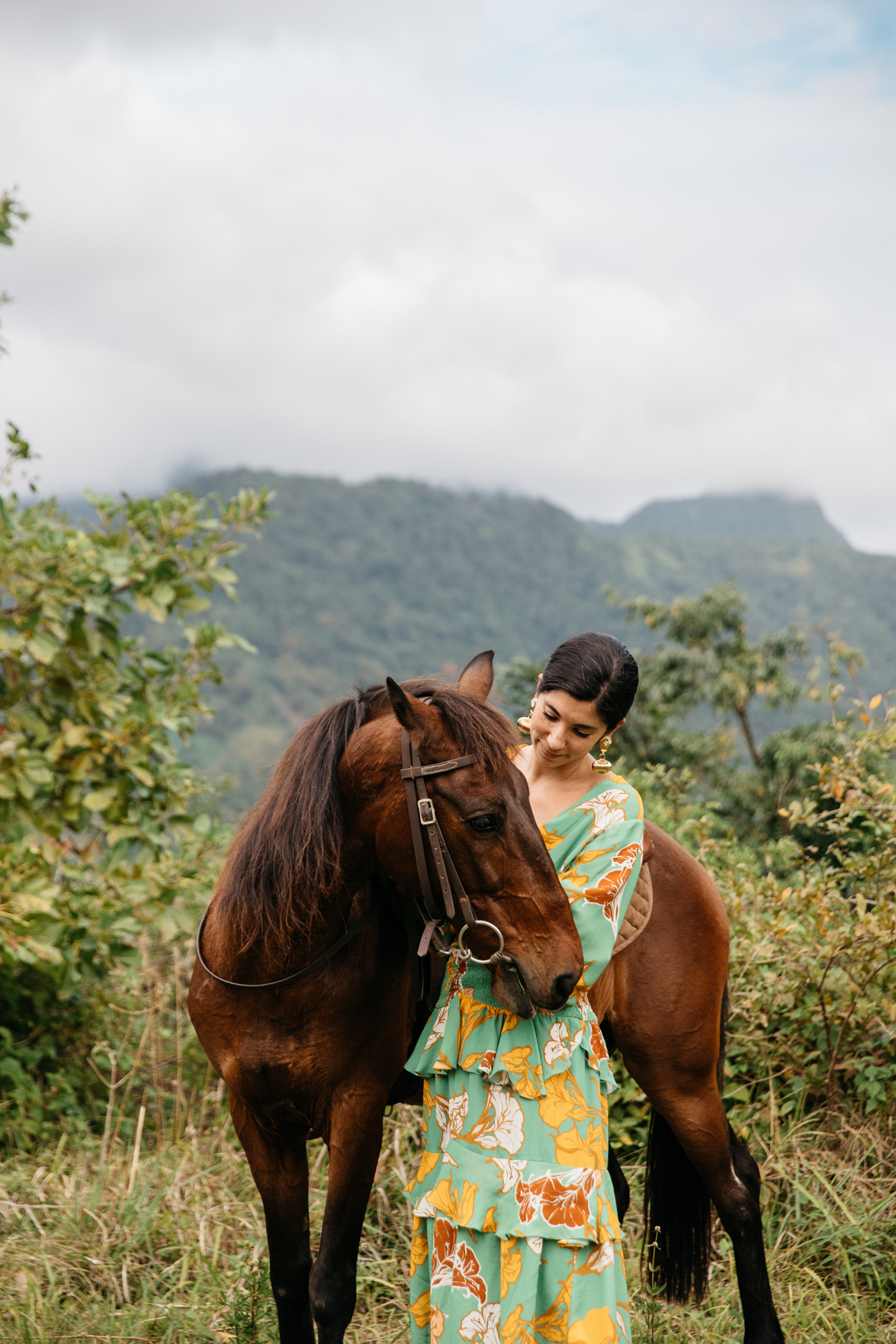 What to do
Like I mentioned, we didn't venture off property much for this trip, but it really wasn't necessary, given a lot of the action on the island happens so close by! We spent most of our days walking around the property, swimming and paddle boarding, venturing off for a sunset boat cruise (organized through our butler) as well as a rainforest horseback ride with family-run stable Morne Chouval (also organized through our butler). While we didn't hike the Pitons this time, I highly encourage you all to try it out for yourself. I hiked part of it during my previous visit and LOVED every minute of it. Depending on the trail you take, you'll pass plenty of waterfalls along the way, most rich with minerals from the volcanic activity in the area.
Back on property, the Rainforest Spa is said to be top notch — with the individual treatment rooms set up like bungalow treehouses that you have to climb to get to! We didn't partake in any treatments this time around, but believe me, I'll rectify that the next time I visit, because mark my words — there will definitely be a next time.
In the meantime, I'd love to know — have you ever been to Saint Lucia before? What did you think? And if you haven't been, have I convinced you to check out Sugar Beach? (I hope so!!)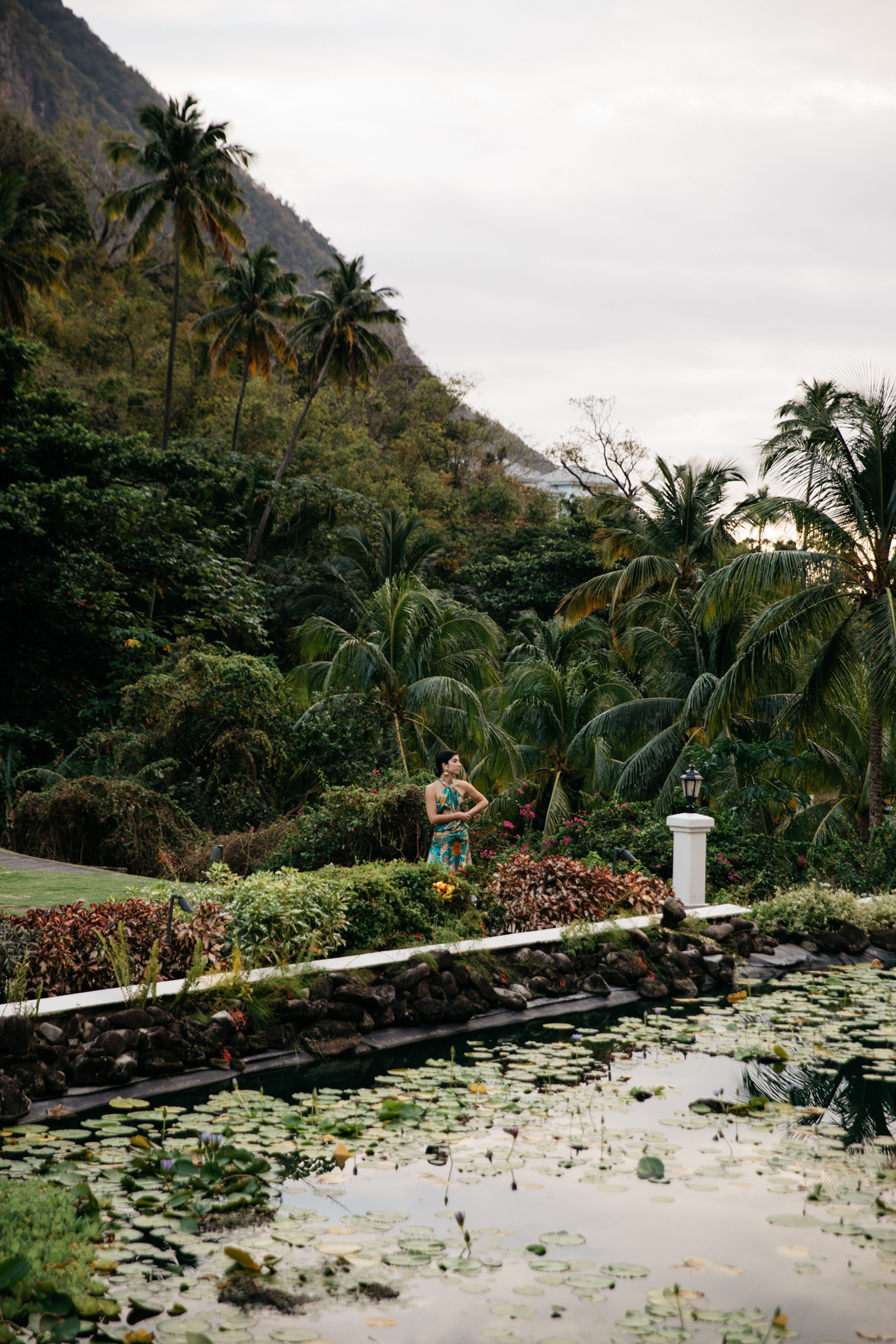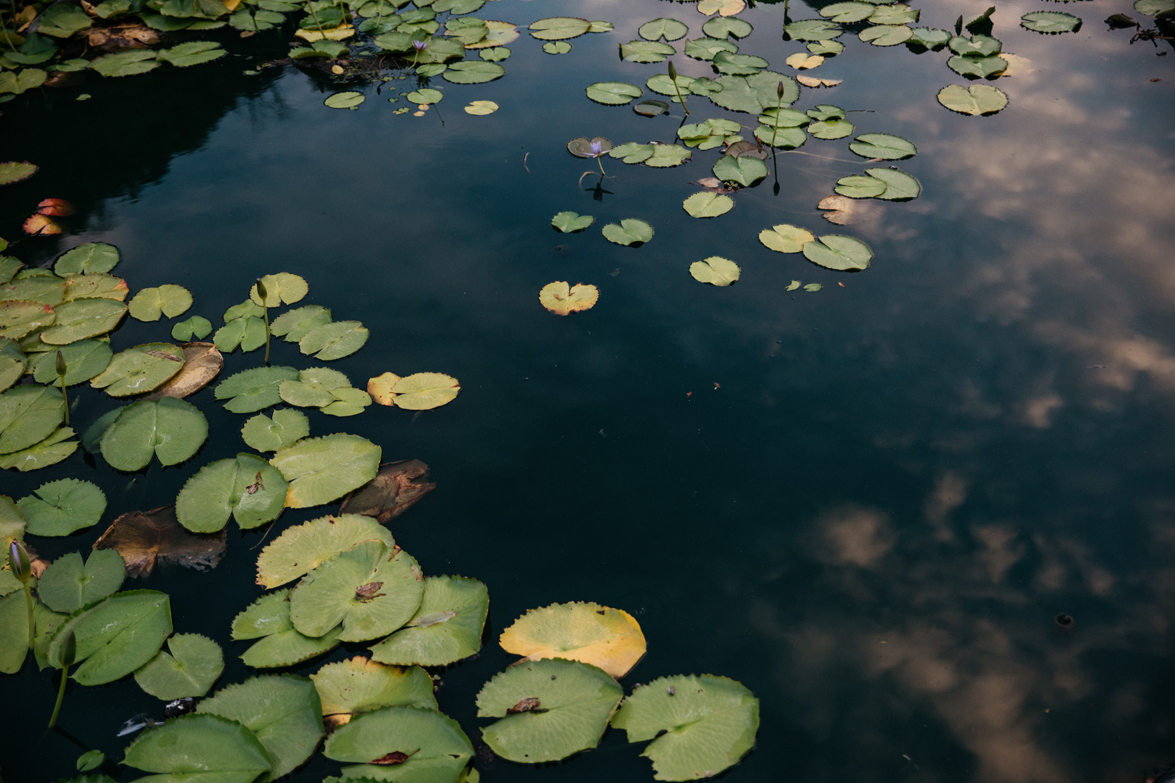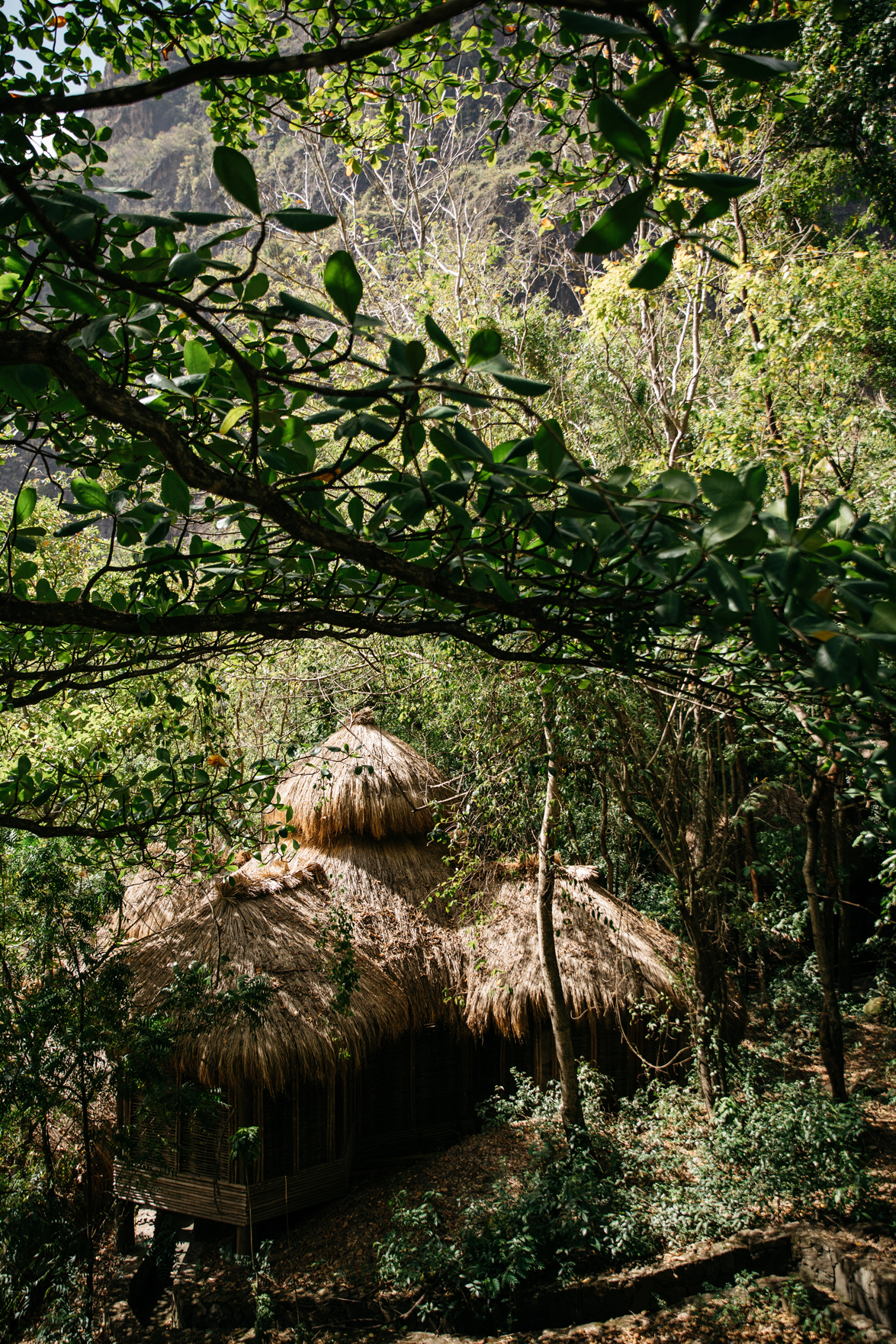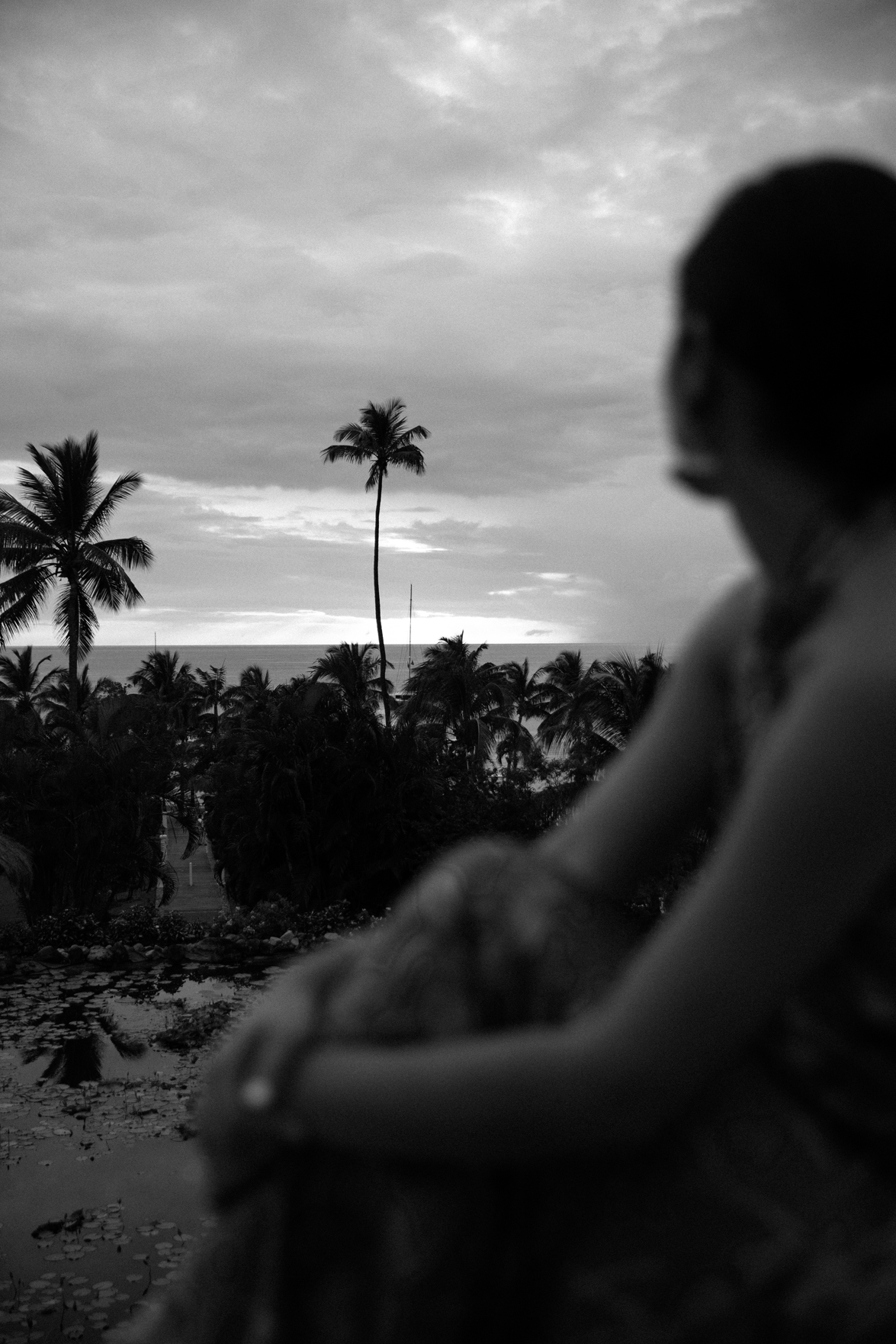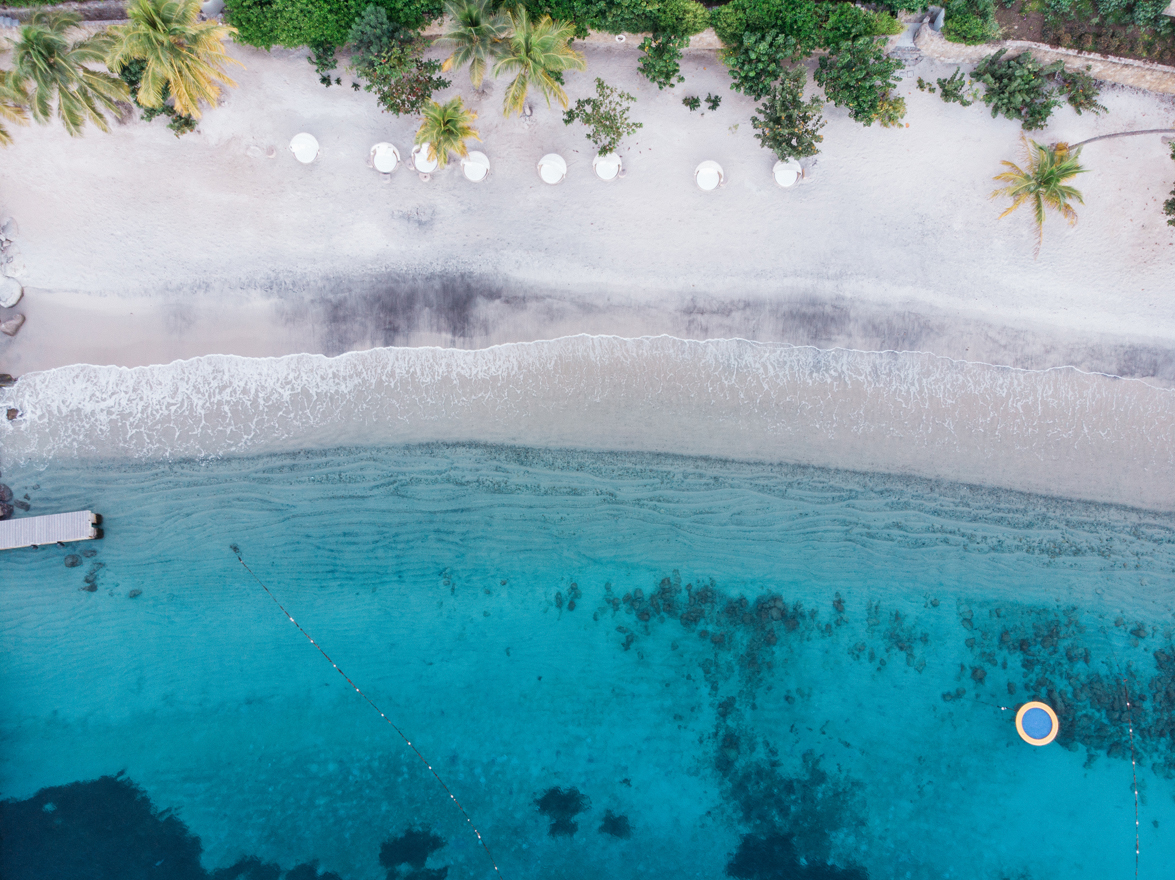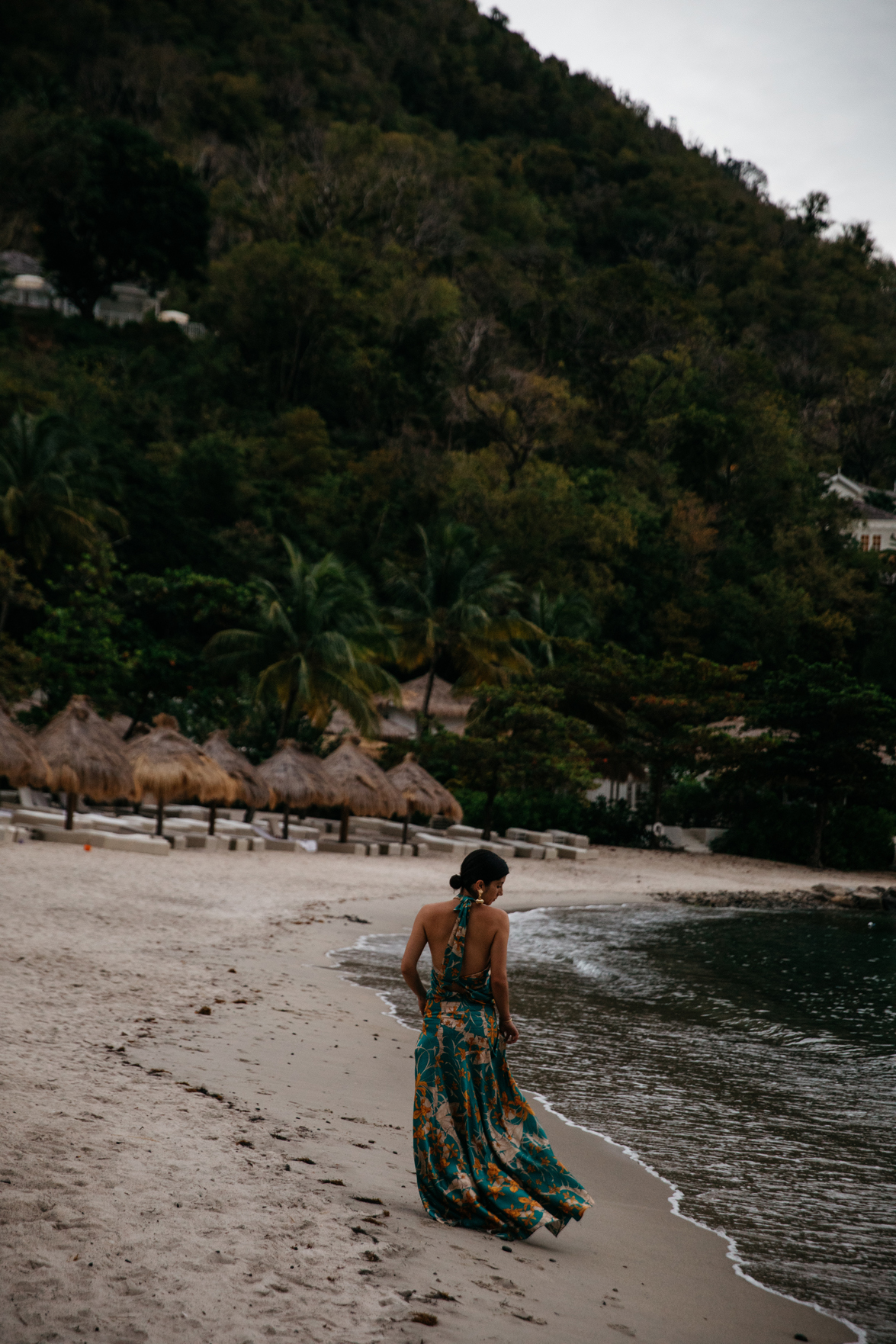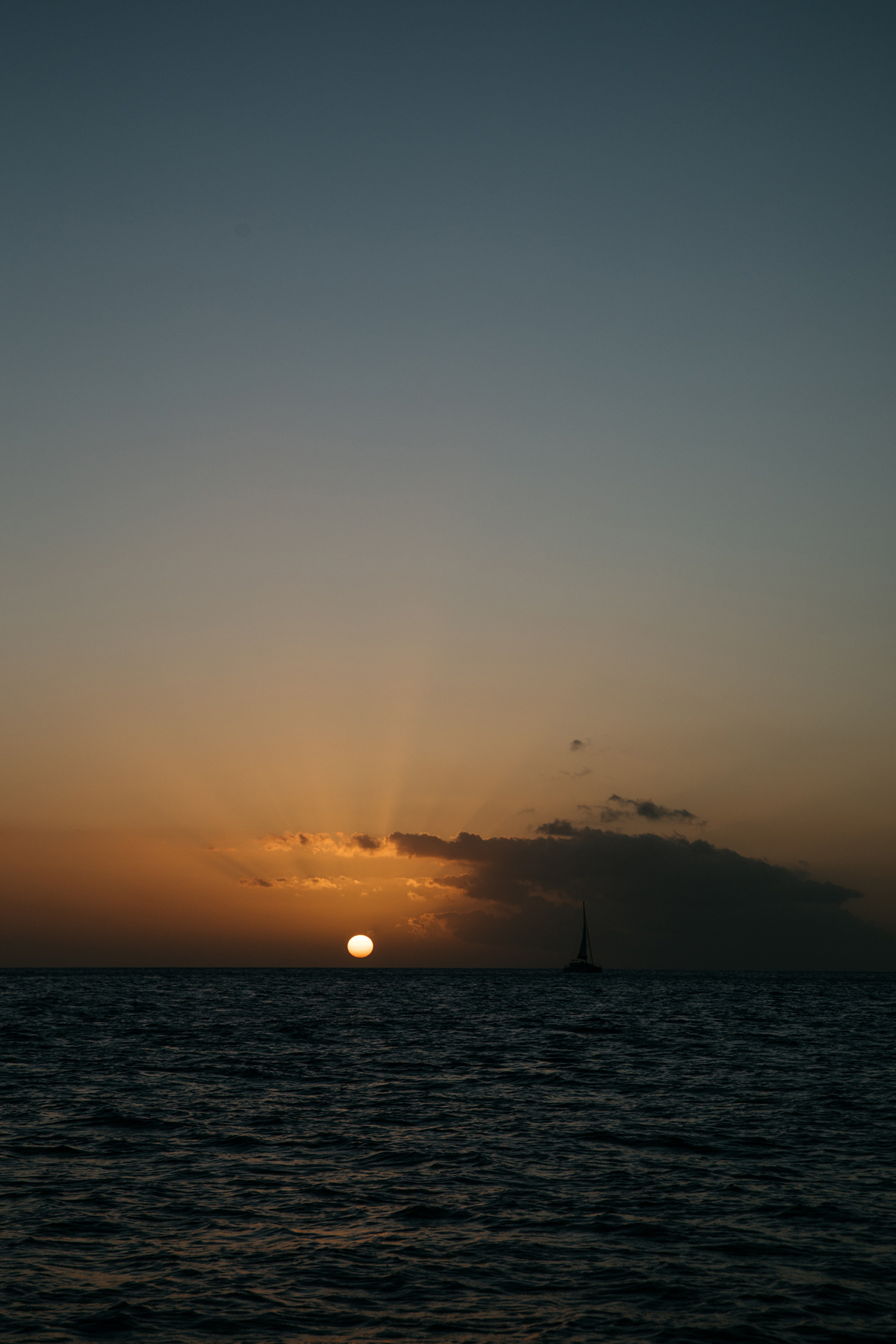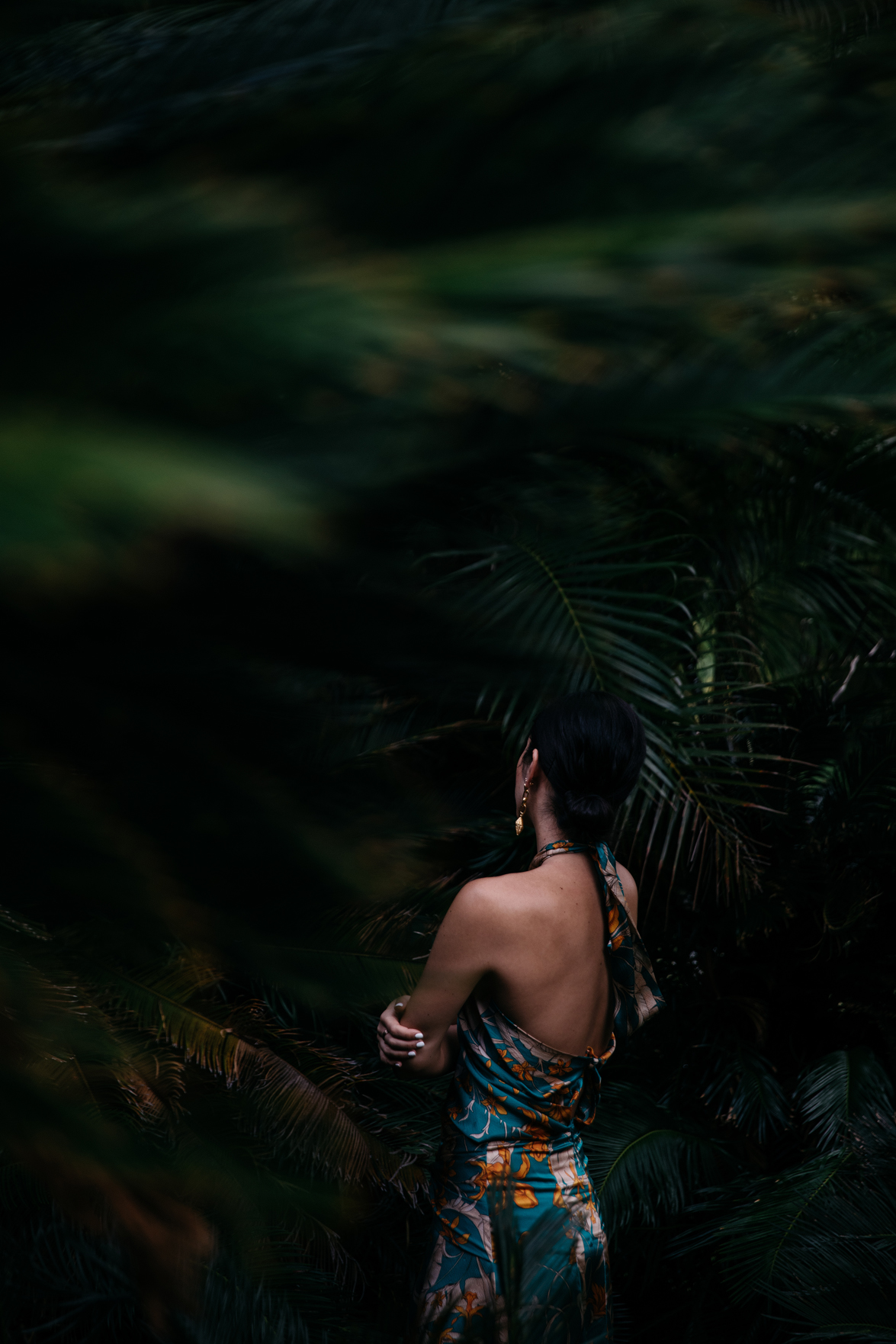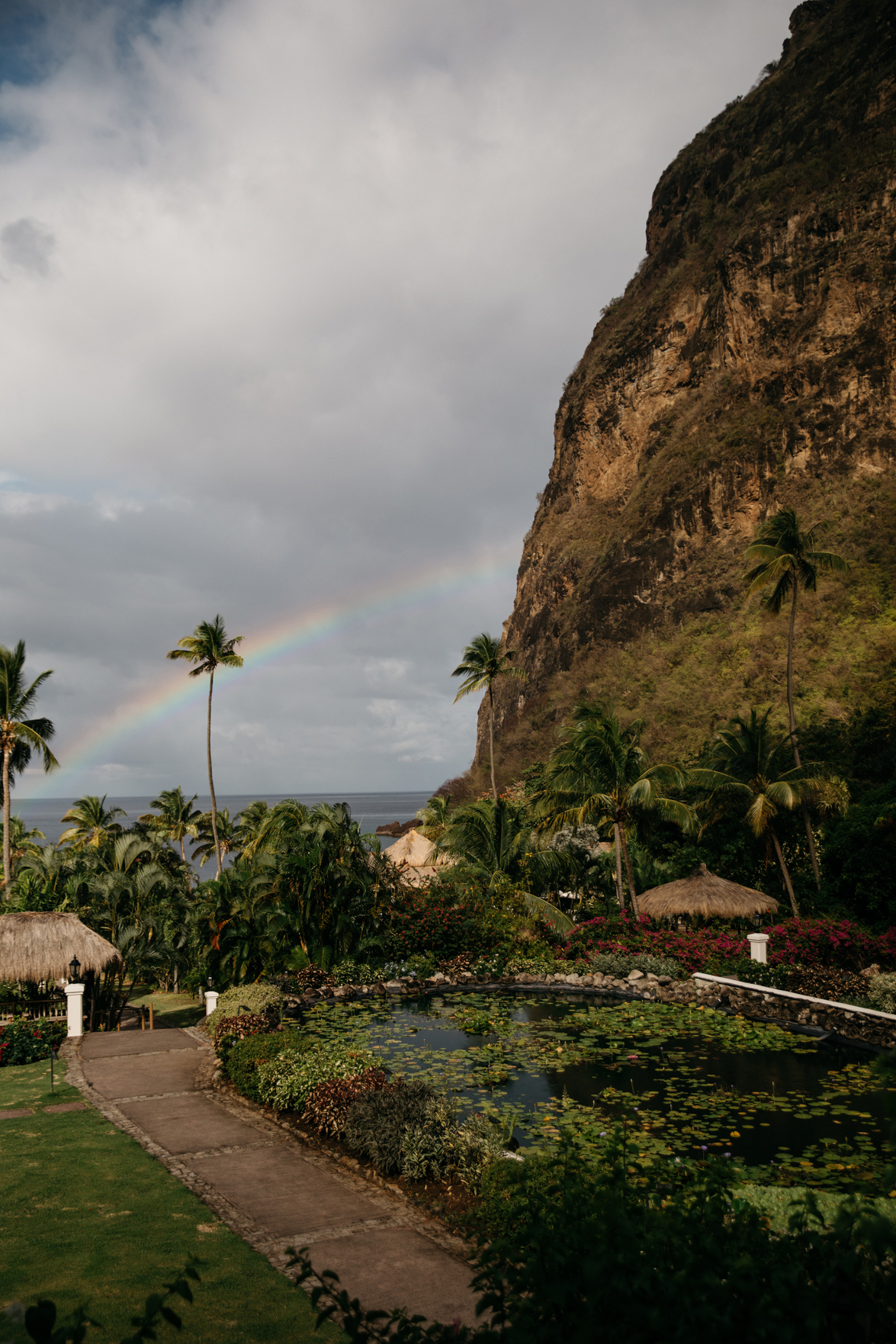 OUTFIT DETAILS: Johanna Ortiz red midi dress (borrowed) // Johanna Ortiz two piece black and white set, top here, skirt here (borrowed) // Johanna Ortiz teal halter neck dress (borrowed) // Johanna Ortiz red two piece set, similar style here (borrowed) // Johanna Ortiz green maxi dress (borrowed)
Huge thanks to the Sugar Beach Viceroy team for hosting us. While I wasn't compensated for the content I created on property, our stay and flights were comped. 
The post postcards from sugar beach appeared first on This Time Tomorrow.