This week on the blog we are sharing our sewing pattern recommendations to make next weekend, so you can join in with all the activities at The Sewing Weekender. Following four sell-out annual events in Cambridge, The Fold Line and Charlotte Emma Patterns are bringing The Sewing Weekender online for a second year, on Saturday 12th – Sunday 13th June 2021. The 2021 event will again take place online and will feature two days of online content for attendees to watch and participate in, as they work on a sewing project at home. 10% of proceeds will be donated to the charities The Black Curriculum, Refuge and Fine Cell Work. Over the weekend, we'll have a series of informal vlogs from bloggers and makers plus longer talks, live zoom sewing help sessions, online workshops and other online activities with special guests from the sewing community. We're really excited about The Online Sewing Weekender and hope you are too! Find out more including the full schedule and all the contributors here.
Choosing a project
The Sewing Weekender is an informal sewing event. You can pick any sewing project to work on over the weekend (and share your plans and progress with us using #sewingweekender). You'll want to start planning your makes for next weekend and if there is a pattern you've been lusting after then now is the time to pounce! Search thousands of sewing patterns from indie designers and commercial pattern houses in our online sewing pattern shop.
Pattern hacking: adding ruffles with Nina from Nina Lee Patterns
A simple shift dress with in-seam pockets, Carnaby comes in two variations: with or without short sleeves. With separate skirt and bodice pieces, you can easily create a striking colour block effect, or keep it subtle with just a pop of contrast in the pockets. The dress is finished with neck facings and closes with an exposed zip at the centre back, complete with a simple zip guard. The instructions are comprehensive, so it doesn't matter if you've never tackled an exposed zip before – you'll enjoy it!
Sizing: 1 – 10 (UK 6 – 24). Format: paper pattern.
How to perfect pattern matching with Alison Smith

Sewing garments by hand with Alexis of Fibr & Cloth
Alexis is the owner of Fibre & Cloth, a shop dedicated to slow makers of all sorts. They celebrate the simple hobbies that normalise the need and desire for slowing down, and finding peace and happiness in creating. In Alexis's video, she talks you through how to hand stitch your own garments, using the Strata Top by Sew Liberated. Alexis teaches you about the different hand tools you can use for stitching and the different types of stitches for garments.
The Strata Top is the backbone of your handmade wardrobe and a great pattern for beginners. It was designed to be both a practice of meditation and a canvas for artistic inspiration. It is simple in its construction – only three pattern pieces – easy to fit, and effortless to wear. The uniquely curved hem adds elegance to this staple piece. Keep things uncomplicated with a version in a slub linen blend, cotton ikat, or silk noil – or use the fabric as your canvas. Try using beloved scraps to piece together your own storied fabric, experiment with natural dyes, or add some sashiko embroidery.
Sizing: US 0 – 30 (approx. UK 8 – 30). Format: PDF or paper.
Adding an exposed ruffle to a dress with Montoya Mayo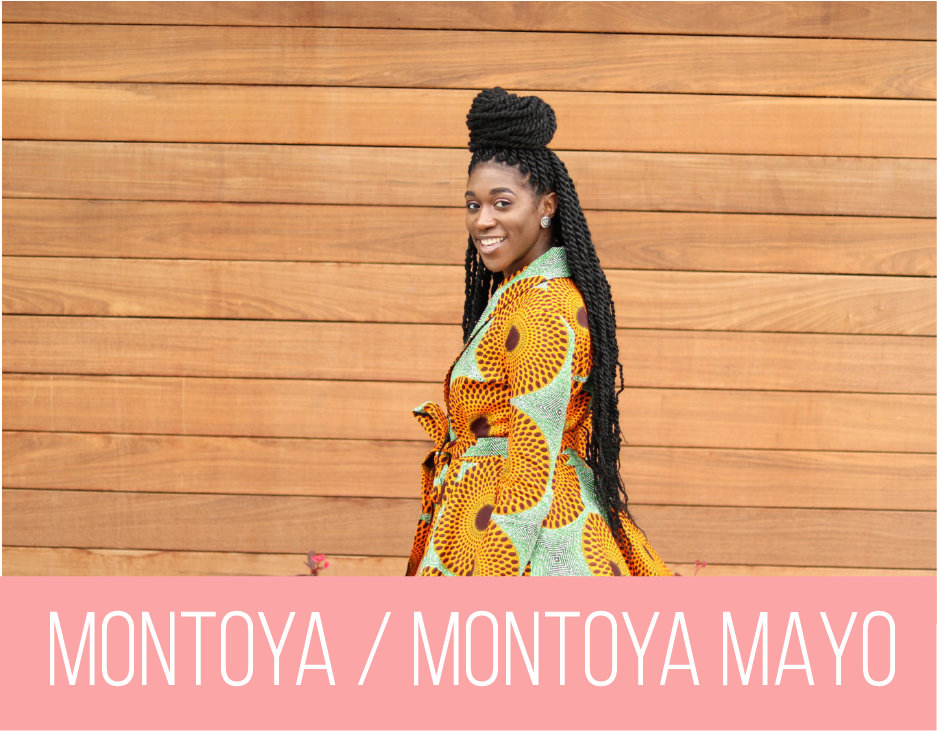 Montoya has a brilliant sewing blog where she writes about her sewing adventures sharing her makes, DIY fashion and sells sewing pattern tutorials in her online shop. In her video she teaches us how to add an exposed hem ruffle to a dress using McCalls M7943. The skills she will teach us can be used to add an exposed hem ruffle to any dress.
This loose fitting McCalls M7943 dress has a back opening with a hook and eye closure. Version C has a left side front slit.
Sizing: Y (XS-S-M), Z (L-XL), approx. UK sizes Y (4 – 10), Z (12 – 18/20). Format: paper.
Incorporating paper piecing into garment sewing with Samantha from Purple Sewing Cloud
Samantha blogs at Purple Sewing Cloud where she shares her makes and pattern reviews. She also enjoys lots of other creative hobbies including baking, knitting, crochet, embroidery and most recently paper piecing. Samantha is also an active campaigner in making sewing and crafts more accessible for everyone. In her video she shares a tutorial on incorporating paper piecing into your garment sewing using the March Dress by Helen's Closet and Ayora Jacket from Pauline Alice. For the March Dress Samantha adds a beautiful panel to the front bodice and for the Ayora Jacket she adds a panel around the hem, matching with the pockets.
The March Top and Dress is a fun retro-style pattern featuring voluminous sleeves in two lengths and a gathered skirt (View A), gathered peplum (View B), or a straight peplum (View C). This whimsical design is comfortable, easy to style, and fun to wear! The interfaced front and back bodice panels add visual interest and provide a great place for a featured fabric or embellishment like embroidery. Views A and B are finished with a neck tie that you can tie in the front or leave to hang open. View C has a clean neckline finish with no tie. The neck tie can be added or removed from any of the views. The dress view features extra deep in-seam pockets that are secured into the waistband seam.
Sizing: US 0 – 30 (approx. UK 6 – 30). Format: PDF or PDF + printed copy shop.
Ayora is a short, reversible quilted jacket. It has a boxy shape, long set-in sleeves and a stand-up collar. There are two big patch pockets on the front and a small one inside. The neckline, hem and sleeves are all finished with facings. It closes with snaps.
Sizing: EU 34 – 52 (approx. UK 6 – 22). Format: paper.
Helmi Trench Blouse and Tunic Dress – Named
The Helmi pattern includes two variations with details you can mix and match! The straight-cut blouse has elements from the classic trench coat, such as the cape and sleeve straps. The rounded collar and slightly curved hem with slits add a touch of soft femininity. The more streamlined tunic variation is also straight-cut and has a simple stand-up collar, half sleeves, and a curved hem. Both variations have a discreet and elegant hidden button placket.
Sizing: EU 32 – 56 (approx. UK 4/6 – 28). Format: paper, PDF or PDF + printed copy shop.
Quincy Dress – Jennifer Lauren Handmade
The Quincy Dress is a classic shirt-waist dress that blends fun construction techniques with an effortless silhouette. The pattern features a v-neckline, bust darts for shaping and a fully enclosed yoked back bodice. Pockets are neatly integrated into the panelled skirt, and the in-built drawstring casing creates a relaxed and casual look. The set-in sleeves are slightly longer than standard short sleeves and are more relaxed in style. Sleeve variations include a straight turn-and-hem sleeve or a notched cuff sleeve. Quincy also includes pattern pieces in A to D cups so you'll no longer need to make additional bust adjustments for the perfect fit!
Sizing: UK 6 – 24 with A, B, C and D cups. Format: paper, PDF or PDF + printed copy shop.
The post Sewing pattern projects for The Online Sewing Weekender 2021 appeared first on The Foldline.