Easy and delicious tacos de carne or steak tacos top with cilantro, red onion, and avocado are the best thing ever!
I love how this homemade taco recipe turned out! I added just a bit of chili powder, but you can add some more if you like them to be super spicy.
Before you print the recipe, make sure you read the information provided for this recipe. I promise it doesn't have a story about tacos and Abuela! 
Let's begin!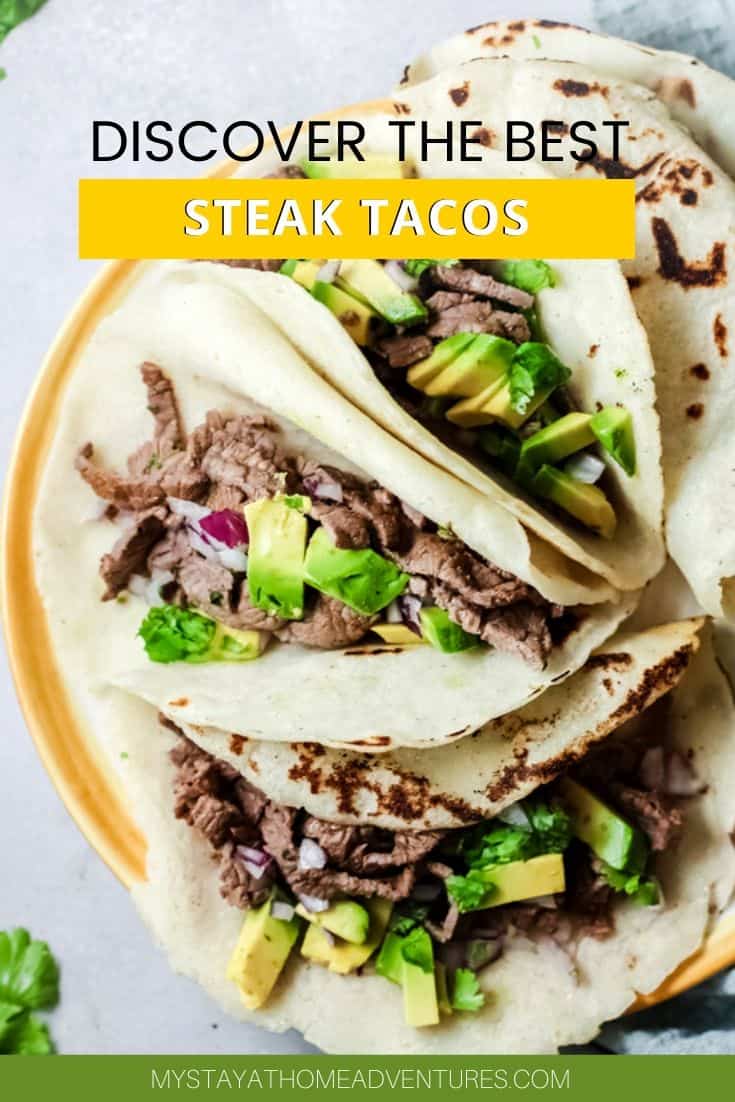 What type of steak is used for tacos?
The famous steak to use to make homemade steak tacos is flank steak. Depending on the country, many use different types of steak cut, such as skirt steak.
Skirt steak contains more muscle and has a beefier taste than flank steak, which is leaner and does well with marinades.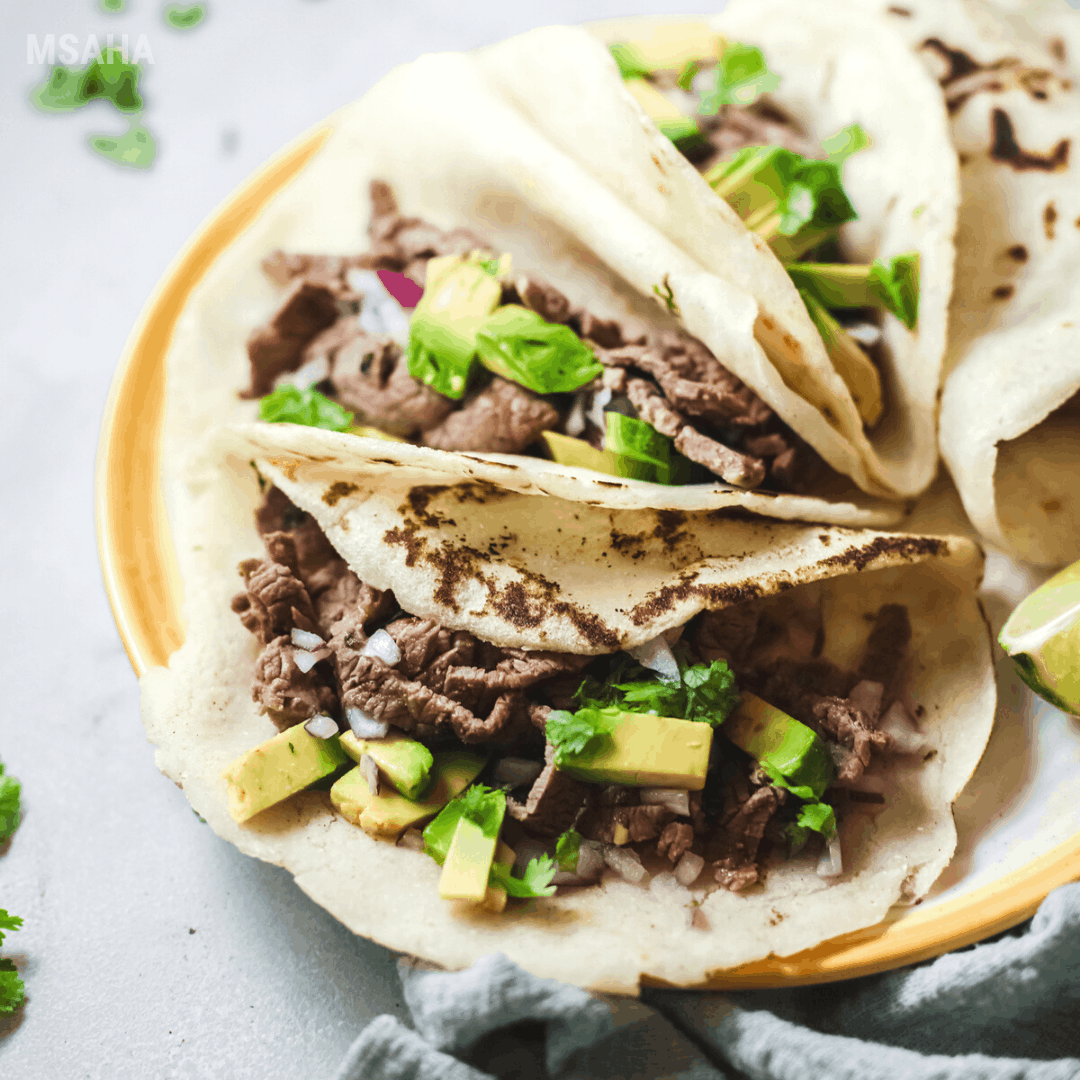 How do you cut steak for tacos?
To cut steak for your tacos de carne, follow the steps below:
Cut steak 3- inches big along the grain
Next, slice the pieces across the gain 1/3- inches thick strips.
How to cook steak for tacos?
Ideally, we would prepare the steak in a grill depending on the weather, but I used a really hot cast iron skillet to achieve that slightly charred bit that I love so much about steak tacos.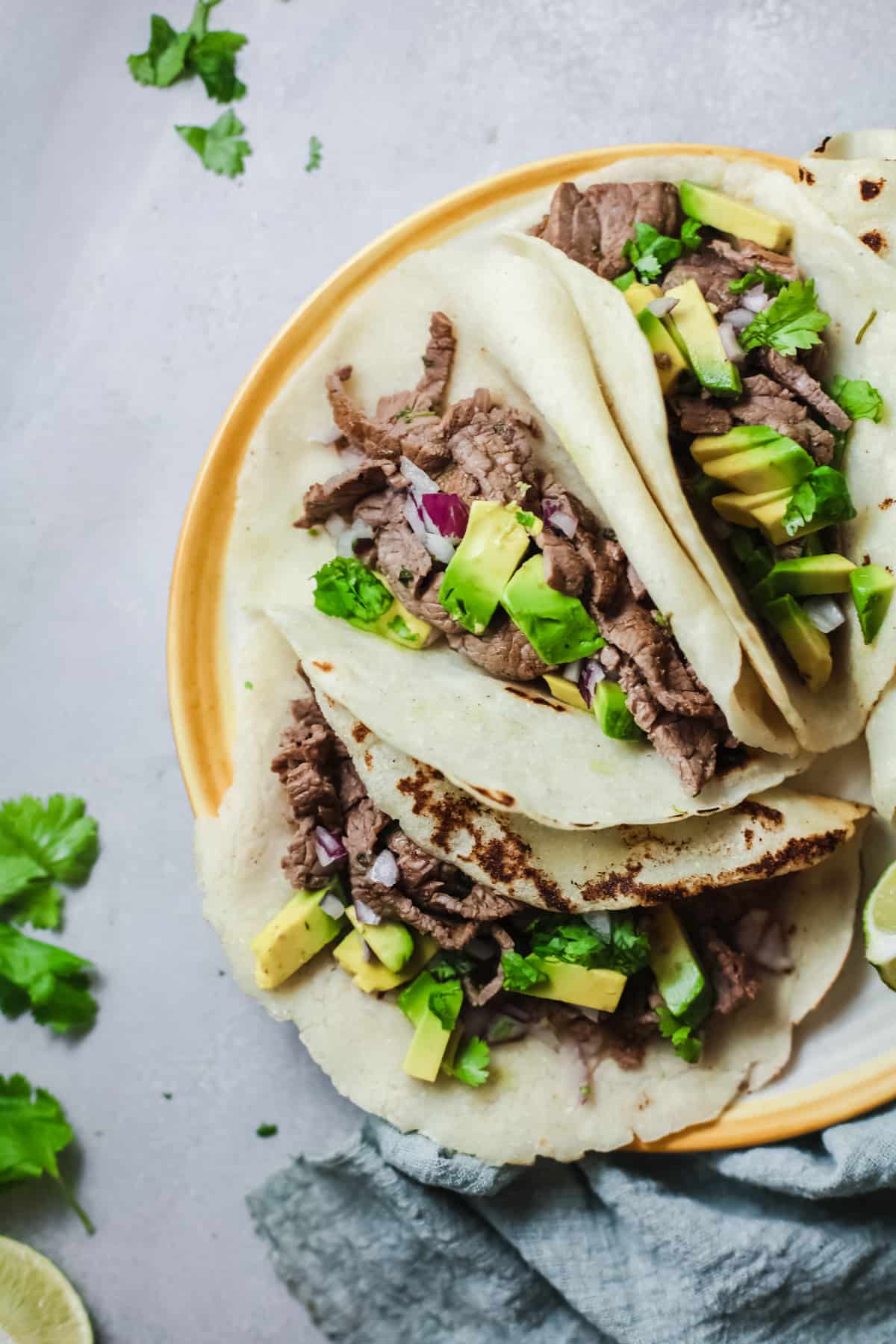 How long should steak be marinade?
The marinade is delicious for this steak taco! Feel free to marinate the steak for anything between 30 minutes to 8 hours.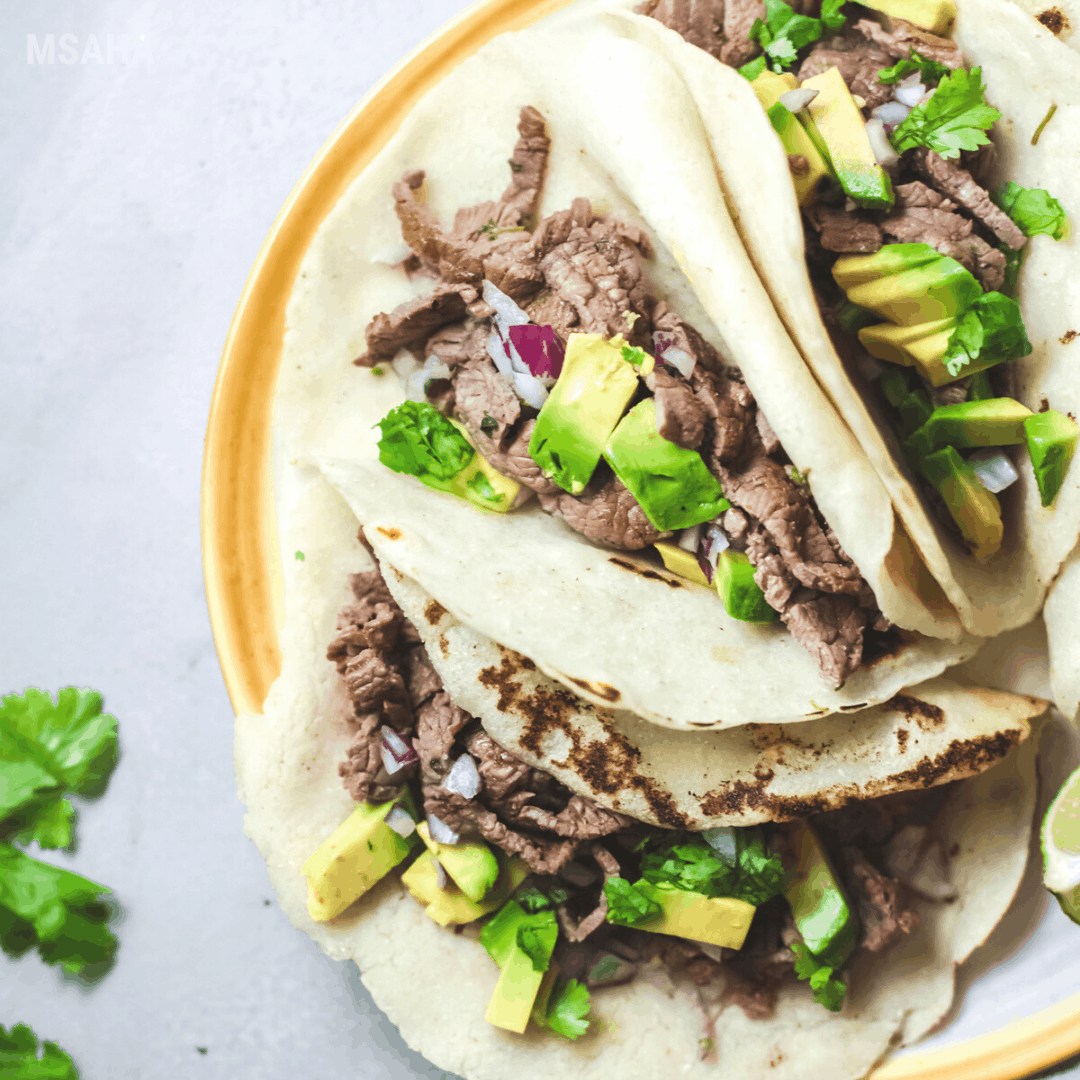 What should I top steak tacos with?
You can top your steak tacos with:
cilantro
red onion
avocado
cheese
sour cream
guacamole
beans
just about any other taco or burrito topping you love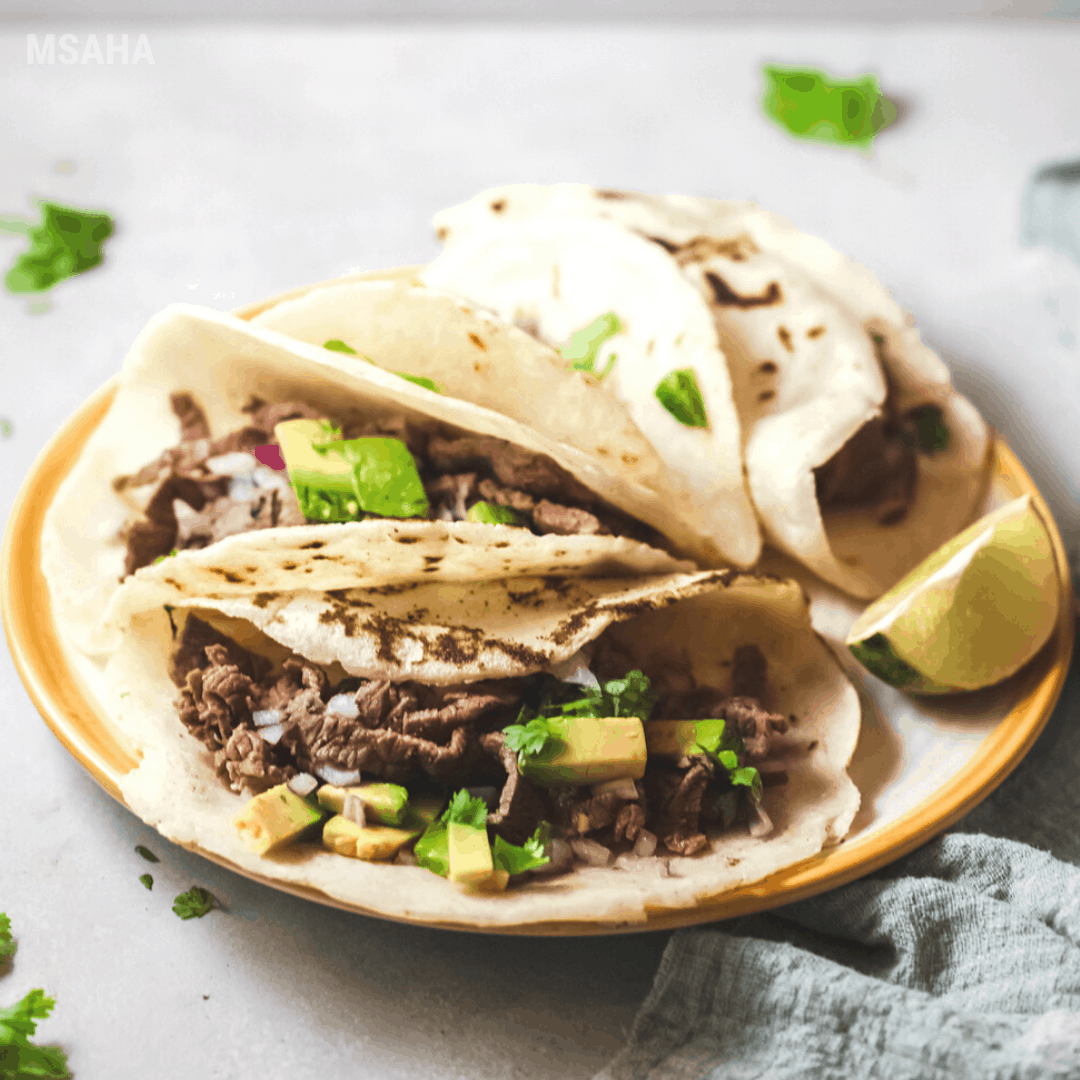 What are the ingredients to make steak tacos?
To make this recipe for steak tacos you are going to need the following ingredients:
flank steak
Garlic cloves
olive oil
orange
lime
paprika
cumin
oregano
onion powder
chili powder
Salt
pepper
Tortillas
Avocado
Red onion
Cilantro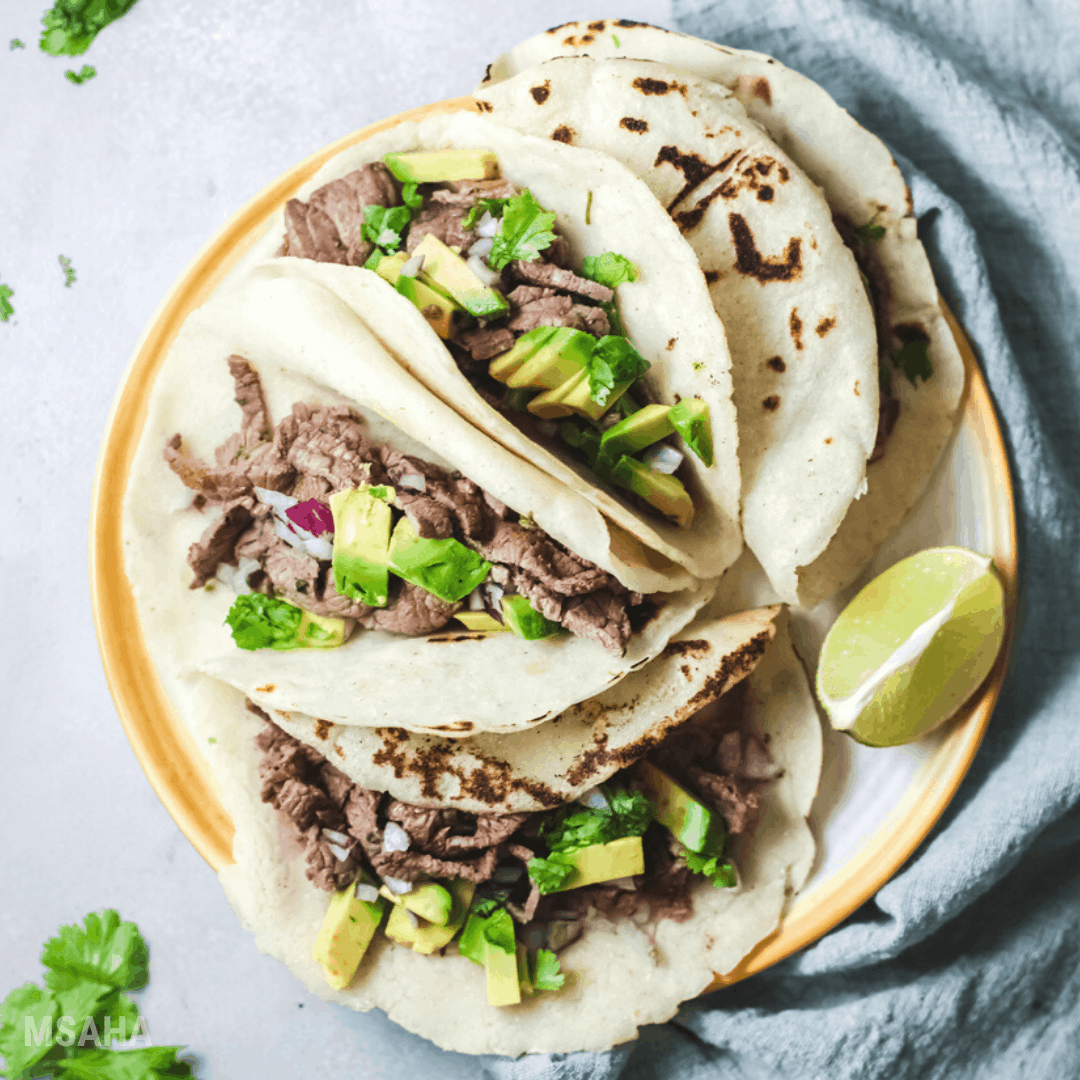 Try these delicious recipes:
How to make Steak Tacos
Now that you have all the ingredients to make homemade steak tacos, it is time to follow the step below and make them.
Use a large bowl and combine the garlic, olive oil, orange and lime juice, paprika, cumin, oregano, onion powder, chili powder, and salt and pepper.
Mix the ingredients for the steak rub well.
Add the steak and rub the ingredients.
Cover the bowl and marinate for at least thirty minutes.
Use a cast-iron skillet and heat over medium heat.
Once the cast iron skillet is hot, place the marinated steak and cook for about two minutes per side.
Once the steak is cooked, transfer it to a cutting board and let it rest for 3 minutes before slicing.
Slice the steak and fill the tortillas with it.
Top with chopped red onion, diced avocado, and chopped cilantro.
Your Steak Tacos Are Ready!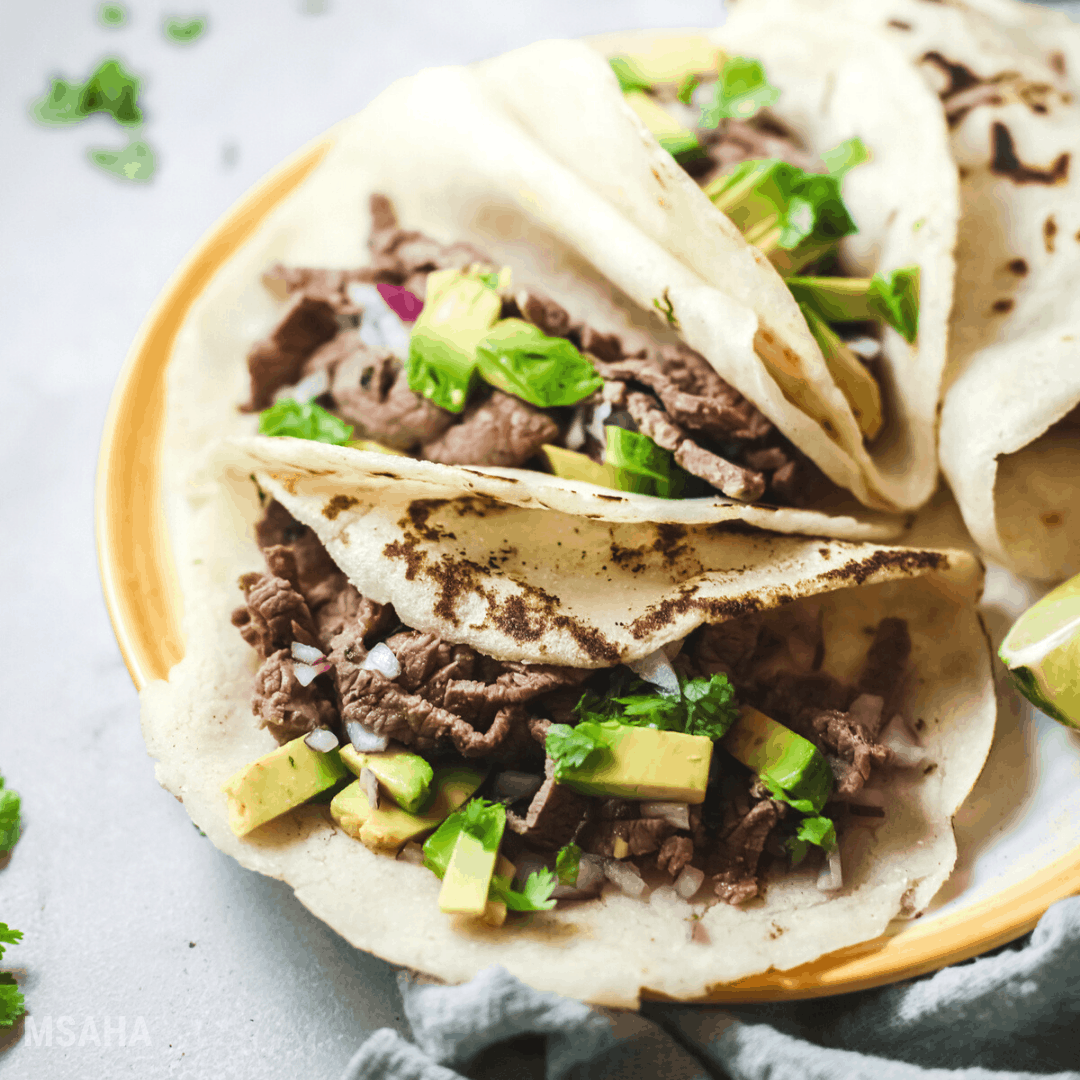 Tacos Steak Recipe
The post Steak Tacos Recipe appeared first on My Stay At Home Adventures.