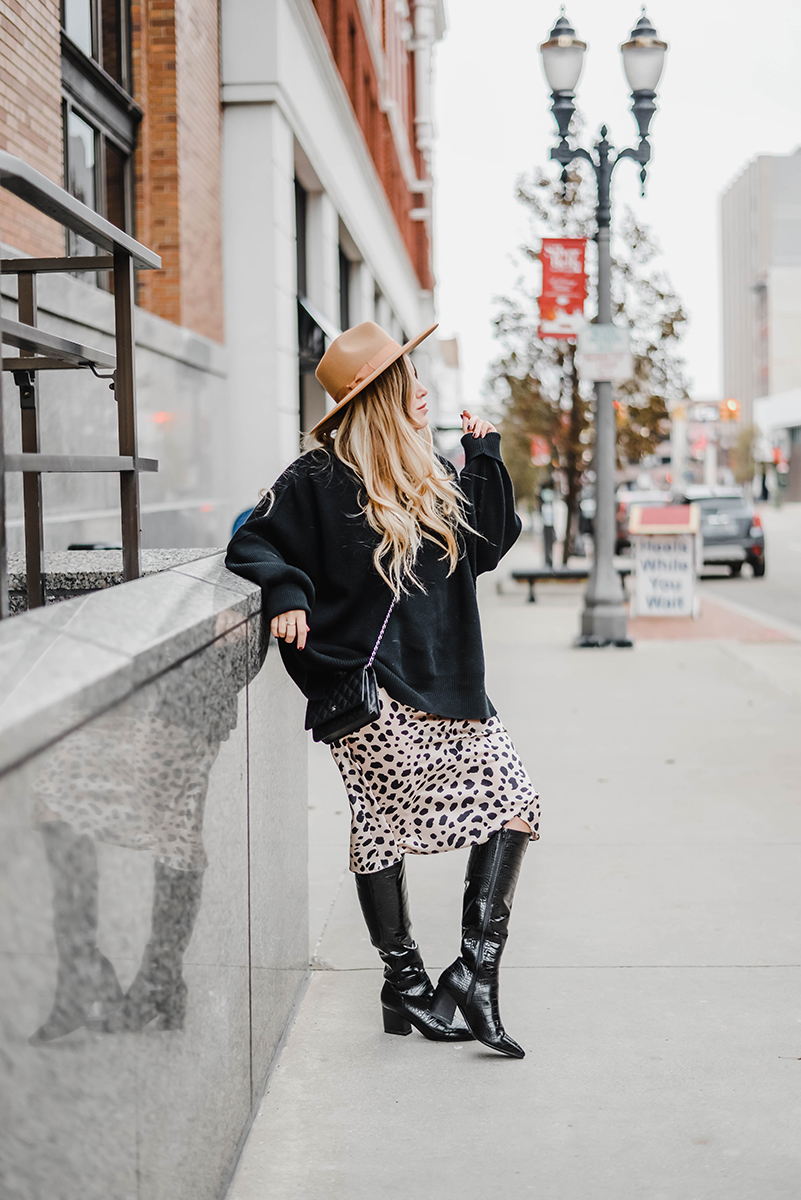 This isnt the first leopard print midi skirt and I bet it wont be my last! I love the silhouette of this bias cut satin midi skirt and have been styling it so many ways since scooping it up from Sparrow Boutique a few weeks back. There are just endless ways to style it with shoes, tops and outerwear and read on for the ways I styled it:
Oversized Sweater Style
The first way I styled the midi skirt with an oversized sweater(sweater is half off here too) and tall black boots. This more winterized version is functional and on trend, plus you can be freely bloated during the holiday season and know one will be able to tell! This would be perfect for the office or a holiday outing.
The second way I styled the sweater/skirt combo is just simply swapping out the boots for white sneakers for a more casual vibe since Im all about that vibe. Its not as practical in the winter, but if theres no snow, youll find me in these sneakers.
If youre looking for similar sweater options since mine is going fast, this Free People sweater is 30% off. And this Free People balloon sleeved sweater is 50% off too!
Graphic Tee + Leather Jacket
My year-round uniform is the graphic tee and leather jacket style. When in doubt with a print skirt, add a graphic tee and top it off with an edgy jacket.
The tee Im wearing is part of a pajama set on sale for $17 (comes with shorts, fits true to size)
The Who graphic tee thats at the top of my shopping list.
This Rolling Stones graphic tee is just $13.
My favegauzy vintage like graphic tee and it fits true to size, I own it in size small.
I love this lips tee (and its 50% off) And this $22 Cest La Vie white tee!
If youre looking for a leather jacket, I love this affordable faux leather moto jacket!
This Free People leather jacket is on sale for 50% off too.
Shop Similar Midi Skirts
25% off my skirt (and comes in other colors and prints too!)
And this satin midi skirt in a smaller leopard print is half off, just $27.
This slip skirt in leopard print is beautiful and looks much more expensive than $44.
Also love the $30 J Crew a line skirt on sale now!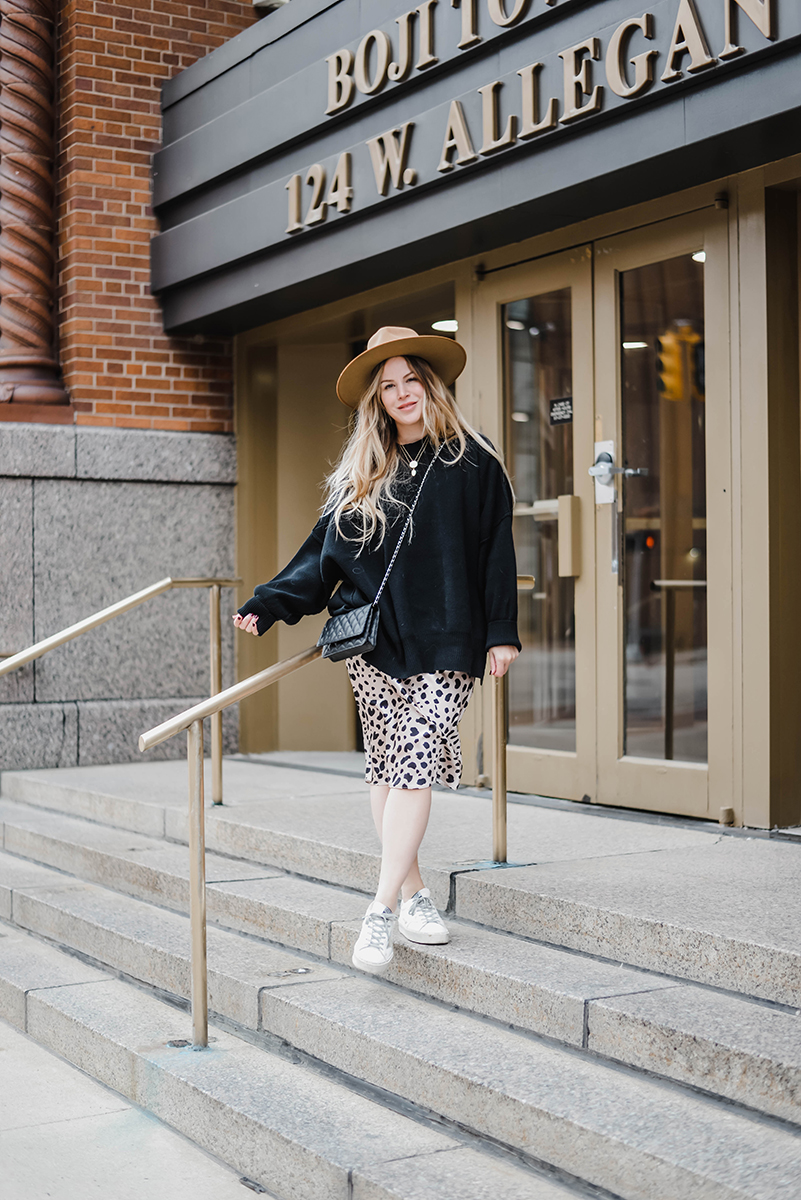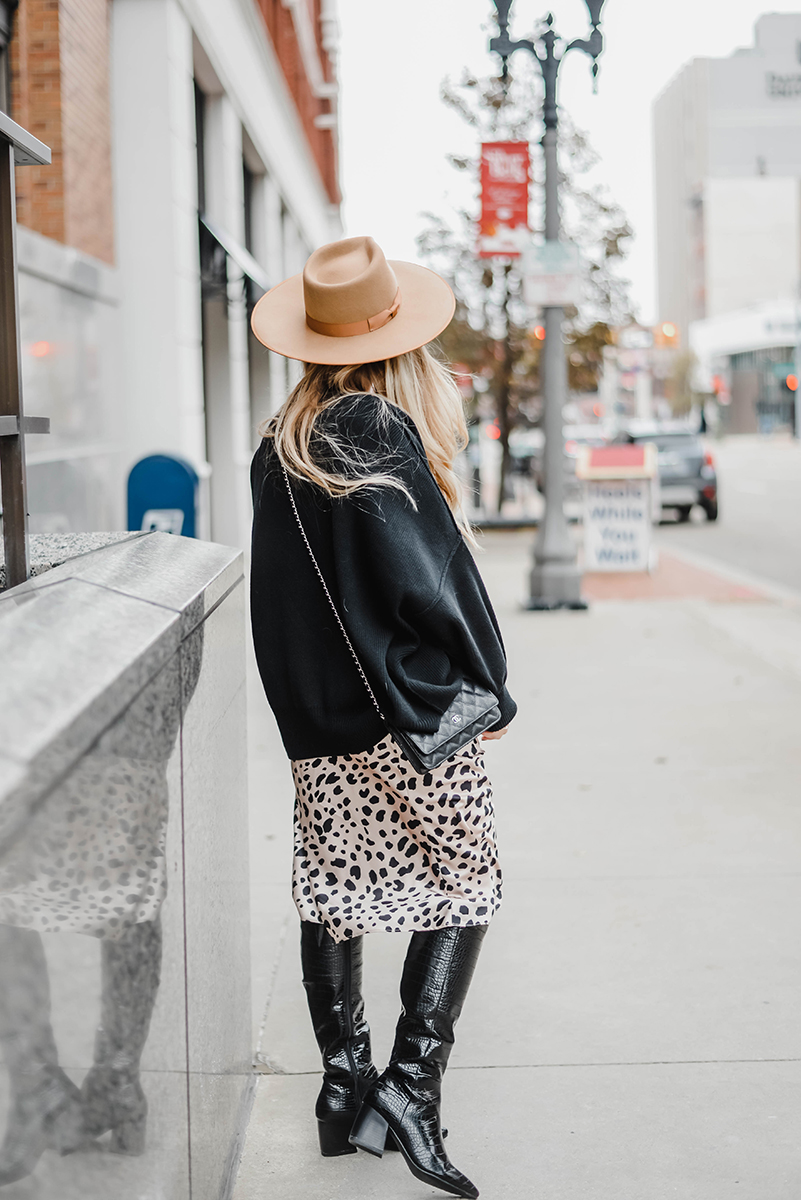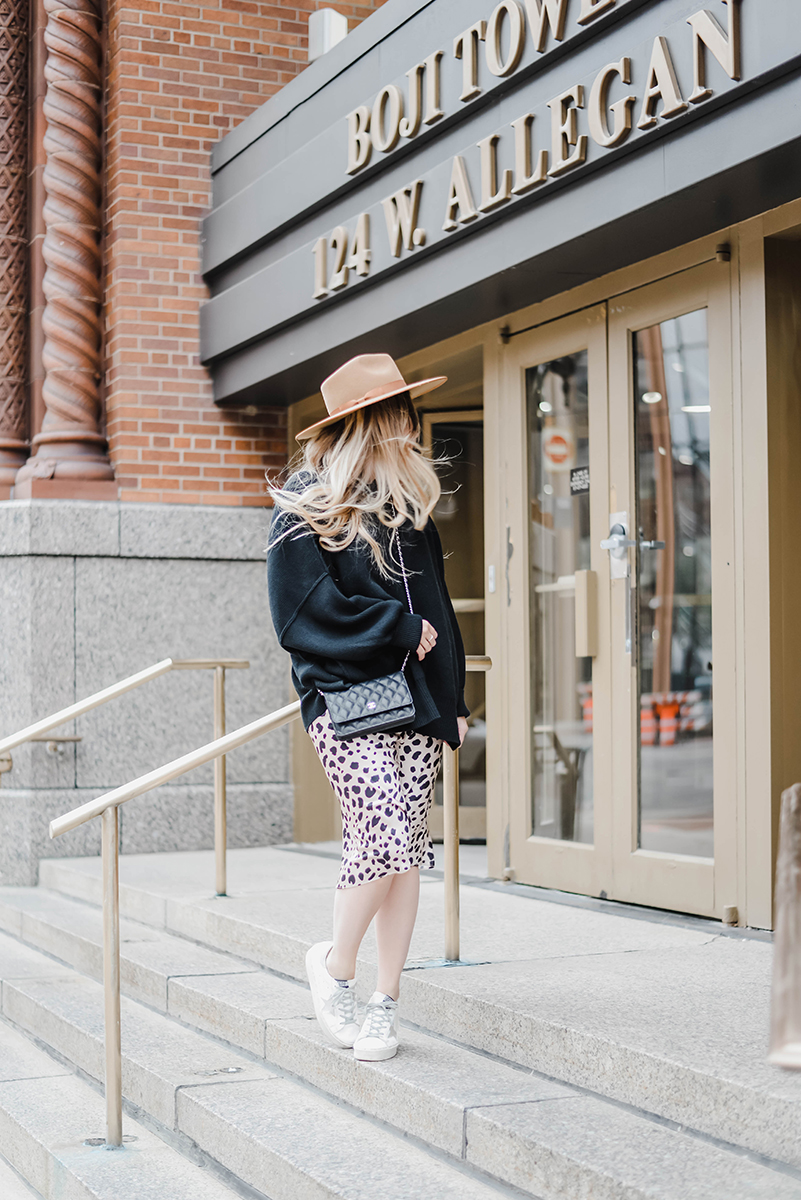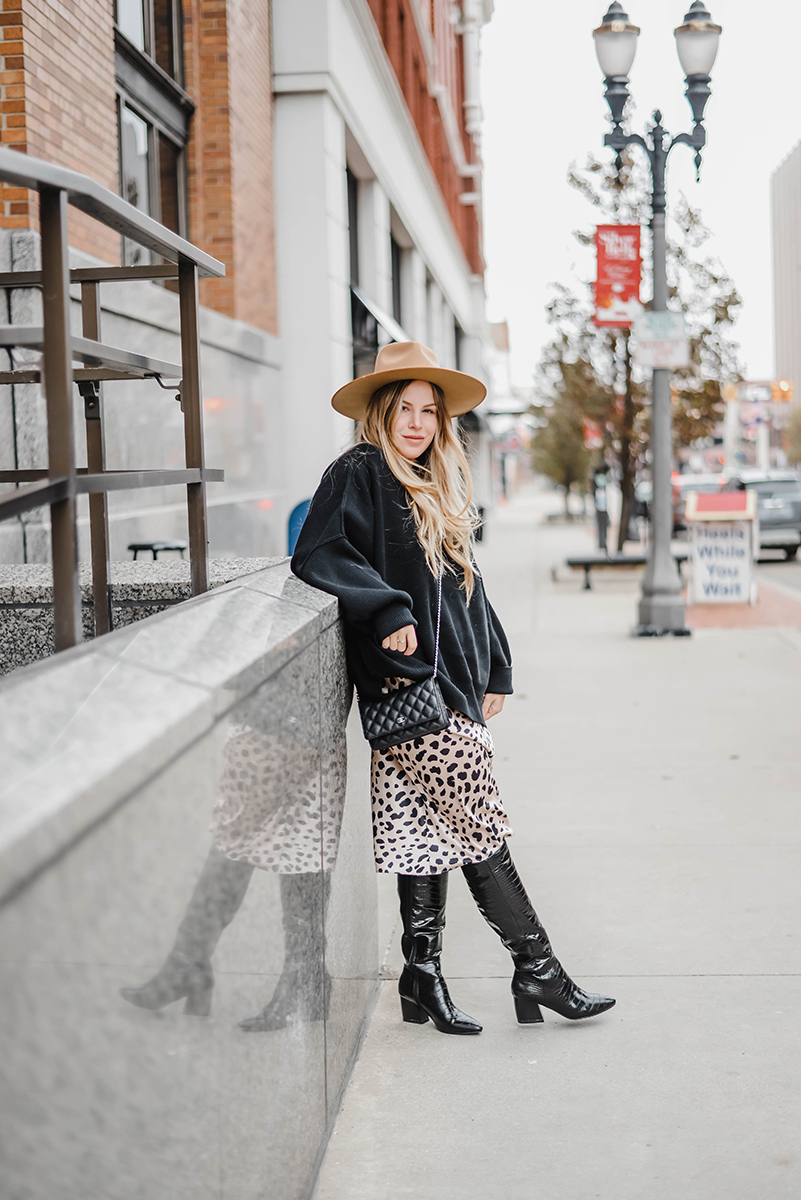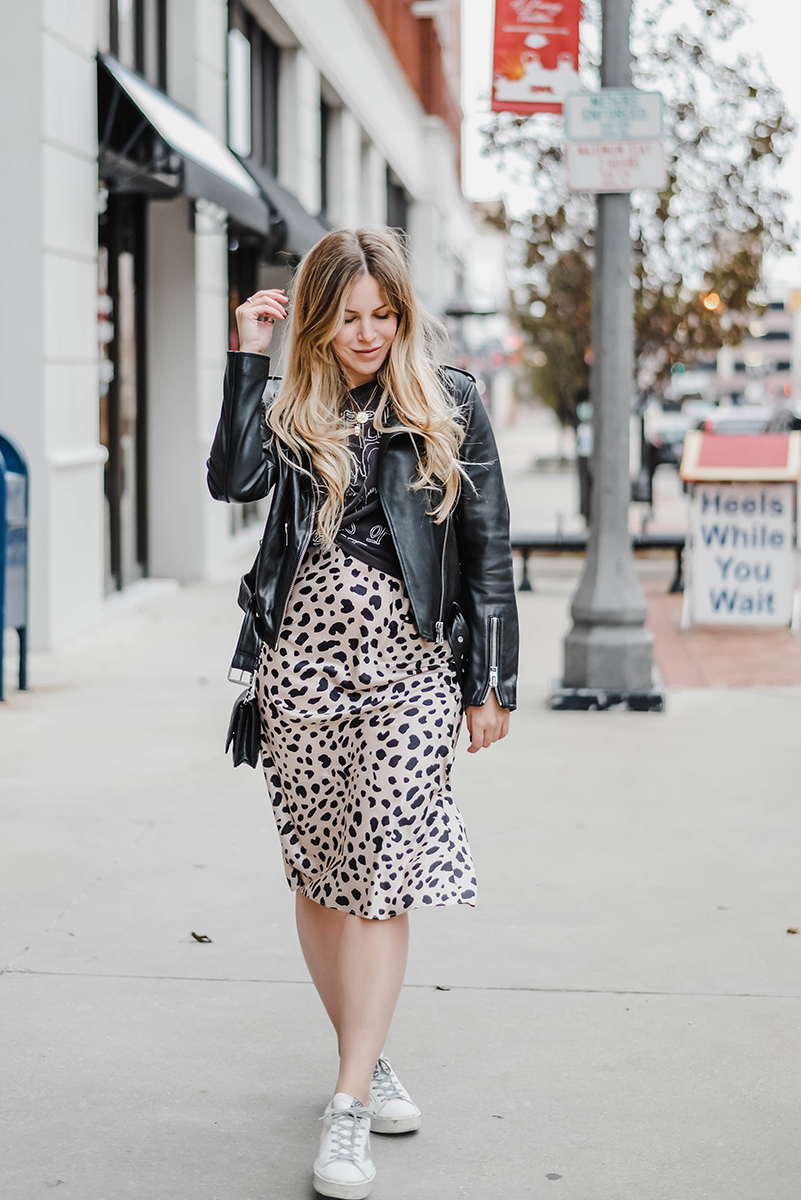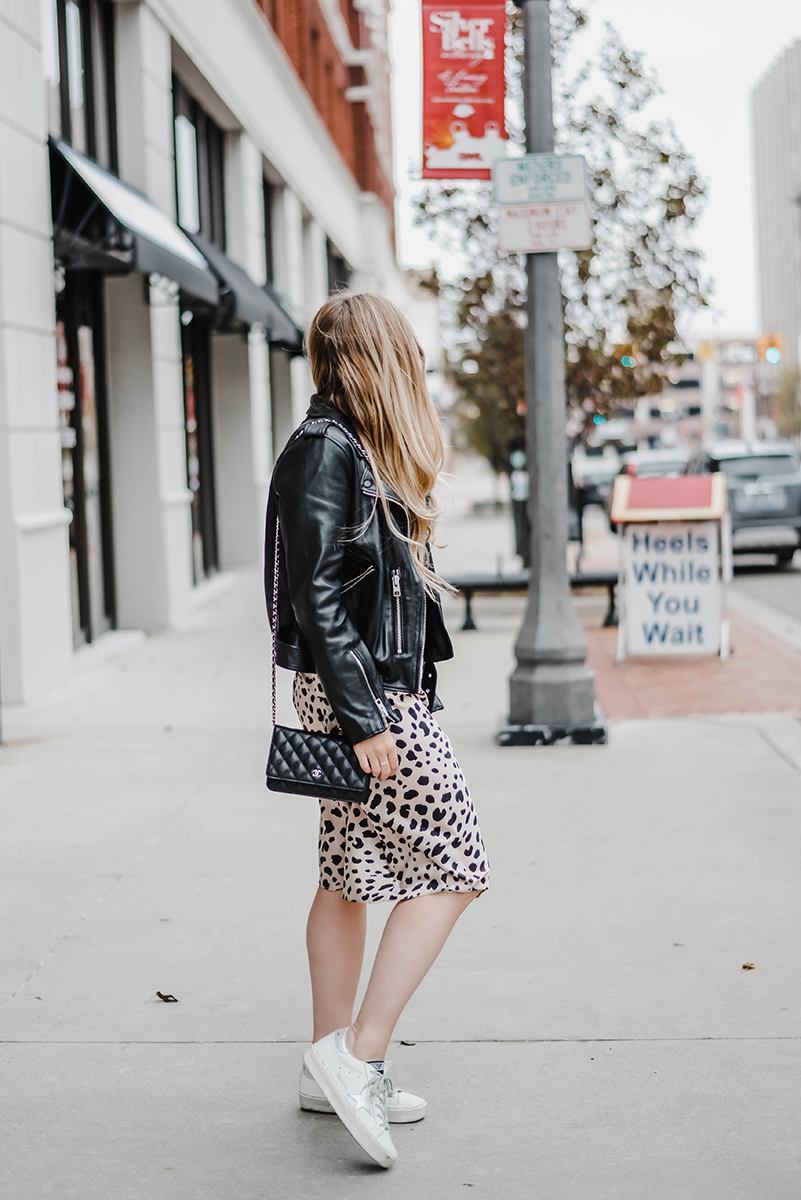 Skirt c/o Sparrow Boutique (just one left, shop more here) | tee from H&M (part of pj set just $17) | sweater by Free People (50% off) | leather jacket by All Saints | Golden Goose sneakers (on sale now at SSENSE) | Chanel WOC bag | jewelry by Katie Dean Jewelry | hat by Lack of Color | tall black boots by Bleecker and Bond (20% off)
Photography by Matt Thompson
The post Three Ways to Style a Leopard Midi Skirt this Winter appeared first on Blonde Bedhead.