Who hasn't stood in front of their closet and thought, what am I going to wear today? It doesn't seem to matter how much clothing we have in our closets, we just can't seem to find anything we want to wear. Because this is a dilemma we've all faced at one time or the other, I took a poll of a few close friends and asked them what do you pull out of the closet as almost a default when throwing on something before walking out the door? While their answers were different, they surprisingly all worked together! 
# 1 What to Wear Today: V-neck tee and a gold statement necklace
Hologen Back Detail Sweater, $34.97 | Gold Necklace, $60
#2 What to Wear Today: Black leather pants and booties.
Seren Faux Leather Pants, $62 | Madewell The Laura Chelsea Boot in Leather, $188
(lower heel here) 
The choices to pair the first two options are endless. Take a nice tee and pair it with a floaty skirt or boyfriend jeans. A long tunic top is ideal with leather pants and booties go with, well everything!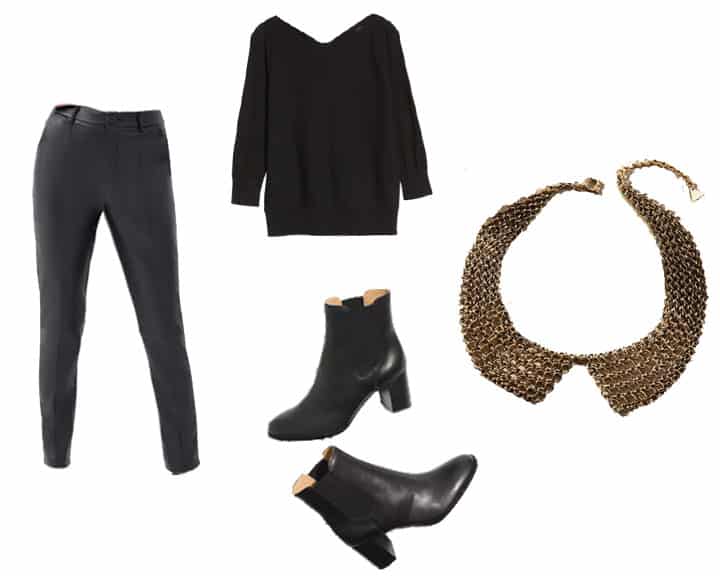 #3 What to Wear Today: Trench coat over jeans
Trench Coat, $248.00(now 40% OFF) | Straight Leg Jeans, $128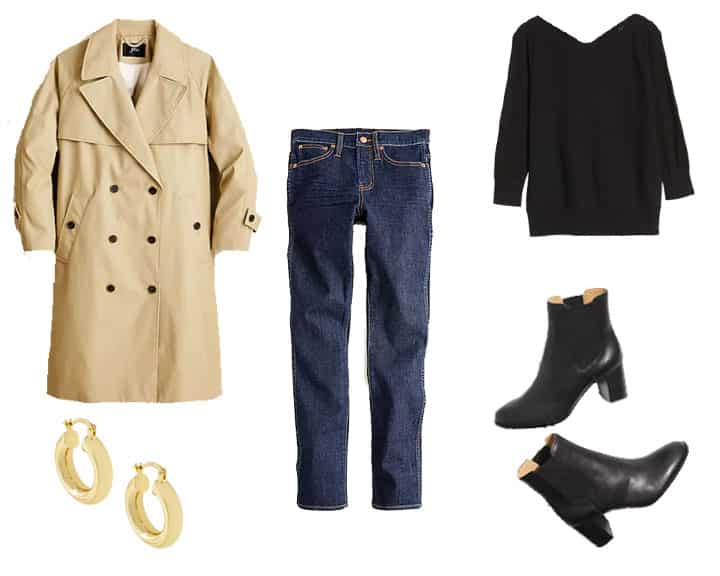 #4 What to Wear Today: Blue shirt and gold hoop earrings
Treasure & Bond Drapey Classic Shirt, $48.30+| Adina's Jewels Chunky Hollow Hoop Earrings, $68
THIS is the year of the Trench Coat! You see them everywhere and they are selling out everywhere. That's because a good trench coat thrown over a pair of jeans is oh so French and sophisticated. A blue shirt (or classic white shirt) and gold hoop earrings "make" an outfit. They also look great with black leather pants or jeans, booties, and our must-have trench coat. 
#5 What to Wear Today: Print wrap dress paired with booties and gold statement necklace. 
  Maxi Dress, $54 
# 6 What to Wear Today: Blue shirt over print dress ties at the waist.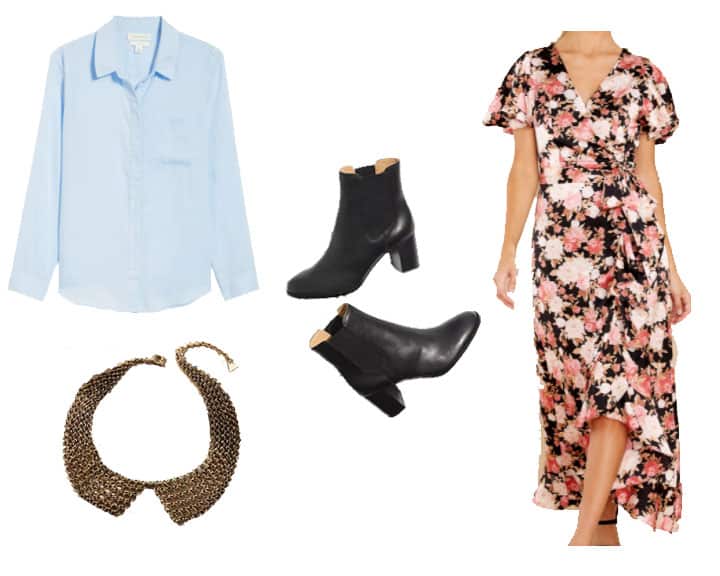 #7 What to Wear Today: Classic look. Tee, leather pants or jeans, booties, trench coat, and gold hoop earrings.
With just a few classic, basic pieces the answer to 'what to wear today' is easy. Just pull out a couple of these nine go-to-items and you are set for the day!
The post What To Wear Today appeared first on Prime Women | An Online Magazine.