Serger machines are specific types of sewing machines used to finish the edges of fabrics. If you're reading this article, I reckon that you already know all about it. But if you are still unsure of what exactly is a serger machine we have a dedicated piece> What is a serger machine?
There are many different types of sergers on the market, so it can be challenging to choose the right one. This article will discuss the features of the best serger machines available today.
Best value for money: Singer ProFinish 14CG754
Best for beginners (easier to use): Janome Magnolia 7034D
Best Heavy-duty serger machine: Brother ST4031HD
Best Alternative to a dedicated serger machine (overlock function): Janome CoverPro 2000 CPX
What to consider when buying a serger machine?
When purchasing a serger machine, the first thing to consider is what type of fabric you will be using it on. Some sergers are better suited for heavier materials (like the Singer ProFinish 14CG754 we present below), while others are designed for lighter fabrics. You should also consider the number of threads that the machine uses. A serger that uses four threads is usually better for finishing seams, while a machine that uses two threads is better for hems and decorative stitches.
Another essential feature to consider is the stitch quality. Sergers can create a variety of stitches, from basic overlock stitches to more complicated designs. It would be best if you chose a machine with a stitch quality that meets your needs. Some machines offer a differential feed, which allows you to adjust the speed of the fabric depending on the type of stitch you are using. This helps prevent puckering or stretching of the fabric.
Finally, you should consider the price and features of the machine. Some machines come with built-in storage, while others have adjustable speeds or different types of threading systems. Choose the machine that has the features you need and is within your budget.
Key features of the best serger machines
1. Threading: Sergers use multiple threads to create a strong and durable stitch. The threading system on a serger machine is typically much more straightforward than on other types of sewing machines, making it easy to get started.
2. Speed: Sergers can sew at high speeds, making them ideal for quickly completing large projects.
3. Knife: The knife on a serger severs the fabric edge as it stitches, creating a clean, finished edge. The knife is also adjustable, so you can customize the stitch width to match your project.
4. Differential Feed: This feature allows you to adjust the speed of the fabric as it passes through the serger. This is important for ensuring that your fabric edges are straight and even.
5. Rolled Hem: Sergers can create beautiful rolled hems on fabrics, which adds a professional touch to your projects.
6. Loopers: The looper threads on a serger help to create a strong, durable stitch. They are also responsible for creating the rolled hem effect.
Is it worth buying serger?
A serger is a great investment for anyone who sews frequently. They are more expensive than regular sewing machines, but they are worth the price. Like overlock and trim seams, sergers can do many things that standard machines cannot. They also create a much stronger seam than a traditional machine. It makes them ideal for projects that need to be durable, like curtains or upholstery.
Can a serger machine replace a sewing machine?
Sewing machines and serger machines both have their unique purposes. A sewing machine is used for basic seams, hems, and edges, while a serger machine is used for overcasting, rolled hems, and flat locking. Serger machines are not as versatile as sewing machines, so they cannot replace them. However, they can be very helpful in certain situations. For example, if you need to put a hem on a piece of fabric quickly, a serger machine would be a better choice than a sewing machine. In general, though, most people find that they need both a sewing machine and a serger machine in their sewing arsenal.
How do I choose a serger?
Sergers come in all shapes and sizes, so choosing the right one for your needs can be tough. Here are some tips to help you make the right decision:
1. Decide what features are important to you. Some sergers have more bells and whistles than others, so decide which features are important to you before you begin shopping. Do you need a serger that can do overlock stitches? Or one with a differential feed? Make a list of your must-haves before making your purchase.
2. Consider your budget. Sergers can vary significantly in price, so it's essential to set a budget before you start shopping. There is no need to break the bank – there are plenty of affordable sergers on the market.
Which serger is better singer or brother?
Sergers can be a great addition to your sewing toolbox, but which one should you buy? Singer or Brother? Both brands have quality machines, but there are some differences.
The Brother sergers come with more features, like a differential feed and rolled hemstitch. The Singer sergers are not as feature-rich, but they are less expensive. If you are looking for a basic serger that does the job well, the Singer would be a good choice. But if you want more bells and whistles, go with the Brother.
In the end, it comes down to personal preference. Try out both machines and see which one feels better to you. You won't be disappointed with either brand!
Brother ST4031HD Serger Machine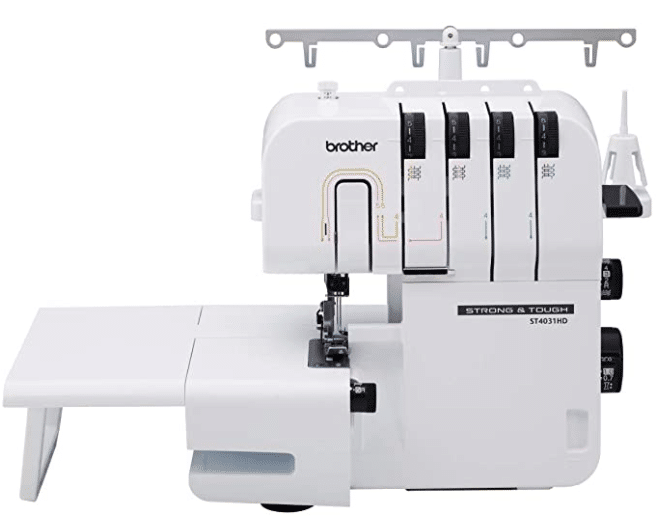 The Brother ST4031HD Serger Machine is a great choice for anyone looking for a heavy-duty serger machine. This machine is easy to use and has various features that make it perfect for both beginners and experienced sewers. Some features include a four-thread capability, differential feed, and an adjustable stitch length and width. The Brother ST4031HD Serger Machine is also very affordable, making it an excellent value for the money. Anyone looking for a quality serger machine should consider the Brother ST4031HD.
Key Features of the Brother ST4031HD:
-A differential feed that helps keep your fabric even as it is being sewn. It is essential for preventing puckering or bunching up of the fabric
-Adjustable Thread tensions, so you can get the perfect stitch every time
-A variety of stitches to choose from, including four different types of overlock stitches and a rolled hemstitch
These are just a few of the key features that make the Brother ST4031HD Serger Machine an excellent choice for anyone looking for a quality serger. So if you're in the market for a new machine, be sure to consider this one!
Singer ProFinish 14CG754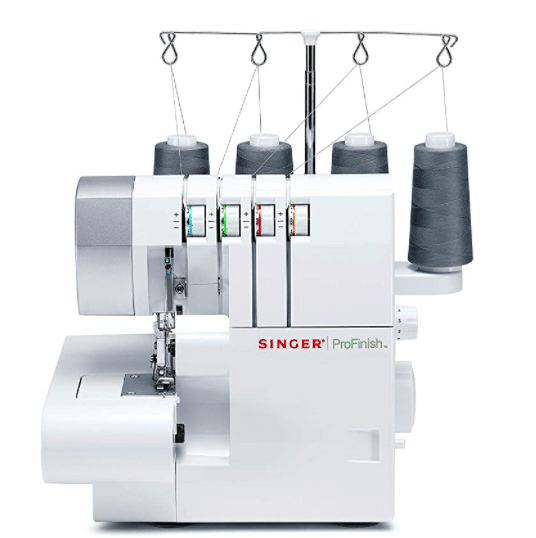 One of the most significant advantages of the Singer ProFinish 14CG754 is its powerful motor. This motor can easily handle heavyweight fabrics, so you don't have to worry about your project being too difficult for the machine. Additionally, this machine comes with a variety of built-in stitches that are great for a wide range of projects. Whether you're making a quilt or hemming a skirt, the Singer ProFinish 14CG754 has the perfect stitch for the job. The Singer ProFinish 14CG754 is also lightweight and portable, making it easy to take with you wherever you go. Plus, the free arm feature allows you to sew cuffs, collars, and other curved areas easily. Finally, the automatic tension system ensures that your stitches are always consistent, no matter what type of fabric you're using.
Key Features of the Singer ProFinish 14CG754:
-A large LCD screen that displays the stitch settings, including length and width
-A variety of built-in stitches, including basic stitches, decorative stitches, and quilting stitches
-A one-step buttonhole maker
-An automatic needle threader
-A fast-forward/reverse stitch selector
Janome Magnolia 7034D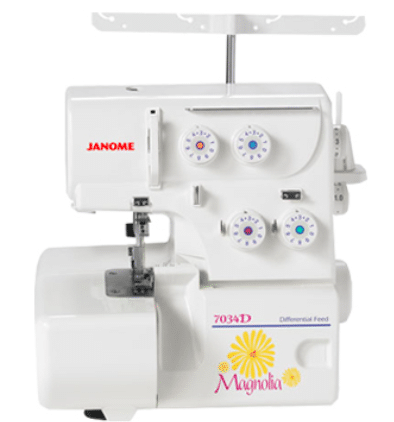 The Janome Magnolia 7034D is a great machine for beginners. It has a variety of features that make it easy to use, including 34 built-in stitches, an automatic needle threader, and a drop-in bobbin system. The Magnolia 7034D also comes with a free arm for sewing cuffs and sleeves and a dust cover to protect the machine when it's not in use. Plus, it has a one-year warranty so you can be sure you're getting a quality product. If you're looking for an affordable machine that does everything, the Janome Magnolia 7034D is a perfect choice.
What are the key features of Janome Magnolia 7034D?
The key features of the Janome Magnolia 7034D include:
– 34 built-in stitches
– Automatic needle threader
– Drop-in bobbin system
– Free arm for sewing cuffs and sleeves
– Dust cover
– One-year warranty.
Janome CoverPro 2000 CPX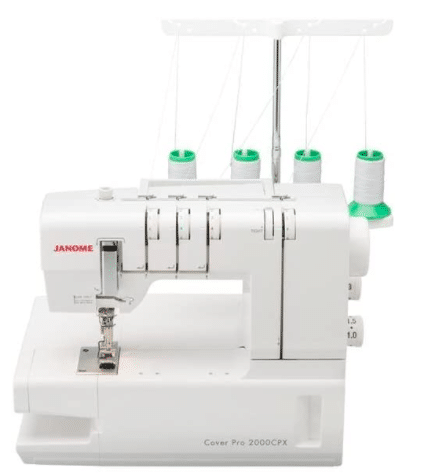 The Janome CoverPro 2000 CPX is great for both beginning and experienced sewers. It has an overlock function that can be used to create cover hems and seam finishes on skirts, pants, and other garments. It also has a differential feed system to help keep your fabric from puckering or stretching. The Janome CoverPro 2000 CPX is a great machine for both home and professional use with its versatile capabilities. In my opinion, it is the best alternative to buying a dedicated serger machine.
The post Best Serger Sewing Machine in 2022 appeared first on Art & Craft, DIY ideas and Tutorials - Craftbuds.